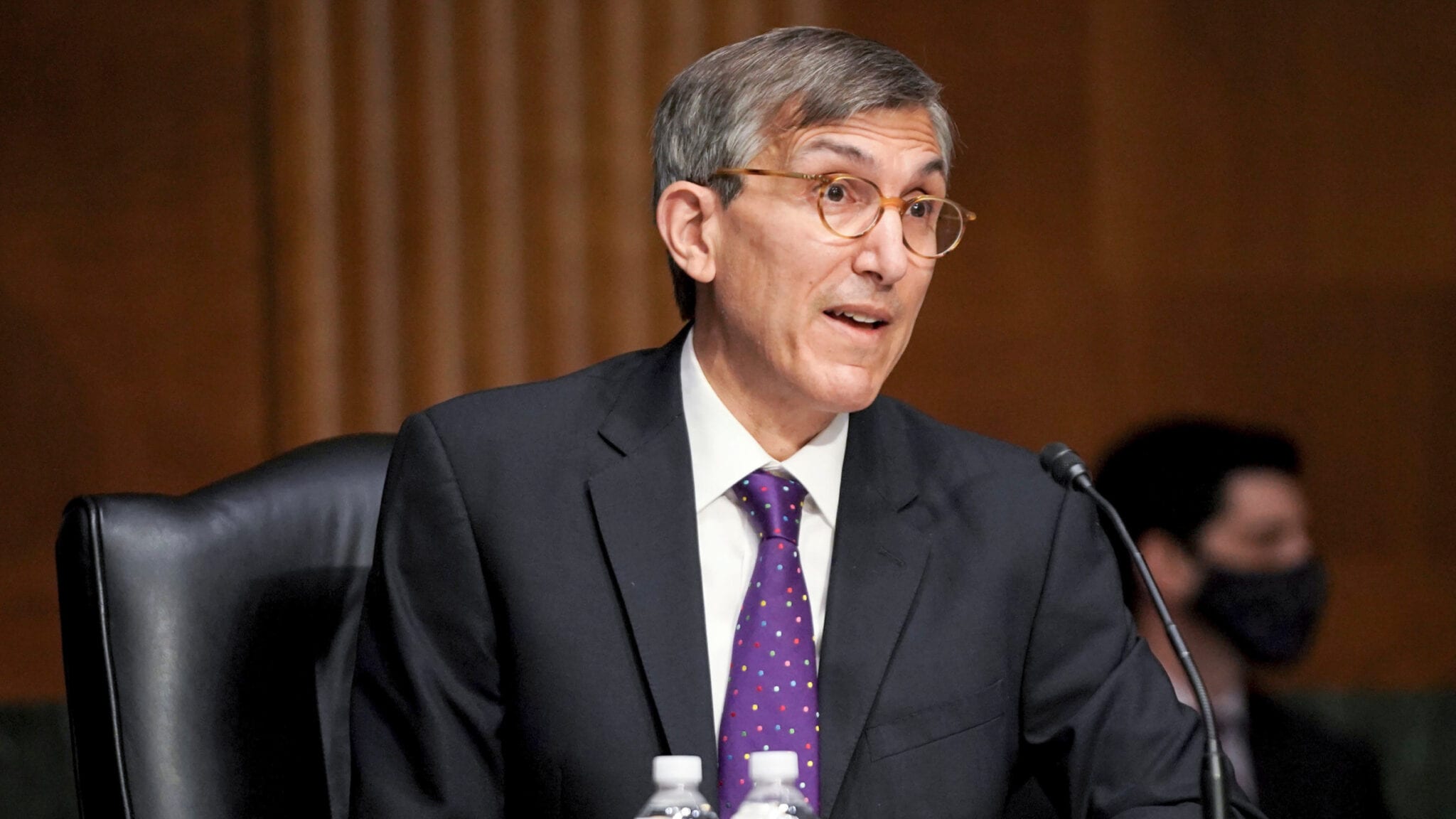 Peter Marks (Greg Nash/Pool via AP Images)
FDA's top vac­cine leader ex­plains why Covid-19 'boost­er­s' may re­al­ly just be the 3rd shot in the pri­ma­ry se­ries
Don't call it a boost­er. Well, call it a boost­er for a lit­tle while longer but then we'll just say it's the third dose of a three-dose vac­cine, ac­cord­ing to FDA's top vac­cine leader Pe­ter Marks.
Speak­ing on a stake­hold­er call with physi­cian groups ear­li­er this week, Marks ex­plained how flu­id the sit­u­a­tion is with ter­mi­nol­o­gy, af­ter a rep­re­sen­ta­tive from the Amer­i­can Acad­e­my of Fam­i­ly Physi­cians said there's con­fu­sion around whether what the FDA au­tho­rized last week is ac­tu­al­ly a boost­er or the third dose in this ini­tial se­ries of Covid-19 vac­cine shots.
"This is again some­thing in a time of tran­si­tion," Marks said in re­sponse. "Hon­est­ly, the rea­son why we've some­times called them third dos­es is be­cause the third dose is be­ing giv­en at six months and may in­deed be the third dose of a pri­ma­ry se­ries. It may be that af­ter this pan­dem­ic is over, much like the he­pati­tis B vac­cine or the he­pati­tis A vac­cine or oth­er adult vac­ci­na­tions, there will be three dos­es at 0, 1, and 6 months."
He al­so said that the FDA is cur­rent­ly call­ing this third shot a boost­er so as not to alarm the gen­er­al pub­lic about not be­ing ful­ly vac­ci­nat­ed.
"Just to be to­tal­ly trans­par­ent, the rea­son for call­ing it a boost­er and not the third dose of a pri­ma­ry se­ries, is that we ac­tu­al­ly don't want to alarm the en­tire pop­u­la­tion by sud­den­ly telling them that they're no longer com­plete­ly vac­ci­nat­ed with a three dose se­ries. So it's a boost­er for now and ul­ti­mate­ly we may tran­si­tion in­to call­ing it a three dose se­ries," Marks said.
But he told physi­cian groups that in or­der to stay on the same page, they should stick with call­ing these third shots boost­ers be­cause that's what they're called on the la­bel, and that's what peo­ple un­der­stand. For those who are im­muno­com­pro­mised, "we can call them third dos­es," he added, while not­ing that it may turn out that im­muno­com­pro­mised peo­ple may need ad­di­tion­al boost­ing.
Janet Wood­cock, act­ing com­mis­sion­er of the FDA, al­so not­ed that in some im­muno­com­pro­mised peo­ple, that ad­di­tion­al boost may not work.
"You may be able to give them nu­mer­ous vac­ci­na­tions and they don't re­spond, and that's where we will be look­ing at pre-ex­po­sure pro­phy­lax­is and treat­ment with mon­o­clon­als and maybe some an­tivi­rals on the hori­zon," Wood­cock added.
The com­ments fol­low a tu­mul­tuous few weeks of fig­ur­ing out who ex­act­ly should be the first to re­ceive the boost­ers (or third dos­es). The FDA gave the ex­pand­ed EUA for the Pfiz­er/BioN­Tech boost­er shot last week for a more nar­row pop­u­la­tion than the com­pa­nies ini­tial­ly want­ed.