Sim­mer­ing feud be­tween blue­bird and a ri­val con­tin­ues with al­le­ga­tions of patent fraud
Blue­bird bio was hit with a patent in­fringe­ment law­suit last week from a Chica­go-based biotech it has had an on­go­ing beef with call­ing for $2 bil­lion to help cure the "ir­repara­ble harm" caused by al­leged will­ful in­fringe­ment.
Blue­bird bio is fac­ing a law­suit from Er­rant Gene Ther­a­peu­tics for vi­o­lat­ing patent law in two in­stances, the com­pa­ny says.
The suit al­leges that blue­bird in­fringed the rights of EGT's re­com­bi­nant vec­tors used in the gene ther­a­py treat­ment of rare dis­eases such as sick­le cell dis­ease and be­ta tha­lassemia for its drugs Zyn­te­glo and Lenti­Glo­bin. EGT has an ex­clu­sive li­cense from the Memo­r­i­al Sloan Ket­ter­ing Can­cer Cen­ter to patents ti­tled "vec­tor en­cod­ing hu­man glob­al gene and use there­of in treat­ment of He­mo­glo­binopathies."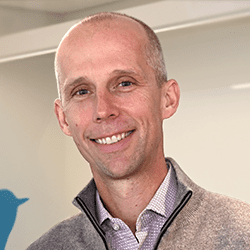 Nick Leschly
In 2016, Er­rant said that blue­bird and Third Rock, a ven­ture cap­i­tal firm co-found­ed by blue­bird CEO Nick Leschly, blocked their gene ther­a­py from reach­ing the mar­ket. In 2010, Er­rant was set to start clin­i­cal tri­als with MSK and NIH, and Third Rock met with MSK and "ad­mit­ted" that the Er­rant vec­tor was bet­ter than blue­bird's.
That, Er­rant al­leges, led to a se­cret agree­ment to stall the de­vel­op­ment of Er­rant's vec­tor. MSK de­mand­ed that Er­rant find a com­mer­cial part­ner as a con­di­tion be­fore start­ing clin­i­cal tri­als — but de­spite Er­rant ful­fill­ing that con­di­tion, MSK re­ject­ed the con­tract and in­stead ini­ti­at­ed ar­bi­tra­tion against Er­rant, the drug de­vel­op­er claimed in the law­suit.
EGT, which changed its name to San Roc­co Ther­a­peu­tics in May, was es­tab­lished in 1993 by CEO Patrick Giron­di af­ter his son Roc­co was di­ag­nosed with be­ta tha­lassemia, an in­her­it­ed blood dis­or­der. Er­rant de­vel­oped the vi­ral vec­tor along­side MSK in 2000. Er­rant con­tact­ed MSK sci­en­tist Michel Sade­lain, who pub­lished a pa­per show­ing the po­ten­tial of the gene ther­a­py in mice, and start­ed to fund his re­search. Five years lat­er, Er­rant bought ex­clu­sive rights of the tech for blood dis­or­ders, and the com­pa­ny patent­ed the vec­tor in 2009.
MSK grant­ed Er­rant an ex­clu­sive com­mer­cial li­cense in 2005, the law­suit states.
The lat­est suit al­leges that blue­bird will­ful­ly in­fringed on two of Er­rant's patents. In Sep­tem­ber, blue­bird was grant­ed break­through des­ig­na­tion for its gene ther­a­py for be­ta tha­lassemia.
"Blue­bird has en­gaged and con­tin­ues to en­gage in non-reg­u­la­to­ry con­duct and post-FDA sub­mis­sion ac­tiv­i­ties re­lat­ed to the com­mer­cial­iza­tion of the BB305 vec­tor, which in­fringes on the '179 and '061 patents," the law­suit states.
This cur­rent law­suit high­lights blue­bird's ramp-up of com­mer­cial man­u­fac­tur­ing in the US for the BB305 vec­tor, as well as stock­pil­ing and oth­er com­mer­cial­iza­tion ac­tiv­i­ties for the vec­tor that Er­rant says "are not rea­son­ably re­lat­ed to ob­tain­ing FDA ap­proval."
Ac­cord­ing to the law­suit, EGT claims it has suf­fered ir­repara­ble harm, and asks for $2 bil­lion. It says that its own gene ther­a­py is slat­ed to cost more than $1 mil­lion less than blue­bird's, which is pro­ject­ed to cost $2 mil­lion per pa­tient. Leschly caused jaws to drop in 2019 when he an­nounced that it would have a price tag of $1.8 mil­lion per pa­tient, just be­hind No­var­tis' spinal mus­cu­lar at­ro­phy ther­a­py treat­ment Zol­gens­ma for the crown of most ex­pen­sive treat­ment.
The law­suit has been a long time com­ing. In Au­gust 2019, the New York Supreme Court sanc­tioned blue­bird for $25,000, and re­ject­ed its ef­forts to pre­vent EGT from pro­ceed­ing with a law­suit by hold­ing the com­pa­ny in con­tempt.