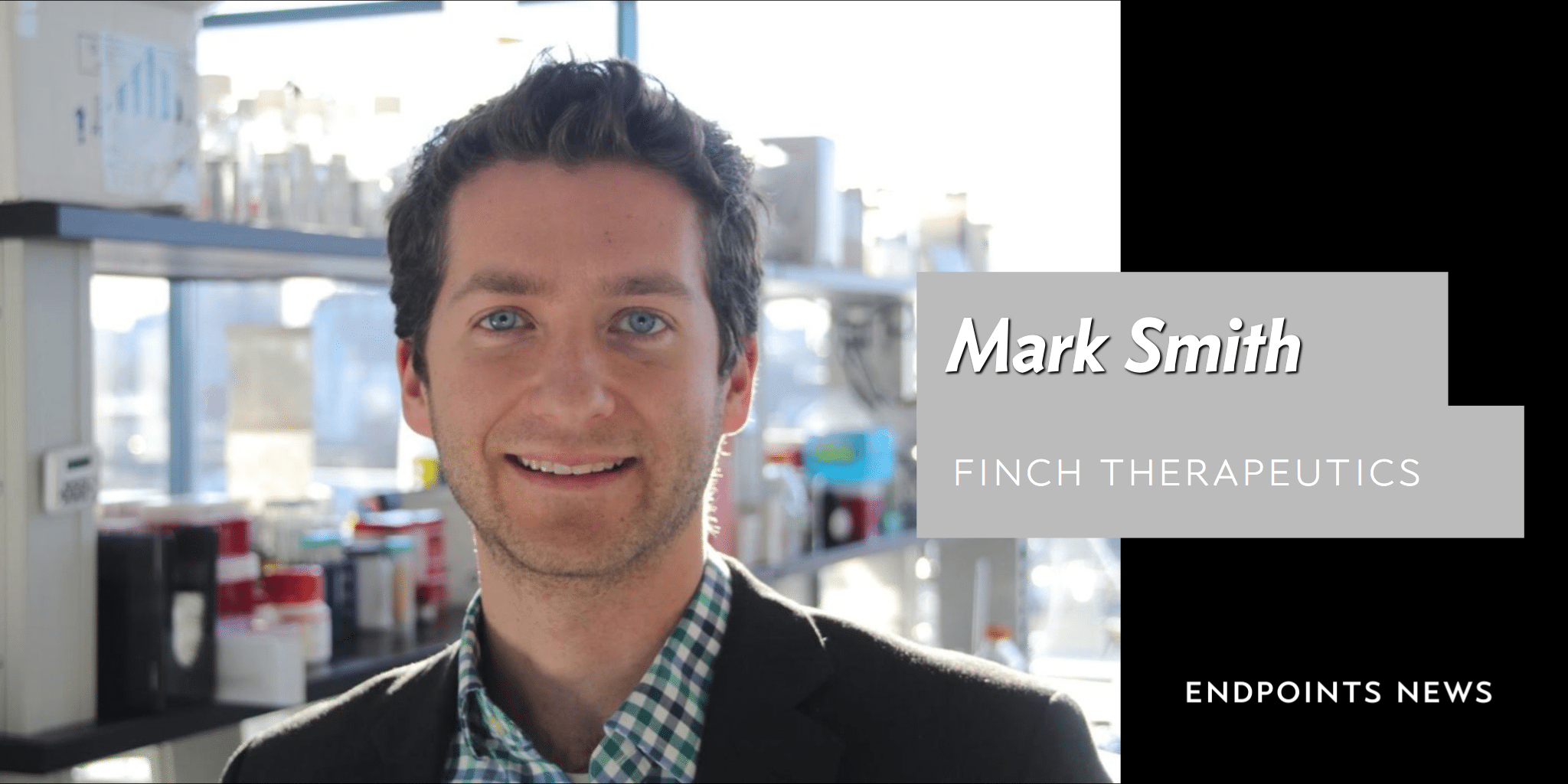 Finch grabs a $53M round de­signed to take their 'break­through' mi­cro­bio­me treat­ment through a po­ten­tial­ly piv­otal tri­al
With a break­through des­ig­na­tion in one hand and a fresh $53 mil­lion in ven­ture back­ing in the oth­er, Somerville, MA-based Finch Ther­a­peu­tics is tak­ing a shot at a one-tri­al path­way to a pos­si­ble FDA OK for their new treat­ment for pre­vent­ing re­cur­rent C. dif­fi­cile in­fec­tions.
The fund­ing brings their to­tal raise for the mi­cro­bio­me com­pa­ny to $130 mil­lion, CEO Mark Smith tells me — enough mon­ey to pave a run­way past the FDA ap­proval they've sketched in­to the most op­ti­mistic ver­sion for their near-term fu­ture.
Smith says that based on their talks with reg­u­la­tors, the FDA would be sat­is­fied if they could see high ef­fi­ca­cy in this tri­al. If the p val­ue comes in low­er, it would serve as the first of two, with reg­u­la­tors look­ing for con­fir­ma­tion of the ef­fect in a fol­low-up study.
Based on ear­li­er re­sults, Smith says a win­ning com­par­i­son would be around 80% ef­fi­ca­cy in the treat­ment arm com­pared to a con­trol arm ef­fect — where pa­tients just get an­tibi­otics — in the 40% to 50% mark.
"We were re­al­ly pleased with the out­come of the con­ver­sa­tion," says the CEO. "It's a high bar for the ef­fect size we're look­ing for."
It's no sure thing. Finch — who struck a deal to col­lab­o­rate with Take­da on IBD — is work­ing with da­ta they gath­ered in a small study, where they saw an 88% rate of ef­fi­ca­cy. Ef­fi­ca­cy was de­fined as two months with no re­cur­rence of the C. diff. That per­suad­ed them to see if they could blaze a path for­ward with a sin­gle piv­otal study, which would take them past a num­ber of ri­vals al­so fo­cused on the same tar­get.
That ef­fect, though, is "right in line" with fe­cal trans­plan­ta­tion. So why not con­tin­ue with the fe­cal ma­te­r­i­al?
In part be­cause it in­volves a pro­ce­dure, Smith replies, which a ther­a­py would cut out of the equa­tion. Sec­ond, if they can land an FDA ap­proval, reg­u­la­tors will like­ly re­quire the ap­proved ther­a­py over fe­cal trans­plan­ta­tion, which is still ex­per­i­men­tal. In ad­di­tion, the FDA is wary about fe­cal trans­plan­ta­tion, re­cent­ly not­ing a death due to an in­fec­tion from a mul­ti-drug re­sis­tant or­gan­ism picked up in one pro­ce­dure.
Smith has some in­sights in­to the fe­cal trans­plan­ta­tion world gar­nered from a front-row seat. He's been build­ing Finch Ther­a­peu­tics on the foun­da­tion pro­vid­ed by Open­Bio­me, a fe­cal trans­plant com­pa­ny he found­ed. And he's been en­gi­neer­ing new prod­ucts based on that ex­pe­ri­ence with the gut.
And they've been mov­ing fast, pick­ing up their lead drug CP101 in a merg­er with Cresto­vo — which brought in ad­di­tion­al sup­port from Chris Shumway of Shumway Cap­i­tal — ex­e­cut­ing a $36 mil­lion C round a lit­tle more than a year ago.
Their time­line takes them to a tri­al read­out in H1 2020.
Suc­cess here would al­so ac­cel­er­ate their work on autism, which fol­lows up on some ev­i­dence that fe­cal trans­plan­ta­tion has an ef­fect here as well.
New in­vestors in­clud­ing OCV Part­ners, Susque­han­na In­ter­na­tion­al Group and Trans-Pa­cif­ic Tech­nol­o­gy Fund jumped in to the syn­di­cate, along­side ex­ist­ing in­vestors Avenir Growth Cap­i­tal, Mor­gan No­ble, Shumway Cap­i­tal, and Wil­lett Ad­vi­sors.