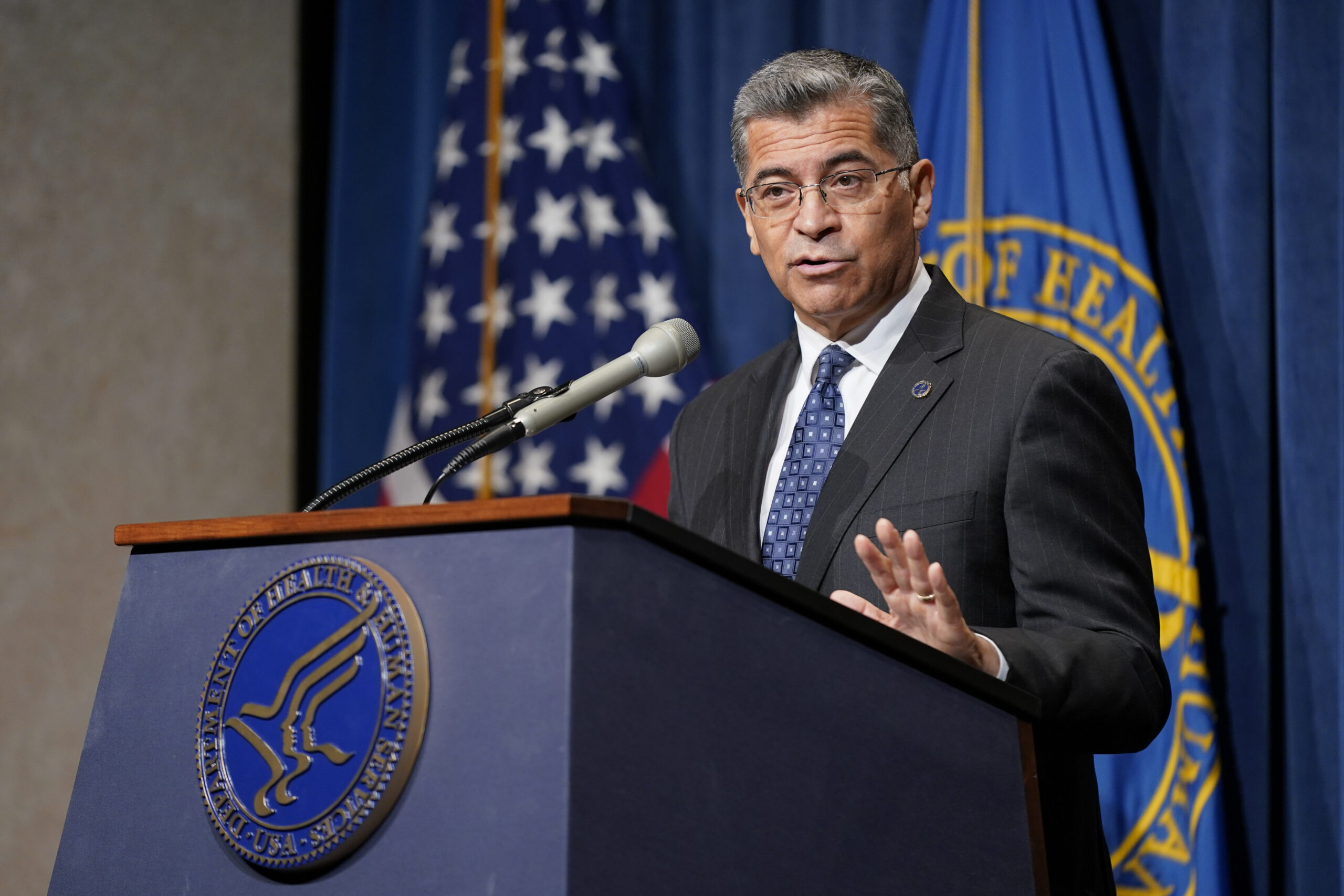 HHS Secretary Xavier Becerra (Patrick Semansky/AP Images)
Five Pfiz­er drugs among first 27 now sub­ject to Medicare in­fla­tion re­bates, HHS says
The De­part­ment of Health and Hu­man Ser­vices (HHS) on Wednes­day un­veiled the first set of 27 Part B pre­scrip­tion drugs, in­clud­ing five from Pfiz­er, that will be sub­ject to Medicare in­fla­tion re­bates be­cause their prices rose faster than the rate of in­fla­tion.
Se­niors re­ceiv­ing the physi­cian-ad­min­is­tered drugs be­gin­ning in April will have low­er coin­sur­ance for these drugs (list­ed be­low) and HHS said they may see their out-of-pock­et costs for these drugs de­crease by as much as $390 per av­er­age dose.
"In ad­di­tion to mak­ing drug com­pa­nies pay Medicare back for in­creas­ing their prices faster than in­fla­tion, this pro­vi­sion of the In­fla­tion Re­duc­tion Act dis­cour­ages oth­er com­pa­nies from do­ing the same, with the goal of rein­ing in ex­ces­sive drug price hikes year-over-year," the White House and CMS said in a fact sheet re­leased this morn­ing (in ad­di­tion to the ini­tial guid­ance de­tail­ing the re­quire­ments and pro­ce­dures for the Medicare Pre­scrip­tion Drug In­fla­tion Re­bate Pro­gram here).
Mov­ing for­ward, CMS said, ben­e­fi­cia­ry coin­sur­ance will be based on the in­fla­tion-ad­just­ed pay­ment amount for the fol­low­ing drugs: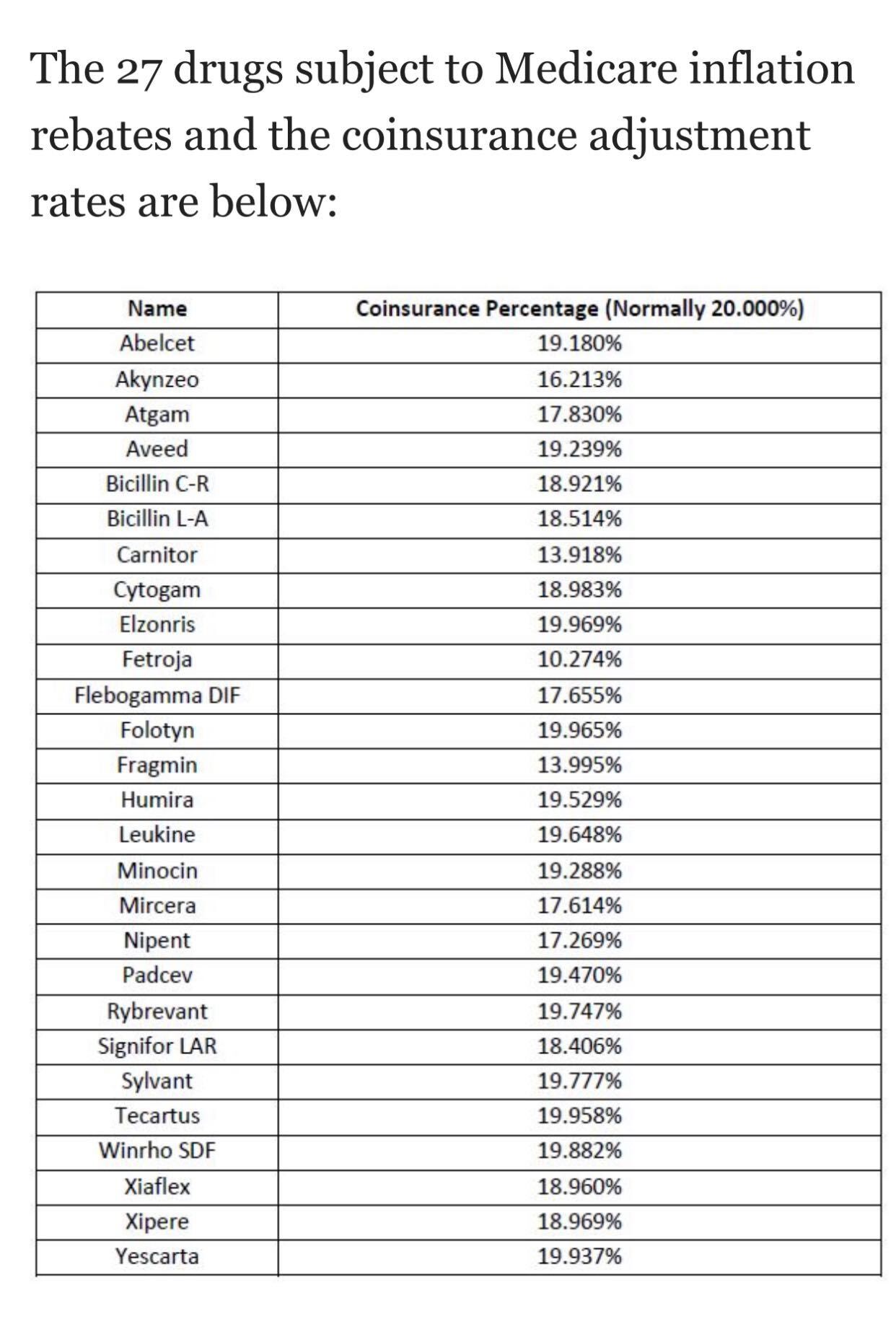 Usu­al sus­pects like Ab­b­Vie's Hu­mi­ra will be sub­ject to biosim­i­lar com­pe­ti­tion be­gin­ning this year so the price in­creas­es will like­ly come down. But for oth­er drugs with­out com­peti­tors, the price in­creas­es con­tin­ue apace, such as with Gilead sub­sidiary Kite Phar­ma's CAR-T can­cer ther­a­py Yescar­ta.
The five Pfiz­er drugs in­clude old­er drugs like the blood thin­ner Frag­min (dal­teparin), which first won FDA ap­proval in 1994; Atgam, which is for al­lo­graft re­jec­tion in re­nal trans­plant pa­tients; and the chemo Nipent (pen­to­statin), as well as an­tibac­te­r­i­al drugs, Bi­cillin L-A and Bi­cillin C-R.
But CMS doesn't in­tend to send the first in­voic­es to drug com­pa­nies for the 2023 and 2024 re­bates un­til 2025.
In ad­di­tion to this list, the White House al­so put out a re­port Wednes­day ex­plain­ing how se­niors will see more than $230 mil­lion in sav­ings this year when the more than 3.4 mil­lion peo­ple with Medicare be­gin to pay no out-of-pock­et costs for rec­om­mend­ed vac­cines.
"The re­port al­so shows that in some cas­es, some peo­ple paid near­ly $200 for the shin­gles vac­cine by it­self. Again, not any­more," said HHS Sec­re­tary Xavier Be­cer­ra on yes­ter­day af­ter­noon's press call.
Medicare ben­e­fi­cia­ries in the Dako­tas, Mon­tana and Wyoming will see the biggest sav­ings from the IRA-re­lat­ed change re­lat­ed to no OOP costs for rec­om­mend­ed vac­cines, HHS said.
Ed­i­tor's note: Ar­ti­cle up­dat­ed with a quote from HHS Sec­re­tary Be­cer­ra and links to the HHS and CMS re­ports and doc­u­ments.