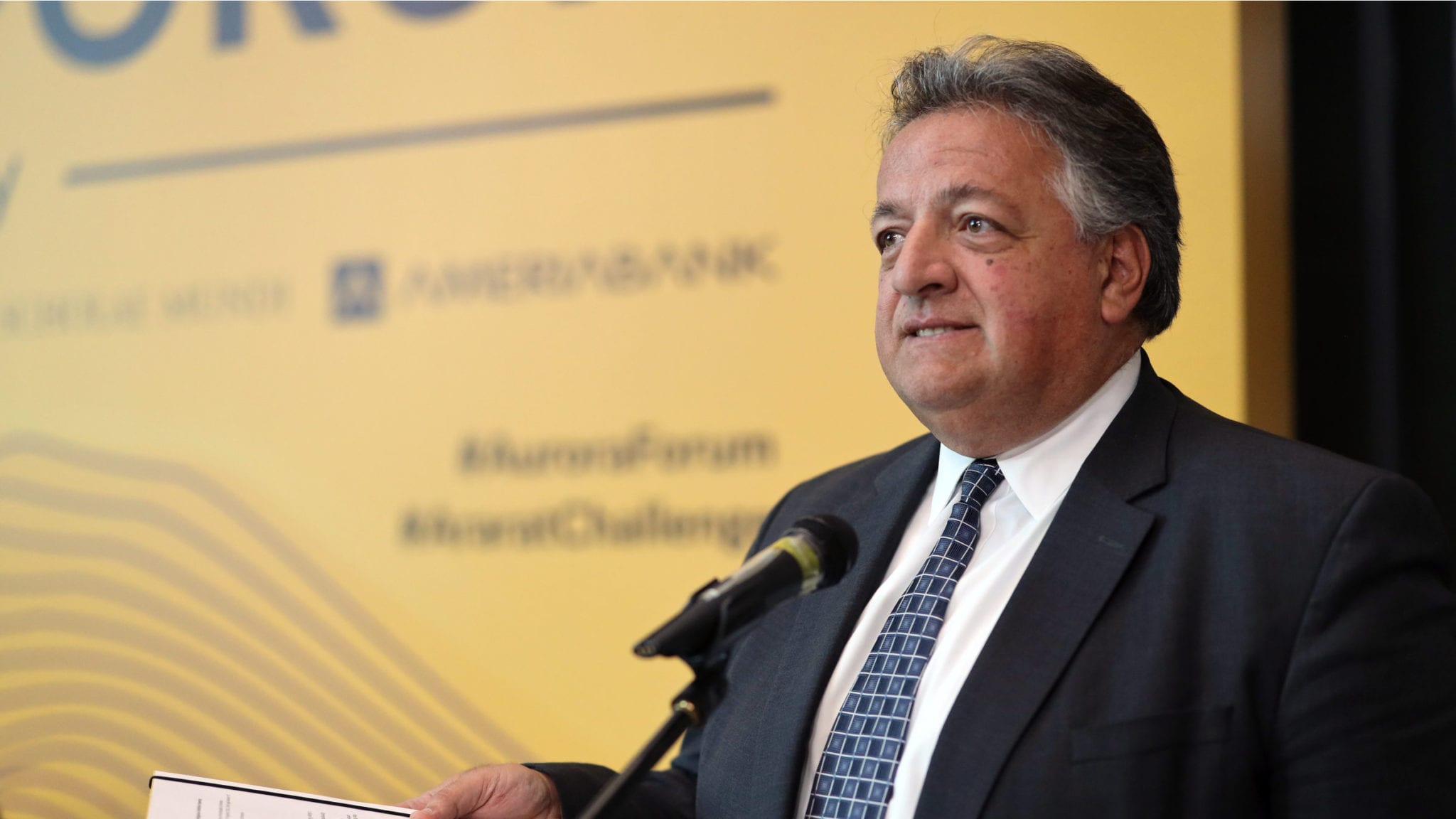 Noubar Afeyan, Flagship CEO (Victor Boyko/Getty Images for Aurora Humanitarian Initiative)
Flag­ship start­up Omega takes lead 'epige­nom­ic con­troller' can­di­date clos­er to the clin­ic with new $126M round
In its quest to drug the un­drug­gable, Flag­ship Pi­o­neer­ing start­up Omega Ther­a­peu­tics is chas­ing a moon­shot with "epige­nom­ic con­trollers" to get all of the ben­e­fits of gene edit­ing with­out the ac­tu­al edit­ing. That's a tall task to craft a new class of ther­a­peu­tics, but in­vestors are cer­tain­ly show­ing in­ter­est.
Omega plans to ad­vance its lead can­di­date for the c-myc onco­gene in­to hu­man test­ing and es­tab­lish a man­u­fac­tur­ing foot­print with pro­ceeds from a $126 mil­lion Se­ries C the biotech closed Tues­day.
Omega, which launched in 2019, is us­ing its drug dis­cov­ery plat­form to tar­get what it calls in­su­lat­ed ge­nom­ic do­mains (IGDs), paired DNA sites with a pro­tein binder that up- or down­reg­u­late gene ex­pres­sion in lo­cal­ized "zip codes," Omega said. By tar­get­ing epige­nomics, Omega be­lieves it can mod­u­late gene ex­pres­sion in a hy­per­tar­get­ed way with­out hav­ing to add or delete nu­cleotides in pa­tients' ge­net­ic code.
It's an am­bi­tious plan but one that keeps earn­ing in­vestors' in­ter­est for its promise at a nov­el class of ther­a­peu­tics as well as an­oth­er shot on goal at "un­drug­gable" tar­gets. So far, Omega has raked in $210 mil­lion in fundrais­ing with Flag­ship lead­ing the way on the newest round. It's joined by In­vus, Fi­deli­ty Man­age­ment & Re­search Com­pa­ny, and funds and ac­counts man­aged by Black­Rock, Cowen, Point72, Lo­gos Cap­i­tal, Mi­rae As­set Cap­i­tal and oth­ers.
Omega's im­me­di­ate next step is tak­ing lead can­di­date OTX-2002, what it calls an "Omega con­troller," in­to a Phase I proof-of-con­cept study against c-myc, a "mas­ter" onco­gene that crops up in a high per­cent­age of tu­mor types. The drug is in IND-en­abling stud­ies, and Omega isn't yet ready to say when that fil­ing will come, Flag­ship CEO and Omega co-founder Noubar Afeyan told End­points News. One of the oth­er aims of the round is to ad­vance and even­tu­al­ly un­veil even more can­di­dates for tri­al, and Afeyan said OTX-2002 would like­ly be filed when at least one oth­er can­di­date is al­so on the road to the clin­ic.
Mean­while, Omega is plan­ning to use some of the round's pro­ceeds to es­tab­lish a man­u­fac­tur­ing foot­print that Afeyan called "quite mod­est" in scope de­spite the po­ten­tial for mul­ti­ple can­di­dates in the com­ing year. Un­like gene ther­a­py or gene edit­ing which re­quire the cul­ti­va­tion of live virus­es or com­plex bi­o­log­ics, Omega's con­trollers uti­lize mR­NA and lipid nanopar­ti­cle tech­nol­o­gy that Flag­ship com­pa­nies — in­clud­ing Mod­er­na — have pi­o­neered else­where, Afeyan said. That depth of ex­pe­ri­ence and the "pro­gram­ma­ble" na­ture of Omega's drugs means the biotech can plug and play with its man­u­fac­tur­ing ap­proach and scale to com­mer­cial de­mand with rel­a­tive ease.
"Giv­en the po­ten­cy of that ap­proach, the ac­tu­al vol­umes you need for dis­ease like can­cer or liv­er dis­eases is rel­a­tive­ly mod­est," Afeyan said. "So what the com­pa­ny needs in the next two to three years is quite mod­est, but it's re­al­ly im­por­tant that we own and con­trol it be­cause in these kinds of com­pa­nies, a big part of the suc­cess de­pends on the pre­dictabil­i­ty of sup­ply of clin­i­cal ma­te­ri­als. That's a big part of our val­ue propo­si­tion."
Ed­i­tor's Note: This sto­ry was up­dat­ed to cor­rect an er­ror. Omega closed a $126 mil­lion Se­ries C.