Flag­ship takes on a pi­o­neer­ing new fund — and name — adding $285M to ad­vance its start­up mis­sion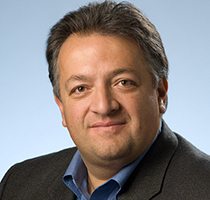 Flag­ship founder and CEO Noubar Afeyan
Flag­ship has be­come one of the most promi­nent blank-slate ven­ture funds in biotech, cre­at­ing com­pa­nies from scratch in search of en­gi­neer­ing ma­jor change in the way dis­ease is treat­ed. And it will be­gin 2017 with a new fund to in­vest in the con­tin­ued growth of the com­pa­nies it sparks in­to ex­is­tence, along with a new name the Cam­bridge the MA-based group hopes will bet­ter re­flect its mis­sion.
It starts with a $285 mil­lion Spe­cial Op­por­tu­ni­ties Fund which will now op­er­ate along­side its $585 mil­lion Fund V, un­veiled 21 months ago. And the ven­ture group will be known as Flag­ship Pi­o­neer­ing as it starts its 17th year in 2017.
The idea be­hind the new fund, says founder and CEO Noubar Afeyan, is to "in­vest out of a sep­a­rate pool of cash more in­tense­ly in­to the growth phase of these com­pa­nies, for us to come in with a larg­er in­vest­ment."
This is some­thing that hasn't re­al­ly ex­ist­ed in biotech, he says, point­ing to a mod­el that has worked in soft­ware, among in­vestors like Pe­ter Thiel's Founders Fund.
You could just al­lo­cate funds dif­fer­ent­ly in your main fund, he tells me, "but then you lose the di­ver­si­fi­ca­tion you want; don't know what will be most suc­cess­ful." This way, Flag­ship can choose to par­tic­i­pate in the ex­po­nen­tial growth phase, as it makes the most sense. And it brings its two funds now in play to $870 mil­lion, with $1.75 bil­lion un­der man­age­ment.
The name change, he says, is the out­come of some long run­ning con­ver­sa­tions among the part­ners, he adds. The bulk of what Flag­ship does best, he says, is de­vot­ed to start­ing with the re­search and cre­at­ing com­pa­nies with a blank slate.
Pi­o­neer­ing is all about go­ing where there's been noth­ing there be­fore, says Afeyan. It com­bines fron­tier in­no­va­tion, not in­cre­men­tal in­no­va­tion, with start­up en­tre­pre­neur­ship. It's a "cre­ate-from-scratch mind­set and risk re­quired to do some­thing nev­er done be­fore. That's what we've be­come more and more spe­cial­ized at."