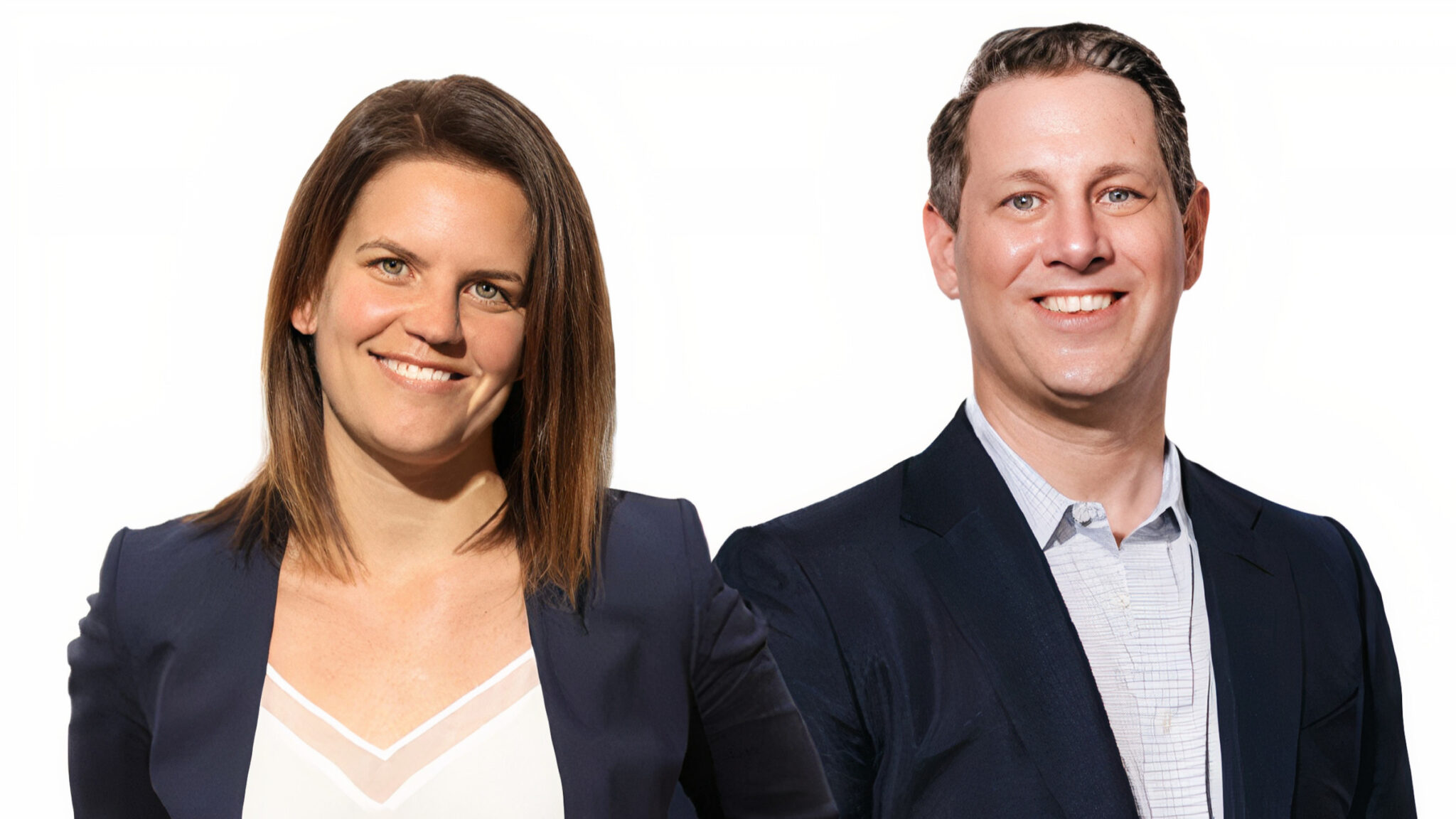 Generate co-founder Molly Gibson and CEO Mike Nally
Flag­ship's ma­chine learn­ing start­up Gen­er­ate bags $370M in lat­est round with plans for a big hir­ing spree
As the fu­ture of ma­chine learn­ing and AI promis­es to make ma­jor break­throughs in drug de­vel­op­ment, a suite of star­tups is look­ing to scale their own com­pet­ing ro­bot brain trusts. An am­bi­tious start­up out of Flag­ship Pi­o­neer­ing's in­cu­ba­tor un­cloaked last year with its own spin in that arms race — and now it's primed and ready for a ma­jor ex­pan­sion in the com­ing years.
Gen­er­ate Bio­med­i­cines has closed a gi­ant $370 mil­lion Se­ries B from found­ing in­vestor Flag­ship as well as Alas­ka Per­ma­nent Fund, Al­ti­tude Life Sci­ence Ven­tures, ARCH Ven­ture Part­ners, and funds and ac­counts ad­vised by T. Rowe Price As­so­ci­ates, the com­pa­ny said.
Gen­er­ate, which de­buted in late 2020, is Flag­ship's shot at us­ing ma­chine learn­ing ad­vances to change the game in the de­vel­op­ment of pro­tein ther­a­peu­tics, with the com­pa­ny promis­ing much faster de­vel­op­ment times and dis­cov­ery suc­cess rates. It's a mod­el be­ing tried else­where from com­pa­nies like Ex­sci­en­tia and In­sil­i­co, but Gen­er­ate sets it­self apart with its fo­cus on pro­tein se­quenc­ing and the goal to pro­duce de no­vo bi­o­log­ics.
Since launch, Gen­er­ate has been hard at work crunch­ing da­ta through its sys­tem in an at­tempt to give it the broad­est pos­si­ble plat­form for dis­cov­ery. Now, the com­pa­ny is ready to great­ly ex­pand its "wet lab" and bi­ol­o­gy ca­pa­bil­i­ties, CEO Mike Nal­ly told End­points News, and that will spell a huge hir­ing spree for the com­pa­ny as well as new cor­po­rate digs in the Somerville, MA area and an­oth­er site in An­dover.
Cur­rent­ly op­er­at­ing with a work­force of around 80, Gen­er­ate is plan­ning to make the quan­tum leap to 500 em­ploy­ees over the course of the next two years while al­so mov­ing in­to two new fa­cil­i­ties in the com­ing weeks and months. The An­dover site will be used to ex­pand the biotech's range in struc­tur­al bi­ol­o­gy, in­clud­ing a big in­vest­ment in cryo­genic elec­tron mi­croscopy (cryo-EM), a cut­ting-edge tech­nique used to de­ter­mine the struc­ture of pro­teins.
The im­me­di­ate goal is to move past the work of the past two years, pri­mar­i­ly prov­ing Gen­er­ate's plat­form could pro­duce high­er bind­ing affin­i­ty pro­teins from pre­cur­sor ref­er­ence bi­o­log­ics, in­to the realm of de­vel­op­ing pro­tein drugs from scratch us­ing pro­pri­etary da­ta learn­ing, Gen­er­ate's chief strat­e­gy and in­no­va­tion of­fi­cer and co-founder Mol­ly Gib­son told End­points.
"Since in­cep­tion, we've set out to an­swer this ques­tion whether we can pro­gram pro­teins at the DNA lev­el, and what we've done over the past year is take those first in­sights … re­al­ly show that at scale and push pro­grams for­ward," Gib­son said. "We've shown that we've been able to make sig­nif­i­cant ad­vances over where we start­ed cre­at­ing these ma­chine learn­ing al­go­rithms us­ing pub­lic da­ta."
Now, the team said it will be ready to start churn­ing out pre­clin­i­cal can­di­dates by the end of the year with some of those pro­grams ex­pect­ed to hit hu­man tri­als as ear­ly as 2023.
As the clin­ic moves clos­er, the Gen­er­ate team is keep­ing a close eye on the po­ten­tial for strate­gic part­ner­ships giv­en the po­ten­tial breadth of its plat­form's ca­pa­bil­i­ties. Those strate­gic part­ner­ships, more in the line of sub­stan­tial R&D team-ups, are a key part of the com­pa­ny's BD strat­e­gy mov­ing for­ward, Nal­ly said, which the com­pa­ny will have to lever­age with its own in-house work.
"The re­al­i­ty is … we can pro­duce far more than we can con­sume so we want to make sure we com­ple­ment our ex­per­tise in pro­tein en­gi­neer­ing with oth­ers' dis­tinct ca­pa­bil­i­ty in ar­eas like dis­ease-area bi­ol­o­gy, man­u­fac­tur­ing and clin­i­cal de­vel­op­ment," Nal­ly said. "Ul­ti­mate­ly there's a huge in­vest­ment across biotech and phar­ma in un­der­stand­ing tar­get bi­ol­o­gy so we think if there's an ap­pro­pri­ate task, this tech­nol­o­gy may be able to ad­dress it in a way that very few oth­er tech­nolo­gies can."