Fran­cis Collins gets a re­prieve, held over as NIH chief un­der Trump — for now
---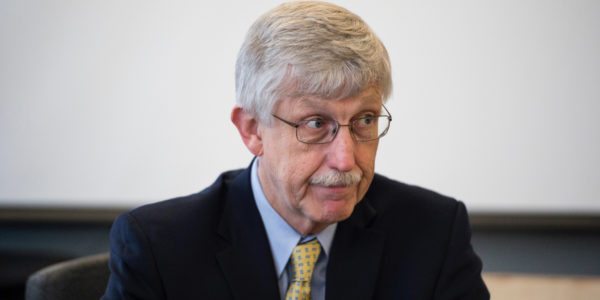 Fran­cis Collins, the di­rec­tor of the Na­tion­al In­sti­tutes of Health – CQ Roll Call Get­ty
To­day was sup­posed to be Fran­cis Collins' last day as head of the NIH. In­stead, he's stay­ing on, "held over" as the in­com­ing Trump ad­min­is­tra­tion makes up its mind on how it wants to man­age the na­tion's in­vest­ment in new ther­a­peu­tic re­search.
"We can con­firm that Dr. Collins has been held over by the Trump ad­min­is­tra­tion," a spokesper­son told End­points News via email. "We have no ad­di­tion­al de­tails at this time. Any ques­tions should be di­rect­ed to the Trump tran­si­tion team."
Collins has been a pop­u­lar NIH chief, earn­ing ku­dos for his sci­en­tif­ic ex­per­tise and the man­age­ment of the NIH's an­nu­al bud­get of $31 bil­lion. Con­gress re­cent­ly upped the amount the NIH will get as part of the 21st Cen­tu­ry Cures Act, a sign of the re­spect Collins has earned in Wash­ing­ton DC.
Just what "held over" means, though, is any­one's guess. Na­ture re­cent­ly re­port­ed that biotech ex­ec Patrick Soon-Sh­iong was one of sev­er­al new can­di­dates be­ing con­sid­ered for the NIH job. He and Trump re­port­ed­ly met a day be­fore Collins and Rep­re­sen­ta­tive Andy Har­ris (a Re­pub­li­can from Mary­land) had a chance to sit down with the pres­i­dent-elect.
Don­ald J. Trump be­comes the 45th Pres­i­dent of the Unit­ed States to­day, giv­ing him am­ple time to pon­der the sit­u­a­tion as he gets his Cab­i­net in or­der.