Fresh de­lay for $4.3B Roche/Spark deal trig­gers an­a­lyst con­cerns about gene ther­a­py M&A
Roche CEO Sev­erin Schwan may have pre­pared the staff at Spark for the fifth de­lay of its $4.3 bil­lion ac­qui­si­tion — adding a few months of cush­ion and push­ing the dead­line as far as April 30, 2020 — but that's not stop­ping an­a­lysts from be­com­ing se­ri­ous­ly con­cerned.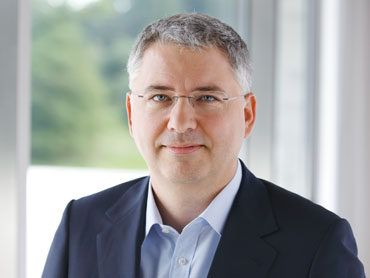 Sev­erin Schwan Roche
The FTC's dragged on in­ves­ti­ga­tion, which is hold­ing up the deal, points to some­thing big­ger than Spark or Roche, Mani Foroohar of SVB Leerink told Bloomberg. It sends a wor­ry­ing sig­nal to any buy­ers look­ing to make a move in gene ther­a­py M&A.
"For any­one try­ing to make that deal there's a par­a­lyz­ing ef­fect," Foroohar said in an in­ter­view with the news out­let. "What would've been seen as a low ex­e­cu­tion risk, low reg­u­la­to­ry risk, straight­for­ward deal is sud­den­ly some­thing caught up for a year and a half, and you have to look at di­vest­ing," he said.
The group of po­ten­tial takeover tar­gets in­cludes uniQure and Bio­Marin, both of which have late-stage gene ther­a­py pro­grams lined up.
Gene ther­a­pies for he­mo­phil­ia, too. While ex­ecs and reg­u­la­tors have re­peat­ed­ly de­clined to shed light on the road­block, a com­mon as­sump­tion is that the FTC is prob­ing for po­ten­tial over­laps be­tween Spark's ex­per­i­men­tal he­mo­phil­ia treat­ments and Roche's new­ly launched Hem­li­bra. More re­cent­ly, the UK's Com­pe­ti­tion and Mar­kets Au­thor­i­ty has al­so launched its own in­ves­ti­ga­tion.
Jef­feries an­a­lysts con­tend­ed that "there is un­like­ly any ma­jor is­sue" as the he­mo­phil­ia mar­ket is crowd­ed and gene ther­a­pies work quite dif­fer­ent­ly than Hem­li­bra, an an­ti­body that bridges two oth­er blood clot­ting fac­tors.
Hav­ing con­fi­dent­ly pre­dict­ed that the deal would close in the first half of this year, Roche is now look­ing to wrap it by year-end. Spark stock­hold­ers — which have col­lec­tive­ly ten­dered 25.2% of their shares — now have un­til Sep­tem­ber 3 to pon­der if there will be yet an­oth­er ex­ten­sion.