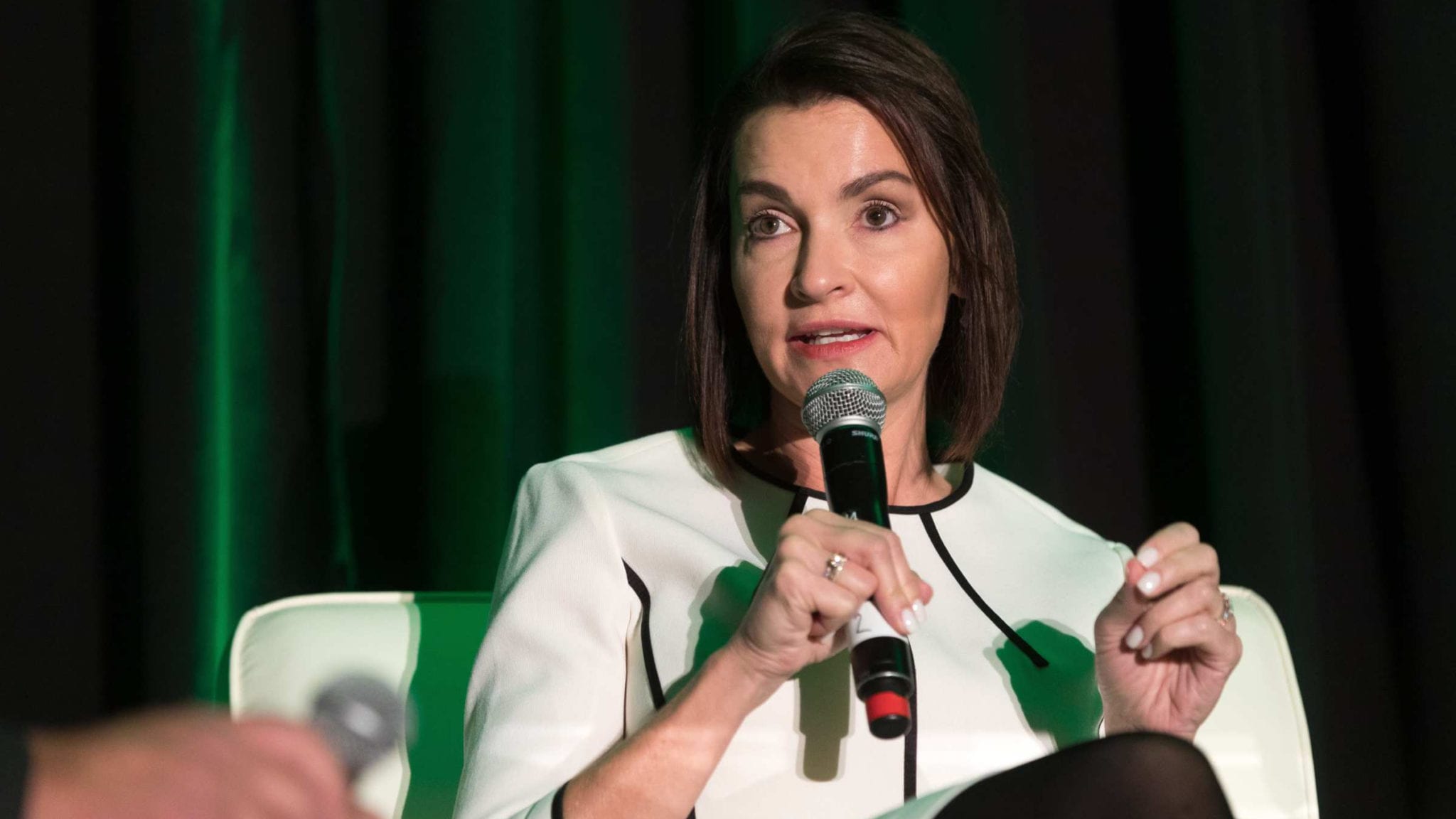 Christi Shaw at JP Morgan 2019. Jeff Rumans for Endpoints News
Fresh out of Eli Lil­ly, Christi Shaw sur­faces as Daniel O'­Day's new CEO at CAR-T pi­o­neer Kite
Well, that didn't take long.
We found out Thurs­day evening that Christi Shaw has giv­en up her top post as the head of the Bio-Med­i­cines group at Eli Lil­ly for the helm at CAR-T pi­o­neer Kite. New Gilead CEO Daniel O'Day, a Roche vet­er­an, had made find­ing a Kite CEO a top pri­or­i­ty on his ar­rival at Gilead. And he went right for a head­lin­er.
O'Day was clear­ly ex­cit­ed about the coup.
"We con­duct­ed an ex­ten­sive search for a new leader at Kite and we be­lieve that Christi's unique set of skills will al­low us to con­tin­ue to build on our lead­er­ship po­si­tion in cell ther­a­py," he said in a pre­pared state­ment. "Christi's vast ex­pe­ri­ence across com­plex ther­a­peu­tic ar­eas, and par­tic­u­lar­ly in on­col­o­gy, will serve Kite very well. She is clear­ly a leader who will bring teams and in­di­vid­u­als to­geth­er and I am con­fi­dent she will build up­on the en­tre­pre­neur­ial spir­it at Kite as we seek to help more peo­ple with can­cer around the world."
Kite was the num­ber two com­pa­ny — be­hind No­var­tis — to in­tro­duce per­son­al­ized cell ther­a­pies to can­cer pa­tients. But it quick­ly leapfrogged to the front af­ter es­tab­lish­ing a more re­li­able man­u­fac­tur­ing process — a key piece of the puz­zle in terms of build­ing that mar­ket.
More re­cent­ly, though, the fo­cus in R&D has turned to off-the-shelf ver­sions of CAR-T, where the lead­ers like Arie Bellde­grun have be­gun seek­ing out new ther­a­pies that don't have to use adapt­ed cells from pa­tients.
Shaw brings a rare per­son­al ap­proach to drug de­vel­op­ment. A vet­er­an phar­ma ex­ec, she left a big job run­ning No­var­tis' US busi­ness to help care for her ail­ing sis­ter. She talked about that a few months ago dur­ing our pan­el con­ver­sa­tion on drug pric­ing and the rel­a­tive val­ue of new ther­a­peu­tics, putting the is­sue in a hu­man con­text.
If we want to take, like my sis­ter, rare dis­ease, mul­ti­ple myelo­ma. Thank God we in­vest­ed be­cause she was on sev­en dif­fer­ent med­i­cines. She had a great qual­i­ty of life for three out of four years, while she would've on­ly got­ten sev­en months be­fore. Now, that may not mean a lot to every­body un­til it's your own sis­ter, un­til it's your own pa­tient, your own child, your moth­er.
That makes her a po­tent spokesper­son for cell ther­a­pies at a time that seg­ment of on­col­o­gy is still find­ing its feet on the mar­ket.
Bellde­grun, the CEO who guid­ed Kite to its land­mark suc­cess, of­fered a thumbs up from Eu­rope.
"I had re­cent­ly the plea­sure to meet with Christi and dis­cuss with her the unique op­por­tu­ni­ty to be­come the first CEO of a stand-alone com­pa­ny with­in Gilead. With Christi's im­pres­sive track record and with her great lead­er­ship skills I have no doubt that she will ex­cel in keep­ing Kite as the pre­miere force in the rapid­ly grow­ing space of en­gi­neered cell ther­a­py and in ex­pand­ing its reach glob­al­ly."