Genap­sys fi­nal­ly un­veils vaunt­ed se­quencer, but can it dent Il­lu­mi­na?
Hesaam Es­fand­yarpour holds what looks like a mi­ni-cool­er up to the com­put­er screen in his Cal­i­for­nia of­fice.
Es­fand­yarpour is in his late-30s, with crows feet creep­ing up against a youth­ful face. He wears a gray po­lo and the de­vice in his hand — with its hard plas­tic-look­ing shell, blue-and-white pat­tern, and a white plas­tic pad­dle re­sem­bling a han­dle jut­ting out the front — might con­tain diced straw­ber­ries and peanut-but­ter sand­wich­es to meet mom and the kids at a So­Cal park. In­stead, Es­fand­yarpour tells me it's go­ing to change med­i­cine and bio­phar­ma re­search.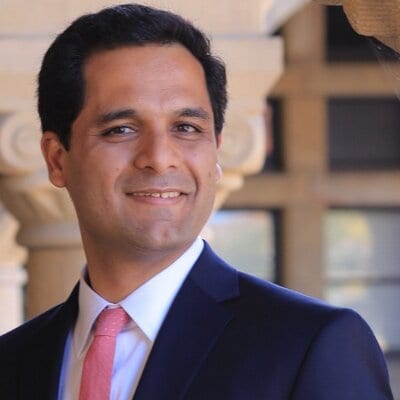 Hesaam Es­fand­yarpour
"Med­i­cine is bro­ken com­pared to oth­er tech­nol­o­gy," he told End­points News. "It means a lot for bio­phar­ma… it's go­ing to make a big im­pact on what's go­ing on with bi­ol­o­gy, both for the pa­tient se­lec­tion and it's very im­por­tant for clin­i­cal tri­als."
Es­fand­yarpour is the CEO and founder of Genap­sys, and the de­vice is his long-billed DNA se­quencer. It's hooked up to the cloud and the white pad­dle ac­tu­al­ly con­tains a slot for a se­quenc­ing chip on which you place the DNA sam­ple.
Speak­ing at con­fer­ences, lec­ture halls, and to Face­book bil­lion­aire Yuri Mil­ner, Es­fand­yarpour has promised for sev­er­al years that the 9.5-pound de­vice will make DNA se­quenc­ing faster and cheap­er — an iPad was his com­mon point of com­par­i­son, al­though the launch prod­uct is larg­er — and thus ush­er med­i­cine in­to the big da­ta era. Now with $90 mil­lion in back­ing from Fore­site Cap­i­tal and oth­ers, that de­vice is hit­ting the mar­ket.
Es­fand­yarpour said di­ag­nos­tic and bio­phar­ma re­search labs have been high­ly in­ter­est­ed in the tech for its ca­pa­bil­i­ty and cost. But Kei­th Ro­bi­son, a com­pu­ta­tion­al bi­ol­o­gist for a Boston-based syn­thet­ic bio com­pa­ny, said that while Genap­sys may find in­ter­est from new biotechs, most sci­en­tists have been trained on Il­lu­mi­na. Com­pa­nies would face huge switch­ing costs.
"Is there a mar­ket for these rel­a­tive­ly small out­put se­quencers?" Ro­bi­son, who al­so runs the blog Omic­sOmics told End­points. "Il­lu­mi­na con­trols 90% of the se­quenc­ing mar­ket over­all, any­one try­ing to get in­to the mar­ket has to fight this gi­ant."
Es­fand­yarpour's back­ground is in elec­tri­cal en­gi­neer­ing and he's been say­ing med­i­cine is bro­ken for some time now, telling Stan­ford stu­dents in 2017 "Steve Jobs claimed to be a prophet, I was in his re­li­gion" and "we can move atoms… but when it comes to med­i­cine we're still in the cave age." This area of med­i­cine, though, has been cor­nered and guard­ed for some time. Il­lu­mi­na now counts sales over $3.3 bil­lion per year and a mar­ket cap of $43 bil­lion. With an eye to­ward up­starts such as Nanopore and Ion Tor­rent, they've rolled out new prod­ucts such as their No­vaSeq $100 af­ford­able op­tion.
But Es­fand­yarpour says that's $100 for a ser­vice from a mil­lion-dol­lar ma­chine (and doesn't re­al­ly cost $100). Genap­sys's de­vice comes at $9,900 — they mar­ket them­selves as "un­der $10,000" — and is all-in-one. You put the DNA on­to a se­quenc­ing chip made from su­per­con­duc­tors and slip the chip in­to the de­vice. The read­out takes about a day. Ac­cord­ing to Ro­bi­son, it en­ters as the cheap­est se­quencer on the mar­ket.
The ap­pli­ca­tions for cheap, road-trip-cool­er sized ge­nomics are wide and Es­fand­yarpour spoke about teas­ing out new can­cer tar­gets and rapid­ly test­ing pa­tients for clin­i­cal tri­als. Roche's Foun­da­tion Med­i­cine es­ti­mates that de­spite ad­vance­ments in tar­get­ed on­col­o­gy, on­ly 15% of can­cer pa­tients get ad­vanced DNA se­quenc­ing.
Much of that tech al­ready ex­ists in some form, though, Ro­bi­son said. He thinks ul­ti­mate­ly there is room for Genap­sys to break in, but it will de­pend on how good the ear­ly edi­tions are. He re­called Nanopore get­ting blast­ed on Twit­ter when ear­ly ver­sions of their plat­form gave in­ac­cu­rate read­outs. The tech im­proved but the rep­u­ta­tion stuck.
"The thing prob­a­bly is re­al, but can they re­al­ly ex­e­cute?" Ro­bi­son said. "Does the thing work as it ad­ver­tised? When I get one, does it re­al­ly be­have or is it like an As Seen On TV thing?"