Gene ther­a­py biotech sees its stock rock­et high­er on promis­ing re­sults for rare cas­es of but­ter­fly dis­ease
Shares of Krys­tal Biotech took off this morn­ing $KRYS af­ter the lit­tle biotech re­port­ed promis­ing re­sults from its gene ther­a­py to treat a rare skin dis­ease called epi­der­mol­y­sis bul­losa.
Fo­cus­ing on an up­date with 4 new pa­tients, re­searchers spot­light­ed the suc­cess of KB103 in clos­ing some stub­born wounds. Krys­tal says that of 4 re­cur­ring and 2 chron­ic skin wounds treat­ed with the gene ther­a­py, the KB103 group saw the clo­sure of 5. The 6th — a chron­ic wound, de­fined as a wound that had re­mained open for more than 12 weeks — was par­tial­ly closed. That brings the to­tal so far to 8 treat­ed wounds, with 7 clo­sures.
At 90 days, mean­while, all 3 wounds in the place­bo group re­mained open.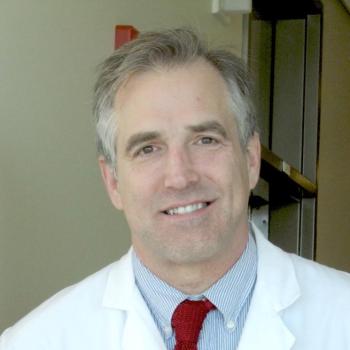 Pe­ter Marinkovich Stan­ford
Sig­nif­i­cant­ly, one pa­tient dropped out of the study af­ter 30 days, which Krys­tal says was due to dif­fi­cul­ty in trav­el­ing to the tri­al site. In­vestors, though, weren't com­plain­ing. They drove the biotech's shares up 35% in ear­ly trad­ing on Mon­day.
The kids who suf­fer from epi­der­mol­y­sis bul­losa are some­times called "but­ter­fly chil­dren," to il­lus­trate a rare ge­net­ic con­di­tion that caus­es the skin to re­main ex­treme­ly frag­ile, blis­ter­ing and crack­ing at a touch. It's caused by mu­ta­tions in the COL7A1 gene en­cod­ing type VII col­la­gen, or COL7.
KB103 — now head­ed for a Phase III start be­fore the end of this year — was se­lect­ed by the EMA for its PRIME des­ig­na­tion, in­tend­ed to speed along ex­per­i­men­tal drugs af­ter demon­strat­ing some promise. And the FDA has now fol­lowed up with its own spe­cial des­ig­na­tion of the ther­a­py for its Re­gen­er­a­tive Med­i­cine Ad­vanced Ther­a­py pro­gram.
The dis­ease has de­feat­ed sev­er­al at­tempts to come up with new ther­a­pies for it.
"New treat­ments for pa­tients suf­fer­ing from EB are des­per­ate­ly need­ed, es­pe­cial­ly one that pro­vides a con­ve­nient, pain­less way to ad­min­is­ter treat­ment for pa­tients suf­fer­ing with this de­bil­i­tat­ing dis­ease and to re­duce their trav­el bur­den," said Pe­ter Marinkovich, as­so­ciate pro­fes­sor of der­ma­tol­ogy, Stan­ford Uni­ver­si­ty and prin­ci­pal in­ves­ti­ga­tor in the GEM study. "These ex­cit­ing da­ta in the Phase 1/2 tri­als are sup­port­ive of this very promis­ing new ap­proach for treat­ing this de­bil­i­tat­ing dis­ease."
So­cial im­age: Shut­ter­stock