Genmab is on a roll. The biotech has inked another high-profile collaboration deal — this time with Gilead — that will put its bispecific antibody tech to work on HIV therapies.
The deal starts small, with Gilead handing over a $5 million upfront and following it up with $277 million-plus in potential milestones, depending on how far Genmab can get. The Danish company is using its DuoBody platform on the deal, which boasts an ability to bind to different targets without losing the therapeutic punch expected from a single antibody.
In just the last few months Genmab picked up its second breakthrough drug designation for its multiple myeloma drug Darzalex, partnered with J&J, which is now angling for a bigger market with a second-line use designation. And there was a $30 million milestone payoff a couple of months ago when J&J racked up its first sale of the drug in Europe.
Genmab also developed Arzerra, which has run into trouble, though Novartis is taking it into a late-stage study for multiple sclerosis.
Genmab doesn't object to starting small and thinking big. When Novo Nordisk jumped on its tech platform a year ago, the pharma company paid $2 million to get started while promising hundreds of millions more for success. In its own careful way, that strategy of lining up marquee collaborations has paid off.
Earlier this week Genmab outlined rising R&D costs as it beefed up development efforts. Genmab is continuing to work on Darzalex and Arzerra, with a variety of additional programs, including its AMG 714, an anti-inflammatory IL-5 drug partnered with Amgen. Here's a look at the details for 2016: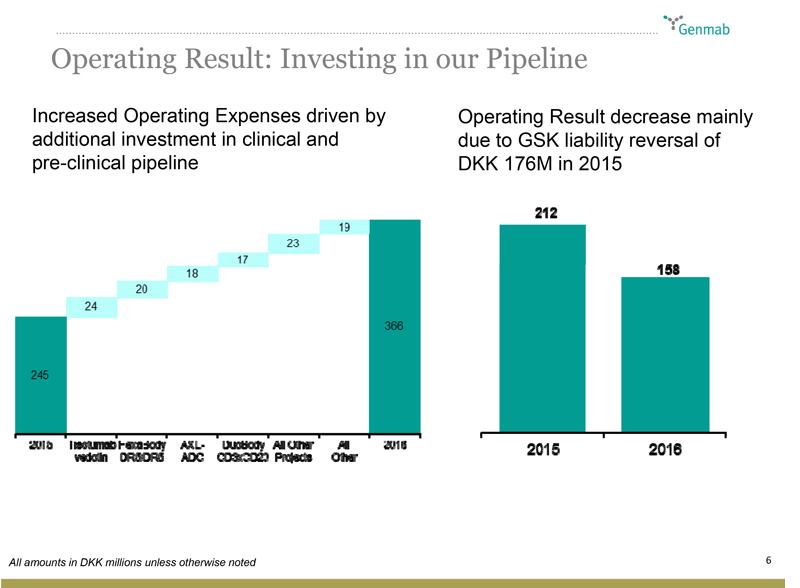 ---
The best place to read
Endpoints News

? In your inbox.

Comprehensive daily news report for those who discover, develop, and market drugs. Join 45,000+ biopharma pros who read Endpoints News by email every day.

Free Subscription
---
---
---