Gen­Sight vet Com­bal grabs $40M from No­var­tis, Roche group for sec­ond-wave gene ther­a­py biotech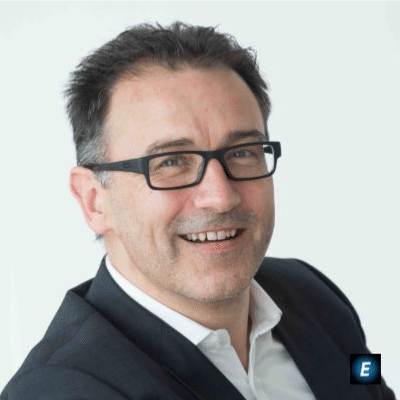 Jean-Philippe Com­bal
Up un­til some months ago, Jean-Philippe Com­bal had been the COO at Paris-based Gen­Sight Bi­o­log­ics, fo­cused on a close­ly-watched late-stage study of an ex­per­i­men­tal gene ther­a­py for Leber's Hered­i­tary Op­tic Neu­ropa­thy (or LHON), a rare mi­to­chon­dr­i­al dis­ease that de­stroys vi­sion. But in a quick leap, he's now jumped ship, leav­ing CEO Bernard Gilly's crew and launch­ing a new wave ther­a­py start­up of his own that has at­tract­ed about $40 mil­lion in start­up cash.
Vivet Ther­a­peu­tics is not a com­pet­ing ven­ture. Com­bal is jump­ing in­to liv­er and meta­bol­ic dis­eases, build­ing a plat­form tech to go af­ter a new set of rare dis­eases. First up for a clin­i­cal pro­gram is Wil­son Dis­ease, an or­phan dis­ease trig­gered by an er­rant gene that scram­bles the body's abil­i­ty to reg­u­late lev­els of cop­per in the liv­er.
Work­ing with Jens Kurth, ex-Anokion and No­var­tis along with Glo­ria Gon­za­lez Aseguino­laza from CIMA at the Uni­ver­si­ty of Navar­ra, they have a lead gene ther­a­py dubbed VTX801 ready to go in­to the clin­ic next year. The mon­ey should get them through first steps in ear­ly-stage R&D work with enough cash to pay for a cou­ple of more INDs as they start pipeline con­struc­tion.
No­var­tis Ven­ture Fund and Colum­bus Ven­ture Part­ners led the round, with a syn­di­cate that in­cludes Roche Ven­ture Fund, Health­Cap, Kur­ma Part­ners and Ys­ios Cap­i­tal.
The nascent gene ther­a­py field has learned a lot from the first two gene ther­a­pies to ar­rive in Eu­rope. Gly­bera from uniQure is now be­ing yanked af­ter one use, and Strimvelis from GSK is find­ing con­sid­er­able re­sis­tance from pay­ers as well.
But Com­bal is look­ing on the bright side, gain­ing lessons from the re­al world ex­pe­ri­ence of the pi­o­neers to see how to build a gene ther­a­py com­pa­ny that can thrive, avoid­ing the pit­falls that await­ed the lead­ers.
"I think the top com­pa­nies to­day (which in­cludes US leader Spark Ther­a­peu­tics) of­fer a good ex­am­ple of what is pos­si­ble and not pos­si­ble," Com­bal, al­so a Fovea and Sanofi vet­er­an, tells me. To be a suc­cess in this field, com­pa­nies are go­ing to need strong da­ta from at least two years of ex­pe­ri­ence in tri­al pa­tients.
"We need to get strong out­comes," he adds, in or­der to get an ap­proval with the kind of demon­stra­tion of ef­fi­ca­cy that can win over pay­ers and agen­cies. "Strimvelis was very help­ful, show­ing that big com­pa­nies can go in­to gene ther­a­py." And he be­lieves the he­mo­phil­ia stud­ies un­der­way now can de­liv­er the kind of strong da­ta need­ed to start build­ing mar­kets.
Com­bal is hap­py to let the pi­o­neers break these paths. He plans to be close be­hind, learn­ing at every step and in­cor­po­rat­ing those lessons in­to the busi­ness plan.