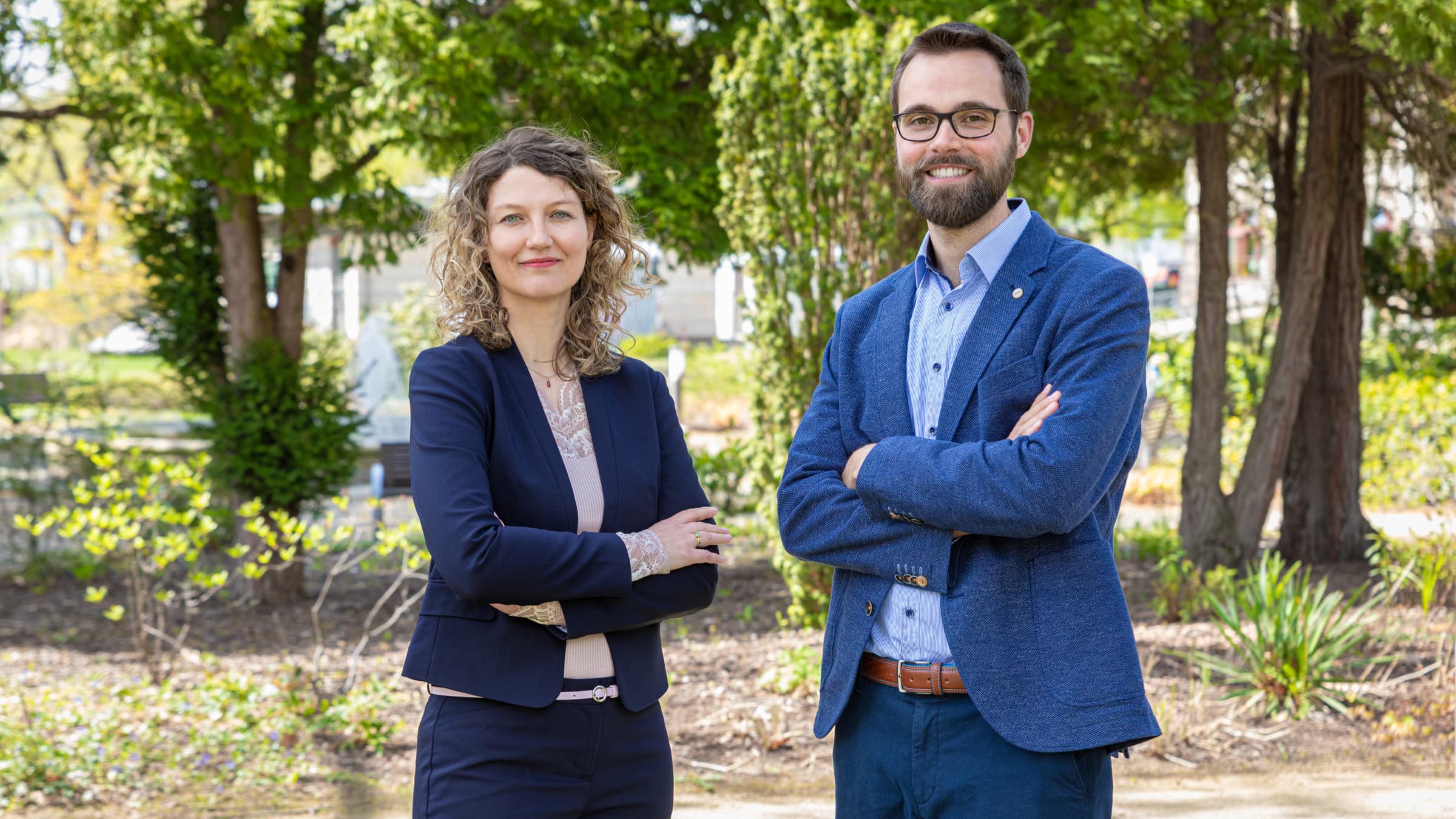 Seamless Therapeutics CEO Anne-Kristin Heninger and CSO Felix Lansing
Ger­man biotech launch­es with 'seam­less' gene edit­ing plat­form built on evolv­ing en­zymes
Seam­less Ther­a­peu­tics has launched with €11.8 mil­lion (rough­ly $12.5 mil­lion) in seed fund­ing to build out a gene edit­ing plat­form.
As more and more gene edit­ing tech­niques are be­ing de­vel­oped — start­ing with CRISPR/Cas9 to base and prime edit­ing, and more re­cent­ly, PASTE — Seam­less is try­ing to evolve, lit­er­al­ly, an ap­proach that dates back decades.
The Dres­den, Ger­many-based start­up is de­vel­op­ing so-called "de­sign­er re­com­bi­nas­es" that can po­ten­tial­ly ed­it large chunks of genes. Re­com­bi­nas­es are en­zymes that can ex­cise, in­vert, or even in­sert a DNA se­quence, but typ­i­cal­ly they on­ly work via very spe­cif­ic tar­get se­quences. How­ev­er, by con­tin­u­ous­ly evolv­ing these re­com­bi­nas­es, Seam­less is try­ing to de­vel­op re­com­bi­nas­es that work at the se­quences it wants — those that are found in hu­man genes.
The biotech stems from Frank Buch­holz's lab at the Uni­ver­si­ty of Dres­den, where CSO Fe­lix Lans­ing was a grad­u­ate stu­dent and lat­er a post­doc. It orig­i­nal­ly start­ed out near­ly four years ago as RecTech, bankrolled by a €3.4 mil­lion grant from a Ger­man gov­ern­ment ini­tia­tive for life sci­ence star­tups, but of­fi­cial­ly launched as Seam­less at the start of this year. At the helm is CEO Anne-Kristin Heninger, who was a sci­en­tif­ic project man­ag­er for RecTech at its in­cep­tion and has been in charge of the op­er­a­tions and the busi­ness side of the start­up.
Welling­ton Part­ners and For­bion are the ven­ture cap­i­tal back­ers be­hind the biotech. Part of Seam­less' seed fund­ing al­so in­cludes a new €3.8 mil­lion grant from the Ger­man gov­ern­ment.
For many years, re­com­bi­nas­es have been a sta­ple of ba­sic sci­ence re­search used to study how genes are ex­pressed, but now Seam­less and oth­ers are lever­ag­ing them for fu­ture med­i­cines. Prime Med­i­cine, found­ed by the Broad In­sti­tute's David Liu, is work­ing on a tech­nique called PAS­SIGE that us­es a prime ed­i­tor to put a tar­get site where it wants in the DNA, so a re­com­bi­nase can then swoop in and ed­it the gene. Stealth biotech Tome Bio­sciences, co-found­ed by MIT fel­lows Omar Abu­dayyeh and Jonathan Gooten­berg, house PASTE, a tech­nol­o­gy that fus­es the re­com­bi­nase and the parts of a prime ed­i­tor to­geth­er. Seam­less, on the oth­er hand, is point­ing the re­com­bi­nas­es to their tar­gets by al­ter­ing the re­com­bi­nas­es them­selves.
Seam­less' de­sign­er re­com­bi­nas­es take time to make. "When I start­ed in 2016 with my PhD, it took me one and a half years to cre­ate my first pair of de­sign­er re­com­bi­nas­es," Lans­ing said. "But then, ramp­ing up the tech­nol­o­gy and un­der­stand­ing it, we are now down to a cou­ple of months for mak­ing a new en­zyme."
"We re­al­ly had em­pha­sis put on speed­ing up the process of gen­er­at­ing [new re­com­bi­nas­es] be­cause that will tru­ly un­lock the us­age in a broad­er as­pect and be­cause we would like to test many things that are very ver­sa­tile," he added.
Seam­less is still in its ear­ly stages, and Heninger said that next steps will be to ma­ture the plat­form and build out Seam­less' pipeline. She said it was too ear­ly to put a time­line on mile­stones for the com­pa­ny, like when it would be in the clin­ic.
First, the biotech is like­ly to work on ex vi­vo ap­proach­es as it looks in­to po­ten­tial de­liv­ery tech­nolo­gies for in vi­vo ther­a­pies, Lans­ing said. On de­liv­ery, Heninger added that the biotech may look for po­ten­tial col­lab­o­ra­tors.
De­liv­er­ing gene ed­i­tors pos­es a ma­jor lim­it­ing fac­tor for what ther­a­pies can be made suc­cess­ful­ly, giv­ing rise to a new slate of biotech com­pa­nies fo­cus­ing specif­i­cal­ly on just that, in­clud­ing Feng Zhang's Aera Ther­a­peu­tics, which launched last month. Liu and Kei­th Joung are the sci­en­tif­ic founders be­hind an­oth­er de­liv­ery biotech called Nvel­op Ther­a­peu­tics.
When asked how Seam­less' plat­form com­pared to oth­er gene edit­ing tools, Heninger said, "It's im­por­tant to point out to maybe not com­pare the tech­nolo­gies. Rather say, what can we ad­dress best with our tech­nol­o­gy? And they have good in­di­ca­tions they can ad­dress with their tech­nolo­gies. I would rather think about it that way."