Get­ting to work on pipeline con­struc­tion, new Ipsen CEO forges $1B deal to buy Mer­ri­mack's strug­gling Onivyde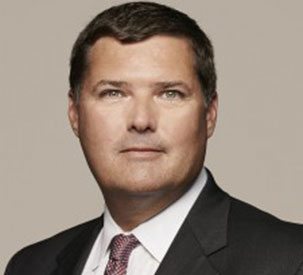 Ipsen CEO David Meek
Mer­ri­mack Phar­ma­ceu­ti­cals and Ipsen, two biotechs look­ing to re­or­ga­nize and move up in the world, have struck a bil­lion-dol­lar deal for a floun­der­ing can­cer ther­a­py. The Paris-based Ipsen is hand­ing over $575 mil­lion in cash and promis­ing up to $450 mil­lion in mile­stones to grab Mer­ri­mack's US rights to Onivyde, ap­proved for pan­cre­at­ic can­cer. And new Ipsen CEO David Meek tells End­points that you can ex­pect more deals to come.
Ipsen gets Mer­ri­mack's $MACK on­ly mar­ket­ed drug just a few months af­ter the Boston-based biotech oust­ed its CEO fol­low­ing its lack­lus­ter de­but, which pro­vid­ed on­ly mar­gin­al im­prove­ments on sur­vival rates for ad­vanced pan­cre­at­ic can­cer pa­tients. The French biotech al­so adds Mer­ri­mack's com­mer­cial ops in the US as well as man­u­fac­tur­ing. And it lines up the fast-grow­ing Shire as a part­ner, which has been han­dling ex-US mar­ket­ing on the drug.
Onivyde earned on­ly $14.5 mil­lion in the third quar­ter, net, leav­ing an­a­lysts un­hap­py with Mer­ri­mack's progress and prospects. But Ipsen's Meek, who took over sev­en months ago — af­ter Shire ac­quired Bax­al­ta, where he had been pres­i­dent of on­col­o­gy — sees this deal as a great chance to add to its pres­ence in Cam­bridge, MA as well as the US mar­ket, feed­ing in­to their work to mar­ket So­mat­u­line. And there's po­ten­tial up­side in sev­er­al on­go­ing stud­ies aimed at ex­pand­ing its use.
"For us the sweet spot is gain­ing a mar­ket­ed prod­uct in on­col­o­gy," Meek tells me. It's a "great deal" just for the cur­rent in­di­ca­tion in pan­cre­at­ic can­cer, he adds, where Onivyde is the on­ly ap­proved drug in a post-gem­c­itabine set­ting.
Sources close to the deal tell me that the deal gives Mer­ri­mack the mon­ey it needs to com­plete its re­struc­tur­ing and re­fo­cus for a three-year stretch, with plans for a $1.54 div­i­dend, pay­ing off $175 mil­lion in notes and rein­vest­ing in its three top re­main­ing clin­i­cal stage ef­forts for MM-121, MM-141 and MM-310. MM-302, which failed a re­cent study, is be­ing shelved.
The deal is worth $5 a share, says the source, for stock that closed Fri­day at $3.60, which gave Mer­ri­mack a mar­ket cap of $466 mil­lion — sig­nif­i­cant­ly less than the up­front in the deal. And the cash funds op­er­a­tions go­ing for­ward in­to H2 2019, giv­ing the com­pa­ny time to pro­vide sol­id da­ta on the three key drugs in the pipeline.
"There had to be a process to nar­row the best path for­ward," says the source. "Ob­vi­ous­ly the drug hasn't per­formed as well as hoped," but this drug pro­vides "max­i­mum val­ue" for the next stage of de­vel­op­ment as it goes back to be­ing an R&D-stage biotech.
In a re­lease out Sun­day evening, Mer­ri­mack not­ed: "The mile­stones are com­posed of: $225 mil­lion for U.S. Food and Drug Ad­min­is­tra­tion ("FDA") ap­proval in first-line pan­cre­at­ic can­cer, $150 mil­lion for FDA ap­proval in small cell lung can­cer and $75 mil­lion for FDA ap­proval in any third in­di­ca­tion." All of that mon­ey will be re­turned to share­hold­ers.
What­ev­er the mo­ti­va­tion to sell, Meek is hap­py to be on the buy­ing end. There's a Phase II study planned for Onivyde on first-line pan­cre­at­ic can­cer use, which can run straight in­to Phase III. An­oth­er mid-stage ef­fort is un­der­way for small cell lung can­cer and an ear­ly stage study for breast can­cer.
"The up­side," Meek says, "is pure up­side."
Meek says that he's just get­ting start­ed. He's plan­ning on adding more drug deals to beef up a pipeline in on­col­o­gy, neu­ro­science and rare dis­eases.
"We're try­ing to glob­al­ize our busi­ness," says the CEO. "We want an even big­ger pres­ence in the US than where we are to­day."
For starters, the deal will in­volve adding about 100 Mer­ri­mack staffers to Ipsen's pay­roll, which cur­rent­ly ac­counts for about 4,500 em­ploy­ees glob­al­ly. And Meek says the pact will add to the 100 staffers on site in Cam­bridge, MA, one of three R&D sites the com­pa­ny has, in­clud­ing op­er­a­tions in Lon­don/Ox­ford and Paris.
The FDA ap­proved Onivyde back in the fall of 2015 as a sec­ond-line treat­ment. Pa­tients treat­ed with Onivyde plus flu­o­rouracil/leu­cov­orin lived an av­er­age of 6.1 months, com­pared to 4.2 months for those treat­ed with on­ly flu­o­rouracil/leu­cov­orin. There was no sur­vival im­prove­ment for those who re­ceived on­ly Onivyde com­pared to those who re­ceived flu­o­rouracil/leu­cov­orin.
Ipsen is part­nered with Ex­elix­is on cabozan­ti­nib, han­dling the ex-US sales of the drug.
For Mer­ri­mack, the sale comes just weeks af­ter its lead ex­per­i­men­tal drug, MM-302, failed for breast can­cer in a clin­i­cal study. Mer­ri­mack cut 22% of its work force in Oc­to­ber as Robert Mul­roy, who cham­pi­oned Onivyde and tout­ed its fu­ture, stepped out of the com­pa­ny. With this lat­est re­or­ga­ni­za­tion, Mer­ri­mack will be left with 80 staffers, down about 320 from the pay­roll it sup­port­ed in Oc­to­ber 2016.