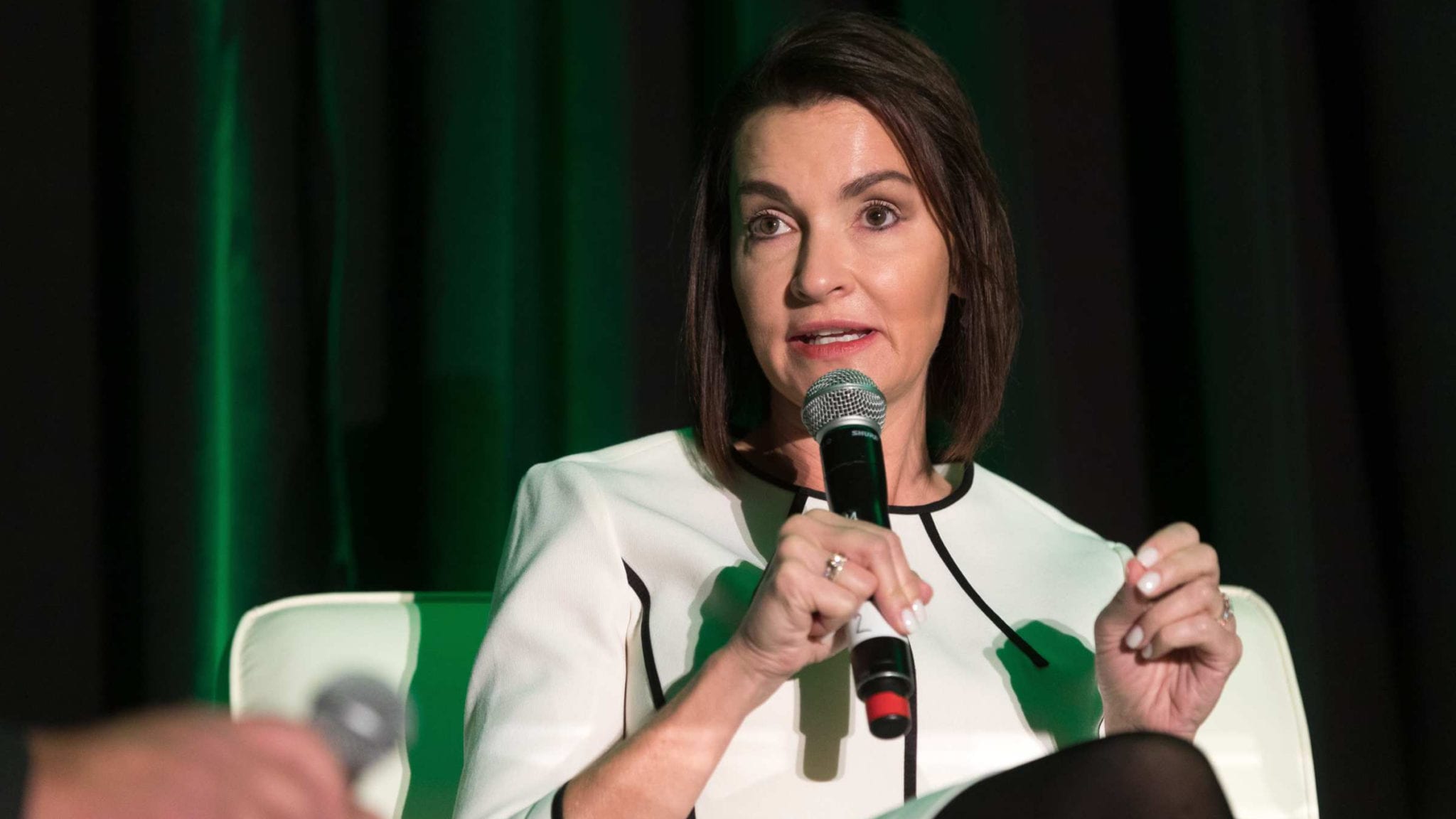 Christi Shaw, JPM19 (Credit: Jeff Rumans)
Gilead­'s Kite keeps adding to CAR-T Yescar­ta's bag of tricks with FDA ap­proval in fol­lic­u­lar lym­phoma — a first
Sev­er­al months af­ter cre­at­ing the first com­mer­cial CAR-T port­fo­lio with the FDA's nod for Tecar­tus, Gilead's Kite has racked up a sought-af­ter new in­di­ca­tion for its flag­ship cell ther­a­py Yescar­ta.
The FDA on Fri­day grant­ed Yescar­ta — al­so known as axi­cab­ta­gene ciloleu­cel — an ac­cel­er­at­ed ap­proval as a third-line ther­a­py for adults with re­lapsed or re­frac­to­ry fol­lic­u­lar lym­phoma (FL).
The de­ci­sion was based on the Phase II ZU­MA-5 tri­al, an open-la­bel study in which 146 in­do­lent non-Hodgkin's lym­phoma pa­tients re­ceived a sin­gle in­fu­sion of Yescar­ta af­ter two or more lines of treat­ment — in­clud­ing 124 with FL and 22 with mar­gin­al zone lym­phoma.
Of the FL pa­tients, 91% pa­tients re­spond­ed to Yescar­ta, 60% of whom achieved a com­plete re­mis­sion, ac­cord­ing to Kite. And 13 of the 25 pa­tients who achieved a par­tial re­mis­sion met the imag­ing cri­te­ria for a com­plete re­mis­sion, but hadn't been con­firmed by a neg­a­tive bone mar­row biop­sy af­ter treat­ment.
The OK came right on time for Yescar­ta's PDU­FA date, mak­ing it the first CAR-T ap­proved for FL. Gilead's stock $GILD was up 2.2% ear­ly Mon­day morn­ing, pric­ing at $64.62 a share.
Reg­u­la­tors did, how­ev­er, slap a boxed warn­ing on the la­bel for cy­tokine re­lease syn­drome and neu­ro­log­ic tox­i­c­i­ties. In a safe­ty analy­sis of the 146 pa­tients, Grade 3 or high­er CRS and neu­ro­log­ic tox­i­c­i­ties oc­curred in 8% and 21%, re­spec­tive­ly.
At ASH20, Kite said ad­verse events of any grade oc­curred in 99% of pa­tients, with Grade 3 or high­er events oc­cur­ring in 86%. The most com­mon were neu­trope­nia (33%), de­creased neu­trophil count (27%), and ane­mia (23%), the com­pa­ny said.
Last month, Kite tapped Take­da vet Frank Neu­mann to head glob­al clin­i­cal de­vel­op­ment, re­plac­ing Ken Takeshi­ta who's jump­ing to Dai­ichi Sankyo on April 1.
"Ad­vanc­ing CAR T ther­a­pies for pa­tients across lym­phomas re­mains a cor­ner­stone of our cell ther­a­py de­vel­op­ment pro­gram, and we are ex­cit­ed about the po­ten­tial of Yescar­ta for pa­tients with in­do­lent fol­lic­u­lar lym­phoma," Kite CEO Christi Shaw said in a state­ment.
FL is the most com­mon form of in­do­lent lym­phoma, with a five-year sur­vival rate of on­ly 20% for pa­tients in the third line. Pa­tients with FL have ma­lig­nant tu­mors that grow slow­ly and can be­come more ag­gres­sive over time.
"Once a fol­lic­u­lar lym­phoma pa­tient's dis­ease re­laps­es, the du­ra­tion of re­sponse to care short­ens with each round of ther­a­py," said Caron Ja­cob­son, med­ical di­rec­tor of the Dana-Far­ber Can­cer In­sti­tute's Im­mune Ef­fec­tor Cell Ther­a­py Pro­gram and as­sis­tant pro­fes­sor at Har­vard Med­ical School.
Gilead be­came an overnight CAR-T leader when it bought Kite for $12 bil­lion back in 2017, snatch­ing up clin­i­cal-stage Yescar­ta in the process. It nabbed a quick OK in re­lapsed or re­frac­to­ry large B-cell lym­phoma two weeks lat­er — not long af­ter No­var­tis' Kym­ri­ah be­came the world's first ap­proved CAR-T ther­a­py. This past Ju­ly, Kite nabbed its sec­ond ap­proval with Tecar­tus for treat­ment for re­lapsed or re­frac­to­ry man­tle cell lym­phoma.
While Yescar­ta was first out the gate in FL, Kyr­mi­ah isn't far be­hind. No­var­tis said back in Au­gust that it got the in­ter­im re­sults it was look­ing for from a Phase II tri­al in FL, and an­nounced plans to file with the FDA in 2021.
Up­on read­ing out the ZU­MA-5 re­sults at ASH, Kite's VP and head of med­ical af­fairs Ibrahim El-Houssieny said Gilead was al­ready talk­ing about de­vel­op­ing Yescar­ta for ear­li­er lines of ther­a­py.
"We are hav­ing these dis­cus­sions right now… about ear­li­er lines of ther­a­py and whether that would re­quire a Phase III or a Phase II," he told End­points News at the time. "That's still in dis­cus­sion. We haven't yet reached a fi­nal con­clu­sion on the study de­sign but it's some­thing that's in the plan­ning," he said.