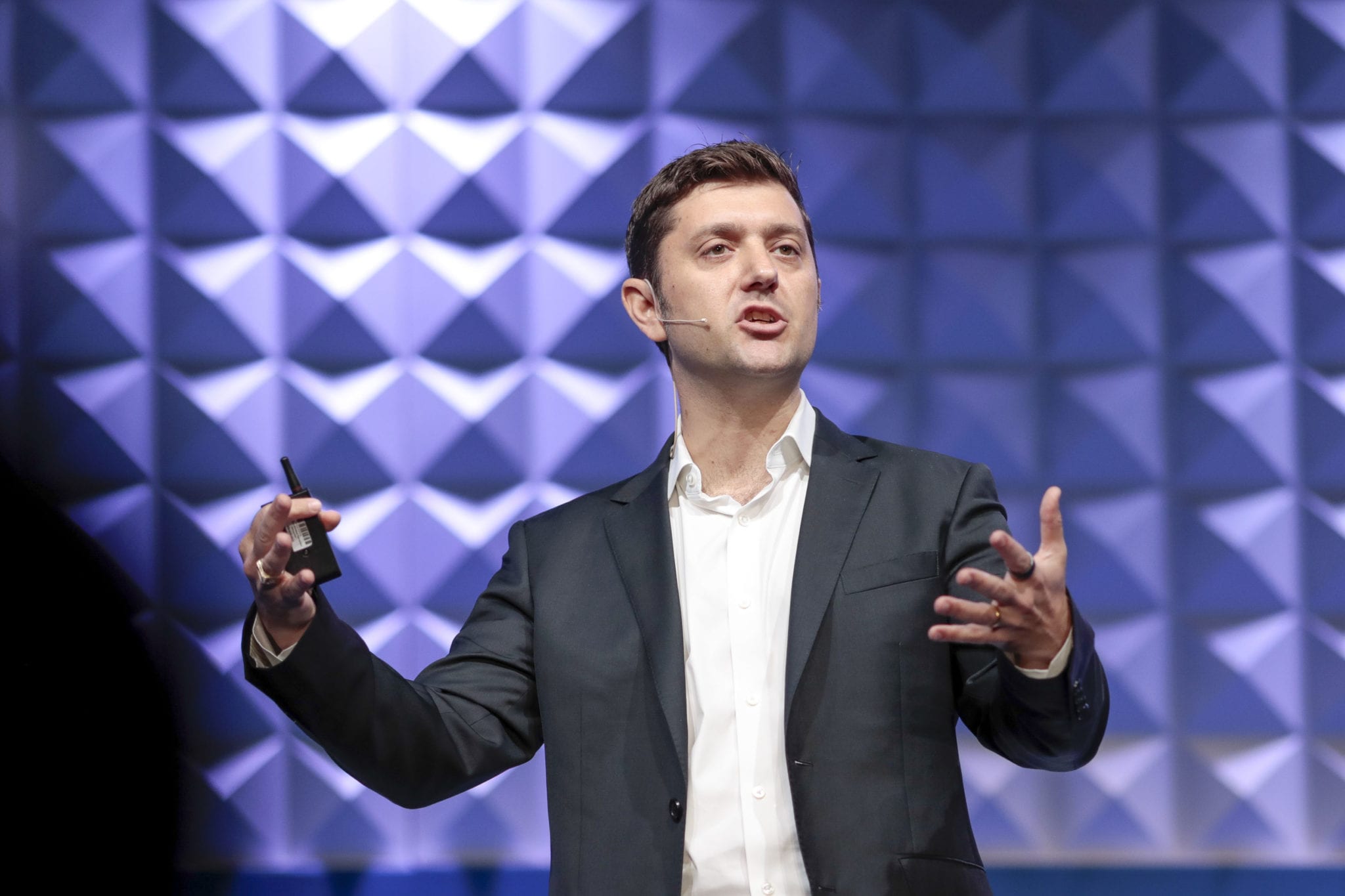 Jason Kelly, Ginkgo Bioworks CEO (Kyle Grillot/Bloomberg via Getty Images)
Gink­go inks $144M deal with Mer­ck to en­gi­neer en­zymes to im­prove in­gre­di­ent man­u­fac­tur­ing
While Mer­ck has not been averse to part­ner­ing with small­er com­pa­nies and the odd start­up, its lat­est part­ner­ship sees it link­ing arms with Gink­go Bioworks to help boost ac­tive phar­ma­ceu­ti­cal in­gre­di­ent pro­duc­tion through the use of en­zymes.
The part­ner­ship will have Gink­go de­vel­op a strain of bio­cat­a­lysts that can be used in chem­i­cal syn­the­sis for the pro­duc­tion of APIs. Gink­go can earn up­front R&D fees and mile­stone pay­ments, as well as com­mer­cial pay­ments which have the po­ten­tial to rake in up to $144 mil­lion for the com­pa­ny.
Gink­go's CEO Ja­son Kel­ly told End­points News that this is not new ter­ri­to­ry for Gink­go, and it has worked on projects with phar­ma com­pa­nies such as No­vo Nordisk and Bio­gen in the past. The com­pa­ny is al­so suit­ed to dis­cov­er­ies in the field of en­zymes. Kel­ly said that the process took around three months to put to­geth­er and will be look­ing to make four to five cat­a­lysts for Mer­ck.
One of the things they were ex­cit­ed about is we can do this in dif­fer­ent host strains, that is the tra­di­tion­al E. coli, which is what most folks that have worked in bio­cat­a­lysts pre­vi­ous­ly have ex­pressed these het­erol­o­gous en­zymes in E. coli and there are cer­tain types of en­zymes that don't ex­press well in E. coli. So, we can ex­plore a big­ger en­zyme space be­cause we work in sev­er­al fun­gal hosts, in ad­di­tion to E. coli, and so that's what they were ex­cit­ed about. They want­ed us to try to go af­ter some of these hard chem­i­cal steps.
For now, the re­search end of the deal has al­ready start­ed, ac­cord­ing to Kel­ly, and is ex­pect­ed to be com­plet­ed in around 12 to 18 months. Af­ter that, the re­searched strain will be pro­duced at a small­er lev­el be­fore Mer­ck, or an­oth­er man­u­fac­tur­er, will even­tu­al­ly make the en­zyme for com­mer­cial use.
For Kel­ly, this deal is a ma­jor step:
The re­al­i­ty is what we have on the plat­form to­day, par­tic­u­lar­ly with hav­ing more op­tions than E. coli, plus all our metage­nom­ic hunt­ing, be­ing able to go look in these gi­ant pro­pri­etary genome data­bas­es to find bet­ter en­zymes, and we have huge data­bas­es of mi­cro­bial col­lec­tions that we've se­quenced of our own. That is a unique as­set in the in­dus­try, and so we're hope­ful that we get to go around and talk to every­body that's do­ing that kind of man­u­fac­tur­ing and sell­ing them a bio­cat­a­lyst deal.
As the US gov­ern­ment is now pump­ing mil­lions of dol­lars in­to bio­man­u­fac­tur­ing for APIs, Kel­ly al­so said that com­pa­nies will be look­ing to­ward more do­mes­tic ef­forts in syn­thet­ic bio­chem­istry to help in steps that may be too ex­pen­sive. And if the deal is ul­ti­mate­ly suc­cess­ful for Gink­go, there are oth­er syn­thet­ic steps in API man­u­fac­tur­ing that the com­pa­ny can step in and try to ac­com­mo­date in the fu­ture.