Glad­stone spin­out Tenaya tack­les new cures for heart fail­ure with $50M A round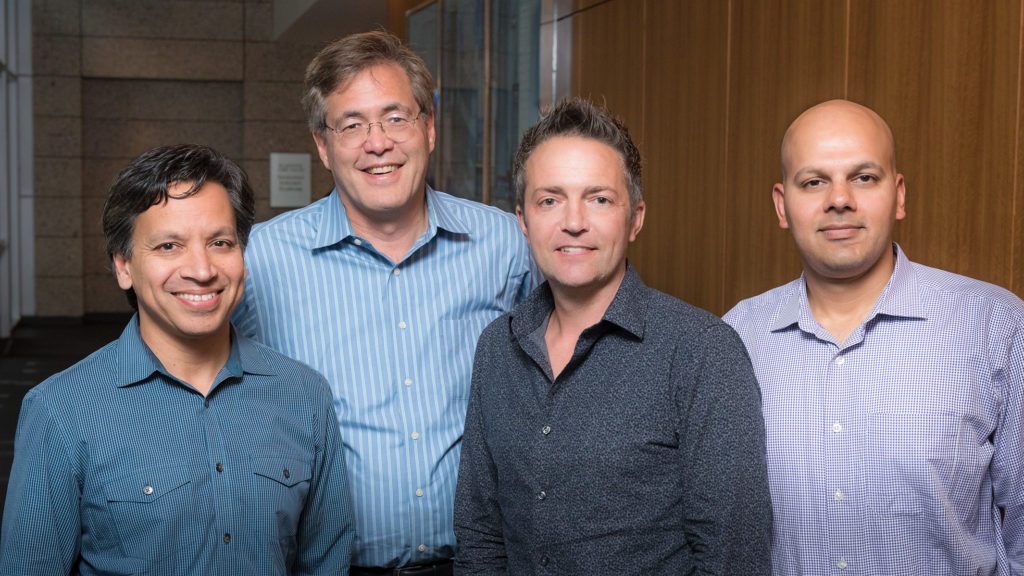 Tenaya sci­en­tif­ic co-founders (L-R) Deep­ak Sri­vas­ta­va, Bruce Con­klin, Benoit Bruneau, and Sap­tar­si Hal­dar [Cred­it: Chris Good­fel­low]
---
The idea that a fresh source of re­gen­er­a­tive cells could re­pair a dam­aged heart has dri­ven a va­ri­ety of large­ly un­suc­cess­ful re­search ef­forts aimed at help­ing pa­tients who have suf­fered from heart at­tacks and strokes. But now The Col­umn Group is bankrolling a $50 mil­lion Se­ries A for an up­start biotech that hopes to do just that.
The biotech is called Tenaya Ther­a­peu­tics, the brain­child in part of Deep­ak Sri­vas­ta­va, MD, di­rec­tor of the San Fran­cis­co-based Glad­stone In­sti­tute of Car­dio­vas­cu­lar Dis­ease and a co-founder of the new com­pa­ny.
Sri­vas­ta­va plans to build on Glad­stone's work in the field of cel­lu­lar re­pro­gram­ming to hone in on pos­si­ble cures for heart fail­ure. The Tenaya team will look at re­gen­er­at­ing heart mus­cle cells and al­so ex­plore stem cell tech­nol­o­gy — which has been dis­ap­point­ing to date.
"Right now, the on­ly pos­si­ble cure for heart fail­ure is a heart trans­plant," says Sri­vas­ta­va. "We hope that this new ven­ture will bring us clos­er to a more scal­able cure."
It won't come easy and it won't come cheap. Car­dio drugs tend to be few and far be­tween be­cause of the ex­tra­or­di­nar­i­ly high on safe­ty and ef­fi­ca­cy that ex­ists for any ther­a­pies in­tend­ed for huge pa­tient pop­u­la­tions like this.
David Goed­del, the man­ag­ing part­ner at The Col­umn Group, is step­ping in as chair­man to help keep watch over his in­vest­ment. Goed­del is al­so on the board of Bio­Ful­crum, which Glad­stone set up to help fos­ter spin­outs like Tenaya.
Aside from Sri­vas­ta­va, the new com­pa­ny has a long line­up of sci­en­tif­ic men­tors: Glad­stone In­ves­ti­ga­tors Benoit Bruneau, PhD, Bruce Con­klin, MD, Sheng Ding, PhD, and Sap­tar­si Hal­dar, MD, as well as Er­ic Ol­son, PhD, from the Uni­ver­si­ty of Texas South­west­ern Med­ical Cen­ter. Oth­er Glad­stone sci­en­tists will serve as sci­en­tif­ic part­ners (Kather­ine Pol­lard, PhD, Todd McDe­vitt, PhD, Nevan Kro­gan, PhD) or found­ing em­ploy­ees of the com­pa­ny, in­clud­ing Kathy Ivey, PhD, for­mer di­rec­tor of the Glad­stone Stem Cell Core and the new di­rec­tor of re­search op­er­a­tions at Tenaya.