Glax­o­SmithK­line re­thinks strat­e­gy for Covid-19 an­ti­body — not the Vir ones — af­ter tri­al flop. Is there hope in high-risk pa­tients?
In the search for a bet­ter Covid-19 ther­a­peu­tic, Glax­o­SmithK­line and Vir have part­nered up on two an­ti­bod­ies they hope have a chance. GSK is al­so test­ing its own in-house an­ti­body, and ear­ly re­sults may have shut the door on its wide­spread use.
A com­bi­na­tion of GSK's mon­o­clon­al an­ti­body otil­imab plus stan­dard of care couldn't best stan­dard of care alone in pre­vent­ing death and res­pi­ra­to­ry fail­ure in hos­pi­tal­ized Covid-19 pa­tients af­ter 28 days, ac­cord­ing to da­ta from the Phase IIa OS­CAR study un­veiled Thurs­day.
Adding otil­imab re­sult­ed in just a 5.3% dif­fer­ence in clin­i­cal out­comes to pa­tients treat­ed with stan­dard of care, not enough to hit sta­tis­ti­cal sig­nif­i­cance. It's un­clear, how­ev­er, how bad­ly GSK missed the mark in the 806-pa­tient study be­cause the drug­mak­er didn't re­lease a p-val­ue.
But it's not nec­es­sar­i­ly game over for otil­imab. In a pre­spec­i­fied analy­sis, 65.1% of otil­imab pa­tients over the age of 70 were alive and hadn't had a res­pi­ra­to­ry fail­ure at the 28-day mark com­pared with 45.9% of pa­tients in the stan­dard of care arm. That came out to a p-val­ue of 0.0009, well with­in the range of sta­tis­ti­cal sig­nif­i­cance. Mean­while, at the 60-day mark, 26% of pa­tients 70 and up in the otil­imab arm had died com­pared to 40.4% on stan­dard of care alone. That dif­fer­ence just squeaked un­der the sig­nif­i­cance mark at p=0.04.
With some promise in that high-risk co­hort, GSK will ex­pand its 70-and-up co­hort in the OS­CAR study to 350 pa­tients to de­ter­mine whether it will con­tin­ue otil­imab in hos­pi­tal­ized pa­tients in a Phase III test.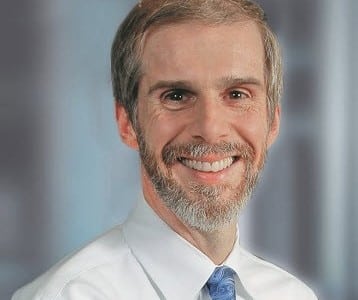 Chris Cor­si­co
"Giv­en the pro­found im­pact this pan­dem­ic is hav­ing on the el­der­ly and the en­cour­ag­ing da­ta we are shar­ing to­day, we are hope­ful this find­ing will be repli­cat­ed in the ad­di­tion­al co­hort," said Chris Cor­si­co, GSK's se­nior VP of de­vel­op­ment, in a re­lease.
GSK is hop­ing its very mixed re­sults for otil­imab, a gran­u­lo­cyte-macrophage colony-stim­u­lat­ing fac­tor an­ti­body, aren't repli­cat­ed in the more ad­vanced an­ti­body it's walk­ing through Phase III tri­als with part­ner Vir Biotech­nol­o­gy.
Back in De­cem­ber, the NIH an­nounced it would test GSK and Vir's can­di­date, dubbed VIR-7831, as well as an an­ti­body com­bo from Brii Bio­sciences in an ini­tial pop­u­la­tion of 450 mod­er­ate­ly ill Covid-19 pa­tients over the course of five days. Af­ter five days, those pa­tients' con­di­tions will be as­sessed on two sev­en-point or­di­nal scales; then, based on both can­di­dates' safe­ty and ef­fi­ca­cy, an ad­di­tion­al 1,050 pa­tients would be added to a sec­ond phase of the study, some of whom may have se­vere ill­ness. The study will as­sess both drugs' abil­i­ty to in­duce sus­tained re­cov­ery, judged by a hos­pi­tal dis­charge and pa­tients liv­ing at home for 14 days be­fore a 90-day fol­lowup.
Ear­ly re­sults from that study — the NIH's AC­TIV-3 "mas­ter pro­to­col" — still have yet to be re­port­ed.
The NIH took on GSK and Vir's an­ti­body soon af­ter it de­cid­ed to scrap LY-CoV555's shot in AC­TIV-3 study af­ter find­ing lit­tle clin­i­cal ef­fi­ca­cy. At the time, Lil­ly for­ward­ed the the­o­ry that pa­tients in the NIH tri­al may have shown lit­tle ef­fect on LY-CoV555 be­cause they had al­ready been in­fect­ed for a longer du­ra­tion and had re­ceived stan­dard of care as well as Gilead's remde­sivir pri­or to treat­ment.
The GSK-Vir pair al­so sports a sec­ond part­nered an­ti­body — VIR-7832 — that they an­nounced in Jan­u­ary would en­ter a Phase Ia/IIB study for hos­pi­tal­ized pa­tients and those in the ear­ly stage of the dis­ease. The part­ners think they could have a win­ner there, say­ing their newest an­ti­body has shown an "en­hanced abil­i­ty to clear in­fect­ed cells and po­ten­tial to en­hance virus-spe­cif­ic T cell func­tion, which could help treat and/or pre­vent COVID-19 in­fec­tion."
For a look at all End­points News coro­n­avirus sto­ries, check out our spe­cial news chan­nel.