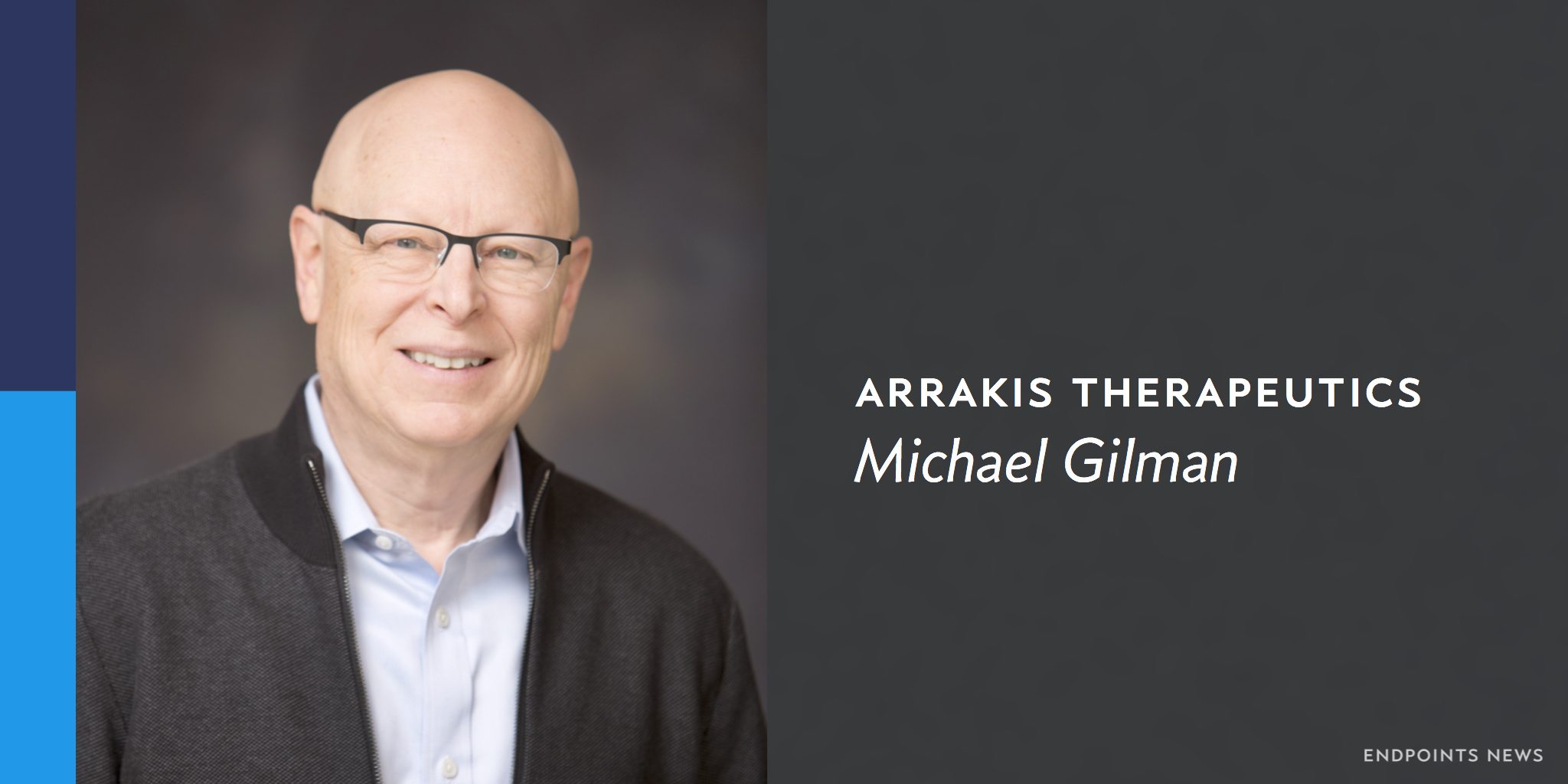 ---
Michael Gilman and an experienced band of biotech vets are busting out of stealth mode today with a startup that marks the serial entrepreneur's third launch in 10 years. And he's coming out in style, with a $38 million A round led by Canaan Partners.
After literally stumbling across the company while it was still in the white-board phase of development in 2015, Gilman says he was ripe for the challenge and adventure. And it's a big one.
CSO and founder Russ Petter has been honing the bioinformatics tools, assays and chemical libraries Arrakis Therapeutics will need to create a platform technology that can be used to develop small molecules to inhibit disease-causing RNA.
This biotech has a long journey ahead in preclinical work before it can start trying this out in humans. But if they're right, the company will be on their way to working on oral therapies that would be able to hunt down a host of what had been considered undruggable targets — starting with an initial aim at neurology and cancer.
Most preclinical startups like this come out of academia. But this is a uniquely Cambridge-based outfit, bringing together people with decades of experience right in the heart of one of the world's biggest biotech hubs.

"I've known Russ for a long time," says Gilman, whose CV intersects with the founder's stint at Biogen. "He ran chemistry when I ran research there. He's been working on this for awhile."
And Petters isn't the only other Biogen vet on board. Chief Business Officer Daniel Koerwer and James Barsoum, SVP of biology, also trace their careers back to the Cambridge, MA giant. Collectively, they list stints at more than a dozen different biotech companies on their resumes.

Gilman crossed paths with Petter in 2015, when the fellow scientist was hatching his plans for Arrakis — a company named after the planet in Frank Herbert's Dune — in some shared office space where Gilman had one of his board meetings. Petter had had his interest whetted at a conference presentation on small molecules and RNA interactions.
They talked, Bristol-Myers Squibb decided it would pay a handsome price for Gilman's last company, Padlock, and after taking last summer off, they got down to seriously exploring the idea together.
The money followed the ideas.
Along with Canaan Partners, Advent Life Sciences, Pfizer, Celgene, Osage University Partners, and biotech industry leader Henri Termeer chipped in to the A round. The UK's Advent and Termeer helped seed the initial work. And if Arrakis' team is right, there will be plenty of opportunities along the way to set up platform collaborations and partnerships.
"I was very intrigued from the minute I heard the concept," says Colleen Cuffaro, a principal at Canaan who's taking a board spot at Arrakis.  "It has enormous potential, how it opens up a whole new space for undruggable targets on our radar for a long time. I really like the approach of using small molecules that are fundamentally different than any other RNA-targeting approach I've seen. The other piece was the team, a really proven team, with a track record that is outstanding."
Gilman isn't concentrating solely on Arrakis. He's been deeply involved with Atlas Venture, and they're planning another company launch later in the year. But Gilman isn't stressed by the idea of helming two ventures at once.
At Padlock, says Gilman, "I felt like I had extra time on my hands." After all, CEOs of startups often "spend a lot of time waiting around for stuff to happen." And if you have the kind of team he's working with at Arrakis, it's not a full-time job.
This is not Gilman's first biotech rodeo. He knows first hand that a venture-backed startup often lands in other hands, as happened with Stromedix and Padlock. This time around though, he would like to take it all out much further.
"You can never rule it out," he says, "but this is a company I would like to see built for the long haul. I truly believe we'll have the capability to crank out new drugs other people haven't been able to make."
Gilman's a longtime believer in the adage that in biotech, you should go big or go home.
Once again, he's going big.
---
The best place to read
Endpoints News

? In your inbox.

Comprehensive daily news report for those who discover, develop, and market drugs. Join 51,000+ biopharma pros who read Endpoints News by email every day.

Free Subscription
---
---
---