Google Ven­tures' Kr­ish­na Yesh­want is hunt­ing for the next big new idea in biotech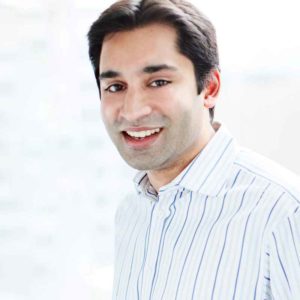 Kr­ish­na Yesh­want
Bill Maris brought in Kr­ish­na Yesh­want as a Google Ven­tures part­ner back in the ear­ly days of 2009. The Har­vard MD/MBA with a com­put­er sci­ences back­ground at Stan­ford and a track record of his own start­ing and sell­ing soft­ware com­pa­nies had that blend of ed­u­ca­tion, youth­ful ex­pe­ri­ence and cross-pol­li­nat­ing in­tel­lect Google want­ed to bring to its in­vest­ment group.
Maris is leav­ing now, but Yesh­want is stay­ing put, run­ning a cross-coun­try life sci­ences team that con­tin­ues to hunt out pre-fledg­ling in­vest­ments in biotech. Where most VCs in the biotech world op­er­ate with a very clear ex­it strat­e­gy — whether they're go­ing for the long throw of a dis­tant IPO or a quick val­ue mak­er 12 months from the first mon­ey in — Yesh­want and his crew mem­bers are hap­py to play the long game, with­out keep­ing an eye on the clock.
They proved that with Yesh­want's first in­vest­ment, when Google Ven­tures — now brand­ed sim­ply GV — backed Till­man Gern­gross's an­ti­body pro­duc­tion shop Adimab, near Dart­mouth.
"In a big way, Till­man took a bet on us," Yesh­want tells me of the then new­ly spawned ven­ture group and his own new ca­reer in VC.
Adimab wasn't go­ing for the quick flip, an IPO or any kind of overnight suc­cess that would make Google sud­den­ly rich­er. But that wasn't the point. Now val­ued at more than half a tril­lion dol­lars, the moth­er ship at the on­line search en­gine-turned-tech-con­glom­er­ate isn't try­ing to im­press any­one with its abil­i­ty to pick win­ners. What it does want to do, through its ven­ture teams like the one Yesh­want leads, is back peo­ple work­ing on ideas that can of­fer a last­ing, re­al im­pact on so­ci­ety.
For most VCs, that might sound a tri­fle glib. Google's track record, though, backs it up.
Yesh­want is the po­lar op­po­site of a late-stage in­vestor. He and his team like to get start­ed dis­cussing com­pa­nies while they are still in the idea stage. Big ideas in in­fec­tious dis­eases (and where it blends in­to can­cer R&D), di­ag­nos­tics, rheuma­tol­ogy (which over­laps with their im­munol­o­gy work) as well as the whole pay­er/provider uni­verse are top of mind these days. Im­muno-on­col­o­gy, which has been ex­plod­ing with new re­search pacts this year, is still just scratch­ing the sur­face of its po­ten­tial, says Yesh­want.
Yesh­want's ex­it strat­e­gy: "We think of it dif­fer­ent­ly," he says, gaug­ing suc­cess by the "im­pact on the pa­tient." Ex­its are on the back burn­er. Mak­ing new en­trances and tack­ling big ideas, that's what at­tracts the at­ten­tion of Google's ven­ture play­ers.
Google's ven­ture group is by no means de­vot­ed en­tire­ly to life sci­ences, but it has made the high risk/high re­ward in­dus­try its biggest sin­gle fo­cus. Adimab has been fol­lowed by a string of biotech in­vest­ments in com­pa­nies like Forty Sev­en, an on­col­o­gy start­up that re­cent­ly sprang out of the lab of Stan­ford's Irv Weiss­man with a re­mark­ably ad­vanced plan for hu­man test­ing. And there was an ear­ly stake in Ed­i­tas, one of a small group of gene edit­ing up­starts that hope to use CRISPR/Cas9 tech to rev­o­lu­tion­ize med­i­cine—years from now. One of GV's biggest in­vest­ments is in the Big Da­ta out­fit Flat­iron as well as Foun­da­tion Med­i­cine, which is us­ing emerg­ing mol­e­c­u­lar in­for­ma­tion to guide treat­ment.
Yesh­want likes to play in the messy, wreck-filled in­ter­sec­tions of health­care that need the most help, like the point of con­tact be­tween pay­ers and pa­tients.
"We try to ig­nore dis­tinc­tions," says Yesh­want, "and start to think of the big ar­eas that need to be worked on."
Longevi­ty fig­ures promi­nent­ly in its think­ing. In­evitably, that turns to com­ments on dis­rupt­ing no­tions about life span and at­ten­tion-grab­bing head­lines built on liv­ing hun­dreds of years. But that can be a dis­trac­tion as well. GV may be think­ing of the longterm, but its com­pa­nies are al­so mak­ing prac­ti­cal ad­vances, blue­print­ing clin­i­cal sched­ules and deal­ing with the re­al­i­ties of prod­uct de­vel­op­ment — with­in the cur­rent con­structs of a nor­mal life span. GV is fo­cused on the "un­der­ly­ing mech­a­nisms of ag­ing," says Yesh­want, like Google start­up Cal­i­co. And they're fol­low­ing that in­to dif­fer­ent com­pa­nies which are trekking a path that leads to dis­eases which can be ad­dressed by new tech­nol­o­gy.
It's a dif­fer­ent way of look­ing at drug de­vel­op­ment from a ven­ture group that prides it­self in em­brac­ing dif­fer­ent ways of think­ing.