Google's Ver­i­ly and Glax­o­SmithK­line hatch a $713M plan to spark a biorev­o­lu­tion
Glob­al phar­ma gi­ant Glax­o­SmithK­line is team­ing up with Google's life sci­ences ven­ture Ver­i­ly, chan­nel­ing its four-year ef­fort to cre­ate new nan­otech-based bio­elec­tron­ic ther­a­peu­tics in­to a start­up called Gal­vani Bio­elec­tron­ics, with joint plans to in­vest $713 mil­lion in­to the ven­ture over the next sev­en years.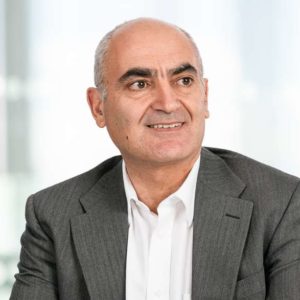 GSK's Chair­man of Vac­cines, Mon­cef Slaoui
GSK's Mon­cef Slaoui has billed this ef­fort as a rev­o­lu­tion­ary at­tempt to break out of the tra­di­tion­al mode of ther­a­peu­tic de­vel­op­ment, re­think­ing the sci­ence and tech­nol­o­gy of drug R&D to cre­ate a com­plete­ly new de­vel­op­ment field in elec­tro­ceu­ti­cals, which will now be fo­cused on in­flam­ma­to­ry, meta­bol­ic and en­docrine dis­or­ders, in­clud­ing type 2 di­a­betes. And now Ver­i­ly Life Sci­ences, for­mer­ly Google Life Sci­ences which op­er­ates un­der the new Al­pha­bet ban­ner, is mak­ing a big biotech bet that it can live up to its mis­sion to trans­form med­i­cine by part­ner­ing with GSK.
Gal­vani will be based in the UK biotech hub in Steve­nage, with an­oth­er re­search cen­ter at Ver­i­ly's cam­pus in South San Fran­cis­co. They'll get start­ed with a staff of 30 and GSK's start­up en­deav­ors to date. Glaxo will own 55% of the com­pa­ny, with Ver­i­ly tak­ing the rest. Slaoui has been tapped to chair the new com­pa­ny and shep­herd one of his fa­vorite projects.
They're not think­ing small. And they aren't stop­ping at 30. A spokesper­son for Ver­i­ly of­fered End­points this in­sight on the new jobs that are ex­pect­ed to be cre­at­ed.
"In ad­di­tion to the 30 ini­tial FTEs, Gal­vani will fund and in­te­grate – both through strate­gic col­lab­o­ra­tions with the two par­ent com­pa­nies and with oth­ers – a broad range of oth­er col­lab­o­ra­tions in acad­e­mia and with R&D com­pa­nies, build­ing on the suc­cess­ful mod­el we've de­vel­oped in GSK Bio­elec­tron­ics over three years. It will in­volve ap­prox­i­mate­ly 100 FTEs (full time equiv­a­lents) at Ver­i­ly and about 100 FTEs across the spec­trum of oth­er part­ner­ships. By ef­fec­tive­ly ty­ing such a net­work of ex­perts to­geth­er, we be­lieve we can rapid­ly ac­cel­er­ate the de­vel­op­ment of bio­elec­tron­ic med­i­cines."
"This is an am­bi­tious col­lab­o­ra­tion al­low­ing GSK and Ver­i­ly to com­bine forces and have a huge im­pact on an emerg­ing field," said Ver­i­ly Chief Tech­nol­o­gy Of­fi­cer Bri­an Otis. "Bio­elec­tron­ic med­i­cine is a new area of ther­a­peu­tic ex­plo­ration, and we know that suc­cess will re­quire the con­flu­ence of deep dis­ease bi­ol­o­gy ex­per­tise and new high­ly minia­turised tech­nolo­gies.
Ver­i­ly's big agen­da is to har­ness new life sci­ence tech­nol­o­gy in search of a mul­ti­tude of new ways to im­prove hu­man health and rev up a longer life with­out the many af­flic­tions that drag peo­ple down the longer they live.
In Glax­o­SmithK­line's case, they start­ed out with spe­cif­ic dis­eases in mind, look­ing to di­rect nerve stim­u­la­tors that could, for ex­am­ple, in­flu­ence rheuma­toid arthri­tis. The com­pa­ny set up a spe­cial $50 mil­lion fund to help jump­start a small group of biotechs spe­cial­iz­ing in elec­tro­ceu­ti­cals. A $1 mil­lion sci­ence prize was set up to help gin up some ex­cite­ment. And col­lab­o­ra­tions fol­lowed with oth­er com­pa­nies in the field. More part­ner­ing is ex­pect­ed as the new com­pa­ny gets up and run­ning.
GSK said ear­li­er this year that it plans to be in the clin­ic with its first pro­grams in 2017.
A cou­ple of years ago, GSK's Slaoui, who now runs the vac­cines group for GSK, had this to say in an in­ter­view with The Chi­na Post:
(W)e re­al­ized that when we use chem­i­cal struc­ture or re­com­bi­nant pro­tein as a med­i­cine, what we use in fact are the struc­tures of these med­i­cines to in­ter­act with the struc­ture of a re­cep­tor or pro­tein in our body … Our body us­es struc­ture to com­mu­ni­cate with bi­ol­o­gy, but it al­so us­es elec­tri­cal im­puls­es which go through our nerves. So we asked the ques­tion: 'Can we use elec­tri­cal im­puls­es to mod­i­fy the way or­gans func­tion?'"

"We have ev­i­dence that our body can read elec­tri­cal mes­sages we give it. This has cre­at­ed a new vi­sion to de­sign nano-tech­no­log­i­cal de­vices that will be able to read the elec­tri­cal sig­nals that are trans­mit­ting in our nerves, and hope­ful­ly (we will) be able to iden­ti­fy ab­nor­mal sig­nals … and cor­rect it by giv­ing it a dif­fer­ent sig­nal."
To test that con­cept, in­ves­ti­ga­tors found that the right elec­tron­ic puls­es could spur the pan­creas to pro­duce in­sulin, to treat di­a­betes. And an­oth­er pre­clin­i­cal test worked on blood pres­sure.
Cre­at­ing a new modal­i­ty for ther­a­peu­tic de­vel­op­ment, though, presents huge and ex­pen­sive hur­dles, es­pe­cial­ly when you're talk­ing about mass ail­ments like di­a­betes and heart dis­ease. Reg­u­la­tors put up high bars on safe­ty that most biotechs could nev­er hope to clear with a small, lim­it­ed re­search bud­get.
Ver­i­ly and Google, though, are a whole dif­fer­ent mat­ter.
Google has the kind of deep pock­ets that most com­pa­ny ex­ecs can on­ly dream about. That's al­so help­ing fund Cal­i­co, which has stealth­ily moved ahead on a num­ber of pro­grams aimed at healthy longevi­ty.
STAT has been tak­ing some round­house swings at Ver­i­ly, claim­ing that its top de­vel­op­ment pro­grams are more sci­ence fic­tion than po­ten­tial near-term tools for the life sci­ences mar­ket.
GSK doesn't ap­pear to be both­ered by that, though.