GSK sets the stage for a toe-to-toe mar­ket show­down with Gilead­'s HIV cham­pi­on Tru­va­da
Vi­iV Health­care and ma­jor­i­ty own­er Glax­o­SmithK­line have cleared an­oth­er im­por­tant hur­dle on a long-run­ning quest to chal­lenge Gilead's dom­i­nance in pre­ven­ta­tive HIV treat­ments.
The fi­nal analy­sis of a new study shows the GSK sub­sidiary's long-last­ing in­jec­tion, cabote­gravir, proved 66% more ef­fec­tive in HIV pre­ven­tion than Gilead's break­through Tru­va­da pill. And they now in­tend to carve away some of the block­buster rev­enue that Gilead has en­joyed for years.
The study, re­leased Tues­day, com­pared the ef­fects of pa­tients tak­ing cabote­gravir ver­sus those tak­ing dai­ly oral pills. With­in the in­jec­tion arm of the test, re­searchers doc­u­ment­ed on­ly 13 cas­es of HIV, or an in­ci­dence rate of 0.41%. In the pill arm, 39 cas­es were found, amount­ing to a rate of 1.22%. The study al­so not­ed high lev­els of ad­her­ence to dai­ly oral ther­a­py.
Due to the Covid-19 pan­dem­ic, the blind­ed phase of the study was halt­ed in May. Af­ter a fi­nal analy­sis and re­view, Vi­iV was able to con­firm the in­jec­tions proved more ef­fec­tive than dai­ly pills at the high­light­ed 66 per­cent rate.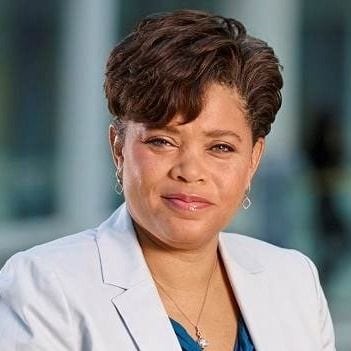 Kim­ber­ly Smith
"This ad­vance­ment has the po­ten­tial to be a game-chang­er for HIV pre­ven­tion, of­fer­ing … the con­ve­nience of re­duced dos­ing from dai­ly to just six times per year," Kim­ber­ly Smith, R&D chief at Vi­iV, told Reuters.
The re­sults of the study come as gener­ic ver­sions of Tru­va­da, a once-dai­ly pill that re­duces the risk of con­tract­ing HIV through sex by about 99 per­cent, are about to hit the mar­ket. Tru­va­da and De­scovy, an­oth­er Gilead HIV treat­ment, have al­lowed the com­pa­ny to es­sen­tial­ly own the en­tire drug sec­tor ever since Tru­va­da was green-lit by the FDA in 2012 as the first pre­ven­ta­tive mea­sure for HIV.
How­ev­er, Gilead is fac­ing a law­suit from ac­tivists claim­ing the com­pa­ny ex­tend­ed its mo­nop­oly by il­le­gal­ly al­ter­ing de­vel­op­ment times, and a law­suit from the US gov­ern­ment al­leg­ing im­prop­er patent prac­tices. Gilead has al­so faced heavy crit­i­cism of price goug­ing, as Tru­va­da treat­ment can cost around $20,000 per year.
Tru­va­da net­ted Gilead $2.8 bil­lion in sales last year in both HIV pre­ven­tion and treat­ment.
Though Tru­va­da and De­scovy are al­ready high­ly ef­fec­tive treat­ments, GSK hopes it can sell the idea of in­creased com­pli­ance with its new drug. Be­cause cabote­gravir on­ly re­quires one in­jec­tion every two months, pa­tients are less like­ly to for­get to take it, as op­posed to the risk of miss­ing a dai­ly Tru­va­da pill.
Cabote­gravir has had its own share of road bumps as well. Back in De­cem­ber, the FDA is­sued a com­plete re­sponse let­ter to Vi­iV and re­ject­ed its ap­pli­ca­tion for month­ly cabote­gravir in­jec­tions, cit­ing man­u­fac­tur­ing and con­trol con­cerns. As a re­sult, the NDA for the bi­month­ly reg­i­men was pushed back from the first quar­ter of 2020.