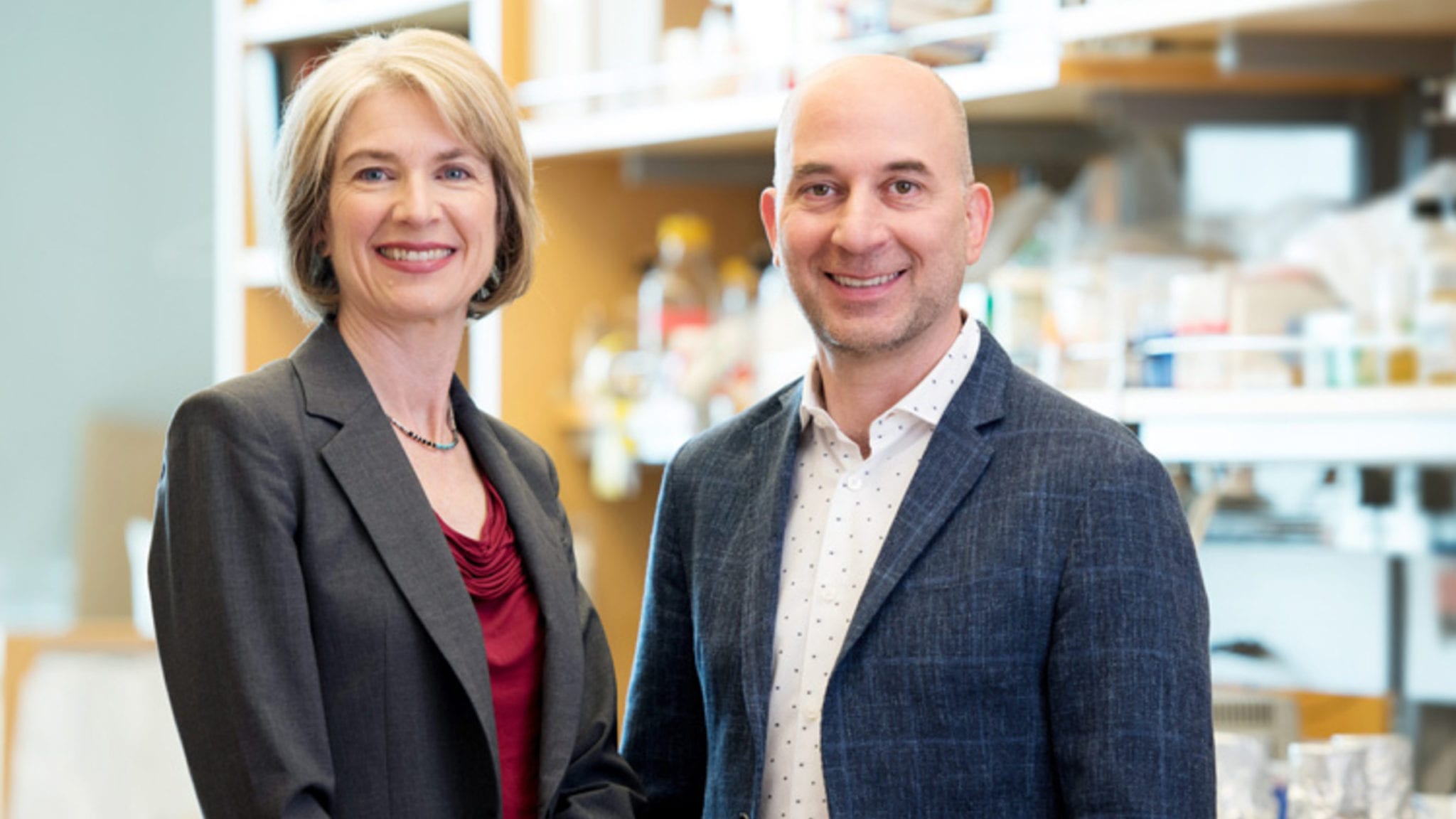 Jennifer Doudna and Jonathan Weissman. BARBARA RIES for UCSF
GSK's Bar­ron joins hands with Doud­na, Weiss­man to de­ploy CRISPR tech in drug dis­cov­ery
When Hal Bar­ron un­veiled his grand plan to turn Glax­o­SmithK­line's R&D group around, he cham­pi­oned ge­net­ics as one of two key fo­cus­es for the UK phar­ma gi­ant, an­nounc­ing a dis­cov­ery deal with 23andme and pledg­ing to fo­cus more on CRISPR tech as well as ma­chine learn­ing. A year lat­er, the R&D chief is build­ing on that promise as he seals a new pact with two promi­nent CRISPR re­searchers in his neigh­bor­hood in San Fran­cis­co.
Jen­nifer Doud­na and Jonathan Weiss­man, both in­ves­ti­ga­tors at Howard Hugh­es Med­ical In­sti­tute, are throw­ing their weight be­hind a new col­lab­o­ra­tion space dubbed the Lab­o­ra­to­ry for Ge­nomics Re­search.
"LGR is about build­ing that space where cre­ative sci­ence is part­nered with the de­vel­op­ment of ro­bust tech­nol­o­gy that will help de­vel­op to­mor­row's drugs," Doud­na, who pi­o­neered the use of CRISPR gene edit­ing tool in hu­mans, said in a state­ment. "I think we're go­ing to be able to do sci­ence that none of us can even imag­ine to­day."
Un­like the CRISPR biotechs that Doud­na has helped found, though, LGR will use the tools not to cre­ate ther­a­peu­tics or di­ag­nos­tics, but to un­cov­er how ex­act­ly gene mu­ta­tions cause dis­ease. By tin­ker­ing with one gene at a time and then com­par­ing the da­ta on a mas­sive scale, the goal is to iden­ti­fy po­ten­tial tar­gets for ge­net­ic dis­eases.
In par­tic­u­lar, the lab will fo­cus on im­munol­o­gy, on­col­o­gy and neu­ro­science.
This marks the sec­ond ini­tia­tive that Weiss­man — a func­tion­al ge­nomics ex­pert at UCSF— is di­rect­ing with fel­low Howard Hugh­es Med­ical In­sti­tute in­ves­ti­ga­tor Doud­na, who's based out of UC Berke­ley. The duo are co-di­rec­tors of the In­no­v­a­tive Ge­nomics In­sti­tute, which has a broad mis­sion to im­prove pub­lic health with CRISPR.
Be­tween the two UC in­sti­tu­tions 24 full-time staffers will be hired at the LGR, work­ing along­side 14 GSK em­ploy­ees in a space near UCSF's Mis­sion Bay cam­pus and run­ning on a $67 mil­lion bud­get over five years. They will get a hand from GSK's ar­ti­fi­cial in­tel­li­gence and ma­chine learn­ing group on build­ing the tools need­ed to an­a­lyze all the da­ta. Chris Miller, the new head of func­tion­al ge­nomics GSK scooped from Ab­b­Vie, will al­so help steer the ship.
The an­nounce­ment to­day is a cul­mi­na­tion of dis­cus­sions and ne­go­ti­a­tions be­tween GSK and the two uni­ver­si­ties for over a year, Bar­ron told STAT. Not long af­ter be­gin­ning his cur­rent CSO role, he sat down with Doud­na about har­ness­ing the lat­est CRISPR ad­vances for drug dis­cov­ery, and with­in min­utes there was "in­cred­i­ble ex­cite­ment" around the project.
For the drug­mak­er, it is an op­por­tu­ni­ty to test a hy­brid mod­el bring­ing in­dus­try and acad­e­mia un­der one roof, in­stead of sim­ply li­cens­ing tech or fos­ter­ing biotech spin­outs. Aside from cer­tain ex­clu­sive li­cens­es for GSK, the tools cre­at­ed in the lab will be ac­ces­si­ble to oth­er re­searchers.
"One of our key goals is to ad­vance the field over­all and make these tools as broad­ly avail­able as pos­si­ble," Weiss­man said. "The LGR screen­ing cen­ter will en­able labs at UCSF and Berke­ley. Hav­ing ac­cess to it will give our sci­en­tists op­por­tu­ni­ties to ad­vance their re­search in ways that would be very hard for them to do in their own labs."
Im­age: Jen­nifer Doud­na Jonathan Weiss­man by Bar­bara Ries for UCSF