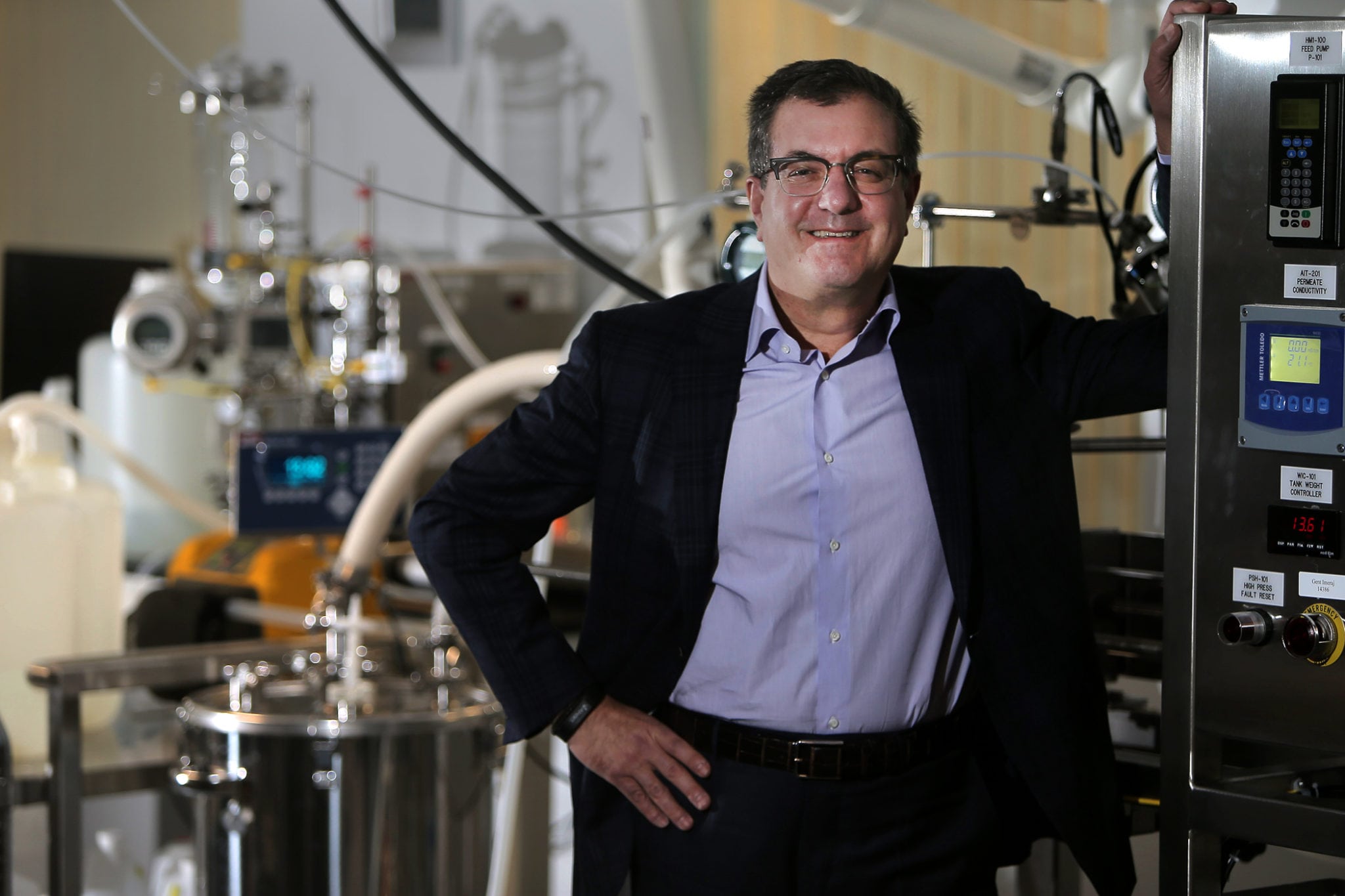 Gung ho: Al­ny­lam lands his­toric FDA OK on patisir­an, revving up the first glob­al roll­out for an RNAi break­through
"A lot of peo­ple think it's win­ter out there for RNAi. But I think it's spring­time." — Al­ny­lam CEO John Maraganore, NYT, Feb­ru­ary 7, 2011.
---
Mar­ket­ing sea­son has of­fi­cial­ly ar­rived for RNAi, just two decades in the mak­ing.
On Fri­day, the FDA ap­proved Al­ny­lam's patisir­an, of­fer­ing a his­toric green light for a drug that is break­ing the waves in ther­a­peu­tic in­no­va­tion.
Over the past 16 years since Al­ny­lam $AL­NY was found­ed, John Maraganore has seen every­thing when it comes to RNAi. He ben­e­fit­ed from the ear­ly promise and rush of Big Phar­mas look­ing to get a foot in the door, lured in by tech that promised to switch genes on and off.
Then he watched most of the ma­jors leave dur­ing the sea­son of dis­con­tent he ref­er­enced above — in a 2011 in­ter­view with An­drew Pol­lack at The New York Times — usu­al­ly shrug­ging off some heavy loss­es on their way out the ex­it. Maraganore came back with the 5X15 pledge at the be­gin­ning of 2011, promis­ing to hus­tle 5 RNAi drugs in­to late-stage de­vel­op­ment by 2015. And now he's sur­vived it all to turn the switch on the first com­mer­cial ma­chine built to han­dle a glob­al RNAi roll­out, as the sole own­er of the in­no­va­tion. And it should be big.
Patisir­an — de­signed to si­lence mes­sen­ger RNA and block the pro­duc­tion of TTR pro­tein be­fore it is made — is num­ber 6 on Clar­i­vate's list of block­busters set to launch this year, with a 2022 sales fore­cast of $1.22 bil­lion. Some of the peak sales es­ti­mates range sig­nif­i­cant­ly high­er as an­a­lysts crunch the num­bers on a dis­ease that af­flicts on­ly about 30,000 peo­ple world­wide.
"What a feel­ing," Maraganore tells me. "Hav­ing been for al­most two decades fight­ing the good days and the bad days, with lots of chal­lenges and near-death mo­ments. It's all about work­ing hard to get some­thing done."
The writ­ing on this land­mark achieve­ment has been on the reg­u­la­to­ry wall since last Sep­tem­ber, when re­searchers scored a pos­i­tive hit for the pri­ma­ry as well as all sec­ondary end­points in treat­ing rare cas­es of hered­i­tary AT­TR amy­loi­do­sis with polyneu­ropa­thy.
Over the past 10 months, Al­ny­lam has cruised along, pick­ing up an ac­cel­er­at­ed pri­or­i­ty re­view and break­through sta­tus at the FDA, a pos­i­tive, ear­ly thumbs-up from Eu­ro­pean reg­u­la­tors and fast ac­cess in the UK.
Be­hind the scenes, a gung-ho Maraganore has been set­ting the stage for a rapid glob­al roll­out, with new hires as the biotech plans to hus­tle it out ahead of a ri­val ther­a­py at Io­n­is' younger sis­ter biotech Akcea — wide­ly ex­pect­ed to play the role of dis­tant sec­ond to patisir­an. Maraganore re­worked his col­lab­o­ra­tion deal with Sanofi to get full com­mer­cial rights to patisir­an. Sanofi, in turn, took over com­mer­cial rights for fi­tusir­an — an RNAi pro­gram for he­mo­phil­ia, where it is now in­vest­ing heav­i­ly.
With 700 staffers last year, the staff has now grown to 950, says Maraganore. It will be 1100 by the end of this year.
"Ten are in Tokyo," he adds. "We're build­ing out Latin Amer­i­ca and oth­er coun­tries. This is now go­ing to be a glob­al ef­fort for Al­ny­lam."
Al­ny­lam Pres­i­dent Bar­ry Greene is in charge of the com­mer­cial roll­out for a drug that will now be known as On­pat­tro. And he's al­ready been out sell­ing a val­ue-based pay­ment plan to US health in­sur­ers, look­ing to hit the ground run­ning on the mar­ket­ing cam­paign.
The list price was set at $450,000 per year for the some 3,000 pa­tients di­ag­nosed with the dis­ease in the US, mak­ing it one of the most ex­pen­sive new drugs in the coun­try. That would trans­late to about $345,000 af­ter re­bates.
The CEO still keeps a clip of that Andy Pol­lack sto­ry by his desk. The newsprint is yel­lowed now, but it's an ever-present re­minder of the work that had to be done to sur­vive the dark days that fol­lowed a pe­ri­od of ex­u­ber­ance as ex­perts hailed the ar­rival of RNAi and its rev­o­lu­tion­ary, "cure-all" ap­proach to dis­ease.
The re­al­i­ty, as al­ways, was much dif­fer­ent.
Five by '15 has now be­come 20 by '20 — a mix of pipeline and mar­ket­ed prod­ucts with strate­gic fo­cus­es on top — as Al­ny­lam looks to build up a port­fo­lio of ap­proved drugs that it can mar­ket it­self. Maraganore wants to fol­low the ex­am­ples of Genen­tech and Gilead to build a much big­ger biotech that will have a last­ing im­pact.
Al­ny­lam's suc­cess this year of­fers a chance to high­light the lengthy time­lines re­quired for birthing a ma­jor new ther­a­peu­tic class of drugs. Watch­ing one start­up sur­vive the en­tire pi­o­neer-through-play­er process to emerge as the leader in the in­dus­try is a rare event. But in the past 2 years we've seen Spark Ther­a­peu­tics land the first gene ther­a­py OK in the US, while Kite and No­var­tis vault­ed to the mar­ket with CAR-T.
And now Al­ny­lam de­liv­ers for pa­tients in RNAi. Maraganore says their new drug will hit the mar­ket in 48 hours.
Re­view­ing a beau­ti­ful Andy Pol­lack piece from the NYT in 2011, cov­er­ing the rise and (tem­po­rary) fall of RNAi. Just ex­quis­ite. I miss that guy.https://t.co/r1Sr­W­DUEf6

— John Car­roll (@John­Cendpts) Au­gust 9, 2018
---
Im­age: Al­ny­lam CEO John Maraganore.Lane Turn­er/The Boston Globe via Get­ty Im­ages