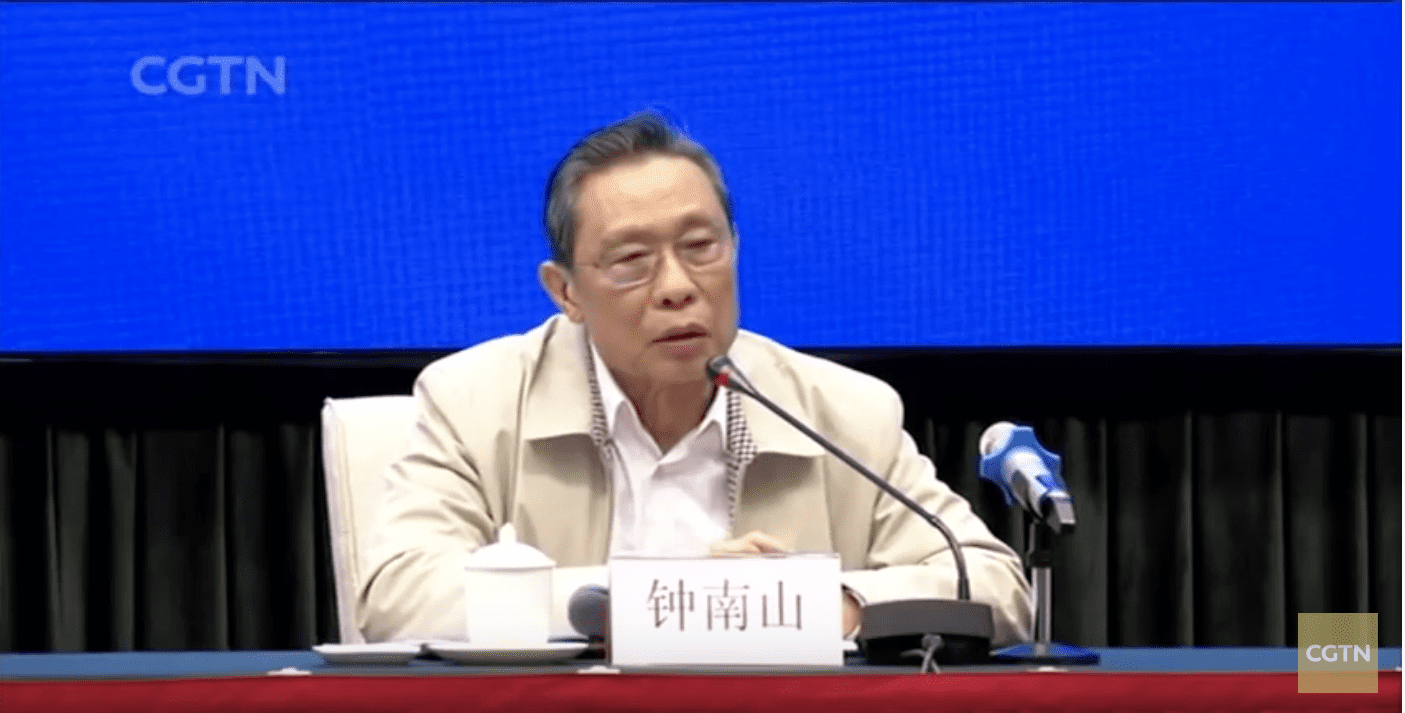 Zhong Nanshan, CGTN via YouTube
Har­vard joins coro­n­avirus fight with $115M and a high-pro­file Chi­nese part­ner
For two months, as the nov­el coro­n­avirus swelled from a few ear­ly cas­es tied to a Wuhan mar­ket to a glob­al epi­dem­ic, most of the world's fo­cus and dol­lars have flowed to­ward emer­gency ini­tia­tives: build­ing vac­cines at a record pace, pluck­ing ex­per­i­men­tal an­tivi­rals out of freez­ers to see what sticks and im­mu­niz­ing mice for new an­ti­bod­ies.
Now a new and well-fund­ed col­lab­o­ra­tion be­tween Har­vard and a top Chi­nese re­search in­sti­tute will play the long game. In a 5-year, $115 mil­lion ini­tia­tive backed by Chi­na Ever­grande Group, re­searchers from the Har­vard Med­ical School, Har­vard T.H. Chan School of Pub­lic Health and Guangzhou In­sti­tute for Res­pi­ra­to­ry Health will study the virus in an ef­fort to de­vel­op ther­a­pies against in­fec­tions by the nov­el coro­n­avirus, known as SARS-CoV-2, and to pre­vent new ones.
The Chi­nese side of the ini­tia­tive is led by Zhong Nan­shan, head of the Chi­nese 2019-nCoV Ex­pert Task­force and the sci­en­tist who iso­lat­ed the SARS virus in 2003. He is al­so di­rec­tor-gen­er­al of the Chi­na State Key Lab­o­ra­to­ry of Res­pi­ra­to­ry Dis­eases.
"Har­vard Med­ical School is unique­ly po­si­tioned to con­vene ex­perts in vi­rol­o­gy, in­fec­tious dis­ease, struc­tur­al bi­ol­o­gy, pathol­o­gy, vac­cine de­vel­op­ment, epi­demi­ol­o­gy, and pub­lic health to con­front this rapid­ly evolv­ing cri­sis," George Da­ley, dean of the Har­vard Med­ical School, said in a state­ment.
The ini­tia­tive will fo­cus on five ar­eas. That in­cludes de­vel­op­ing tests for rapid di­ag­no­sis, vac­cines, an­tivi­ral treat­ments to short­en the du­ra­tion of the dis­ease and mit­i­gate symp­toms, and oth­er treat­ments for pa­tients with se­vere dis­ease. Re­searchers will al­so try to un­der­stand how the body in­ter­acts with the virus. The hope is that they can find bio­mark­ers that will tell doc­tors if the in­fec­tion is wors­en­ing or will lead to life-threat­en­ing com­pli­ca­tions.
These ar­eas rep­re­sent the con­stel­la­tion of needs and un­knowns for a virus pub­lic health of­fi­cials in­creas­ing­ly fear will reach pan­dem­ic lev­els, and could be­come an an­nu­al in­fec­tion like the flu. Al­though the virus may yet dis­si­pate, ex­perts have em­pha­sized the need for long-term fund­ing that can im­prove readi­ness for fu­ture out­breaks, a need Har­vard un­der­scored in its an­nounce­ment.
The "re­sponse needs to be glob­al, rapid, and dri­ven by the best sci­ence," Har­vard provost Alan Gar­ber said. "The lessons we learn from this out­break should en­able us to re­spond to in­fec­tious dis­ease emer­gen­cies more quick­ly and ef­fec­tive­ly in the fu­ture."
Di­ag­no­sis has proven to be a con­tin­u­al chal­lenge through­out the virus' spread. In Wuhan and the sur­round­ing Hubei province, the num­ber of pa­tients re­port­ing symp­toms rapid­ly out­stripped the sup­ply of nu­cle­ic acid test­ing kits used to con­firm the pres­ence of a virus. De­lays in di­ag­no­sis meant de­lays in quar­an­tine and treat­ment.
At the be­hest of Chi­nese doc­tors, of­fi­cials moved to CT scans to de­tect pneu­mo­nia, a symp­tom of the in­fec­tion, and then lat­er us­ing the test­ing kits as con­fir­ma­tion. But some in­fect­ed pa­tients show up neg­a­tive in CT scans, and as the virus has spilled out be­yond Chi­na's bor­ders, how to test pa­tients in the fastest and most ac­cu­rate man­ner has be­come an is­sue of glob­al con­cern and a ma­jor point of dis­cus­sion at the World Health Or­ga­ni­za­tion and the US Cen­ter for Dis­ease Con­trol.
Har­vard has not said what forms of treat­ments they will in­ves­ti­gate. Thus far, most of the treat­ments used are an­tivi­rals orig­i­nal­ly de­vel­oped for oth­er pur­pos­es – in­clud­ing remde­sivir, the Gilead drug orig­i­nal­ly de­vel­oped for Ebo­la and Mar­burg virus, and lopinavir, an HIV drug – but doc­tors have flung a wide range of spec­u­la­tive ther­a­pies hop­ing to see what sticks. That in­cludes plas­ma treat­ments, an­ti­bod­ies oth­er coro­n­avirus pa­tients de­vel­oped in re­sponse to the virus and a tra­di­tion­al Chi­nese rem­e­dy drawn from ex­tracts of For­syth­iae fruc­tus. The ear­li­est drugs de­vel­oped specif­i­cal­ly for the virus are at least 5 months away from clin­i­cal tri­als.
Vac­cines ap­pear clos­er, with Mod­er­na and the NIH gun­ning for a clin­i­cal tri­al to start in the spring. How­ev­er, that us­es a tech­nol­o­gy that has yet to pro­duce an ap­proved vac­cine. Oth­er ef­forts, such as Glax­o­SmithK­line's and Clover's new part­ner­ship, are us­ing more tra­di­tion­al ap­proach­es but have longer time­lines.