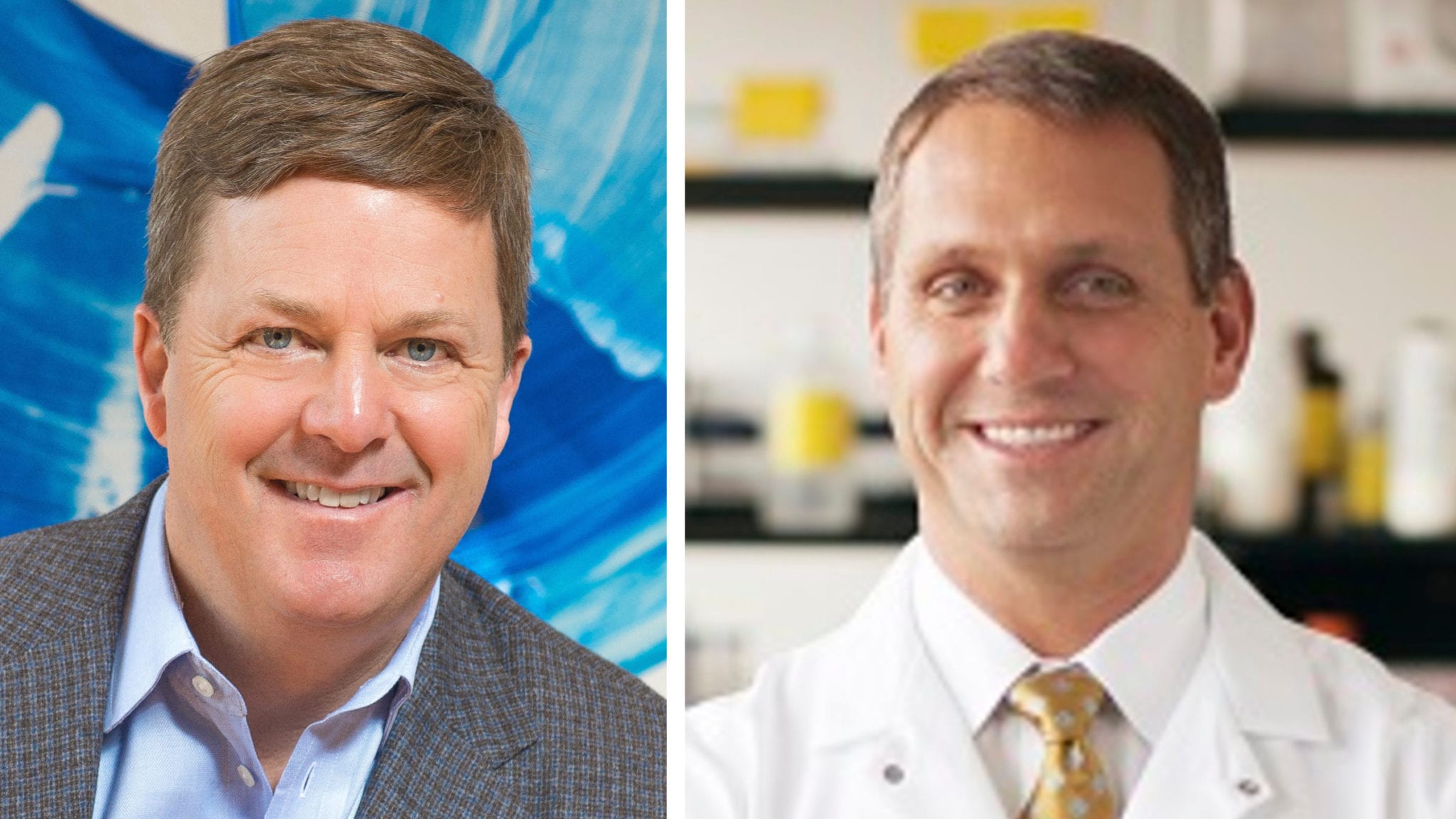 David Southwell (L) and Christoph Westphal
Har­vard spin­out kicks off 2021 with a crossover round and sights set on the clin­ic
Sev­er­al months af­ter strik­ing an al­liance with No­var­tis, TCR ther­a­py-fo­cused TScan Ther­a­peu­tics has reeled in a crossover round that should hold it over for the next two years as it eyes a pub­lic de­but.
The Christoph West­phal port­fo­lio com­pa­ny had been ar­rang­ing the crossover for the last few months, CEO David South­well said. Just be­fore Christ­mas, they nailed down what he called a "re­al­ly blue-chip" syn­di­cate of four new in­vestors, in­clud­ing Black­Rock, RA Cap­i­tal Man­age­ment and two undis­closed funds. They closed on the $100 mil­lion Se­ries C just over a week ago, and wait­ed un­til Mon­day morn­ing to an­nounce it.
"I think it's like­ly that we're go­ing to go pub­lic at some point," South­well told End­points News. But for now, the Se­ries C cash gives them flex­i­bil­i­ty through 2022.
The Har­vard Uni­ver­si­ty spin­out is build­ing a repos­i­to­ry of clin­i­cal­ly-ac­tive TCRs us­ing its high-through­put whole genome dis­cov­ery plat­form. The com­pa­ny had com­pared it to a vend­ing ma­chine or a li­brary of sorts, be­fore fi­nal­ly set­tling on the term "bank," South­well said.
The process be­gins with T cells from pa­tients' tu­mors. Re­searchers use the dis­cov­ery plat­form to find out ex­act­ly what tar­gets the T cell is hit­ting, then clin­i­cal­ly val­i­date the TCR to see if it has any off-tar­get ef­fects. When the TCR is val­i­dat­ed, it gets added to the bank. Know­ing a pa­tient's HLA type and tu­mor tar­get, re­searchers can then take TCRs out of the bank, "grow them up, and put them in­to the pa­tient," South­well said.
"Those T cell re­cep­tors are of­ten there in the pa­tient, but the prob­lem is that they're not there in suf­fi­cient abun­dance to re­al­ly at­tack the tu­mor," he added.
The ap­proach comes from the lab of Har­vard pro­fes­sor Stephen Elledge, who set out years ago to screen anti­gen-TCR match­es in a faster, more sys­tem­at­ic way. He spent 7 years putting to­geth­er the tech for a plat­form that could run mul­ti­ple TCRs against anti­gen epi­topes and pin­point the ex­act pairs that ap­pear to in­ter­act. Now, what be­gan as 96 plates in Elledge's lab has trans­formed in­to a com­pa­ny that has raised $180 mil­lion to date and at­tract­ed the likes of No­var­tis.
Back in April, the No­var­tis In­sti­tutes for Bio­Med­ical Re­search put down $30 mil­lion to kick off a new TCR im­muno-on­col­o­gy pro­gram with TScan. The part­ners are work­ing on dis­cov­er­ing tar­gets in a "se­lect sol­id tu­mor in­di­ca­tion," TScan re­vealed. NI­BR pitched in­to TScan's Se­ries B round, along­side the phar­ma's ven­ture fund.
"There's a lot with this dis­cov­ery plat­form that we can do, that we're not go­ing to de­vel­op on our own," South­well said, in­clud­ing Covid-19 work.
Com­ing up in 2021, TScan plans on fil­ing INDs for two liq­uid tu­mor TCR T cell ther­a­pies — TSC-100 and TSC-101. It has an­oth­er three sol­id tu­mor can­di­dates ex­pect­ed to hit the clin­ic in 2022.
While the com­pa­ny cur­rent­ly has 60 staffers, South­well pre­dicts they'll have well over 100 in the next six to nine months as they build out their man­u­fac­tur­ing and cell pro­cess­ing units.
The feel­ing at TScan? "We're re­al­ly ex­cit­ed," South­well said.