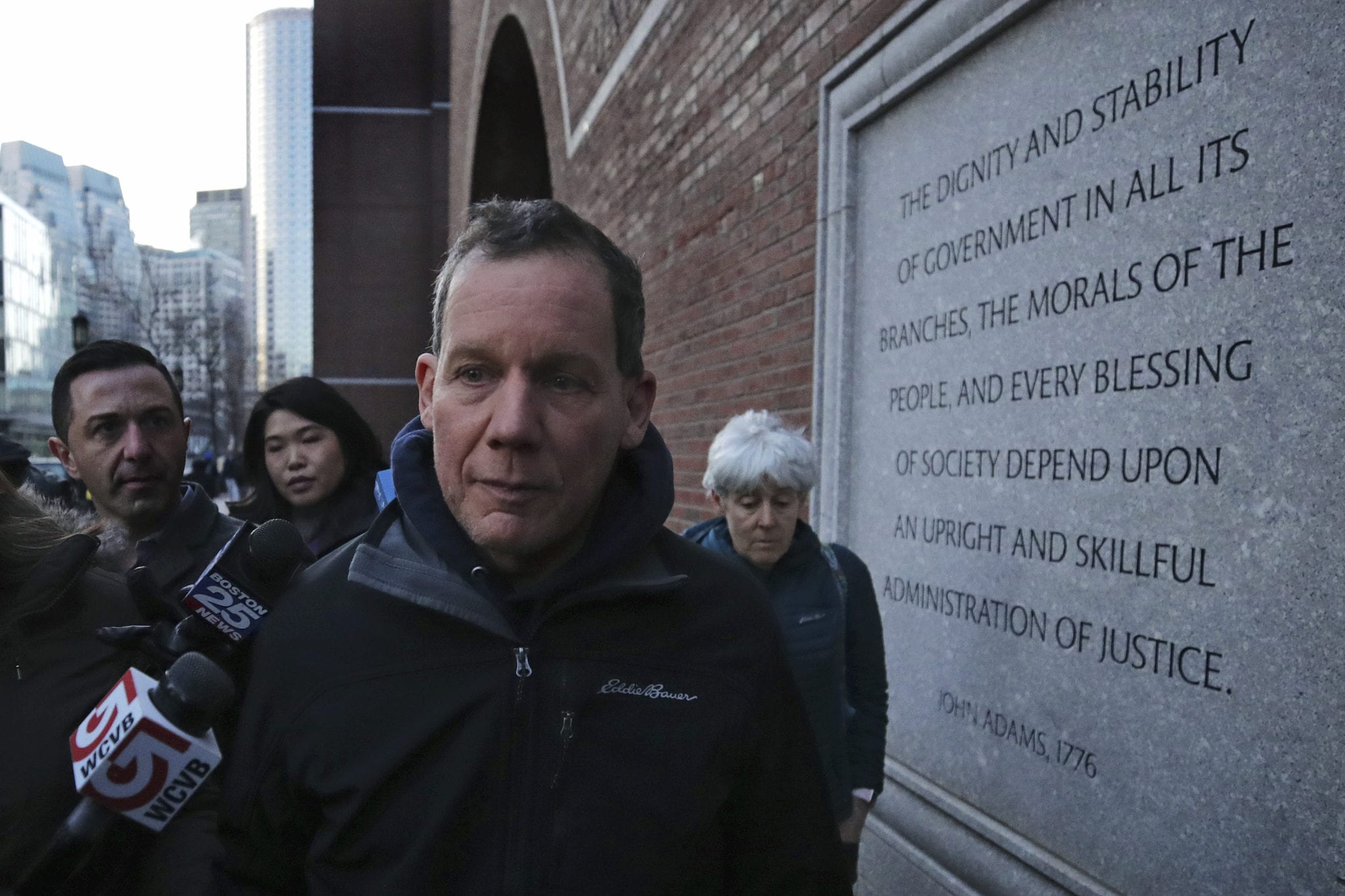 Charles Lieber (Charles Krupa, AP)
Har­vard's Charles Lieber in­dict­ed for ly­ing to the feds, bring­ing US re­searcher­s' Chi­na ties back to the spot­light
Five months af­ter his shock­ing ar­rest, Charles Lieber has been in­dict­ed by a fed­er­al grand ju­ry for ly­ing to au­thor­i­ties about his in­volve­ment in Chi­na's Thou­sand Tal­ents Pro­gram.
The 61-year-old sci­en­tist — who chaired Har­vard's chem­istry de­part­ment and led a lab spe­cial­iz­ing in nanoscience be­fore he was ar­rest­ed and placed on ad­min­is­tra­tive leave in late Jan­u­ary — is fac­ing two counts of mak­ing false state­ments. He will be ar­raigned in fed­er­al court at a lat­er date, and is ex­pect­ed to con­test the charges.
While Lieber was not the first Amer­i­can sci­en­tist not of Chi­nese eth­nic­i­ty to be swept up in the FBI's probe in­to aca­d­e­m­ic es­pi­onage, his case stood out be­cause of his high pro­file and the sever­i­ty of the po­ten­tial con­se­quences. From a DOJ re­lease:
The charge of mak­ing false state­ments pro­vides for a sen­tence of up to five years in prison, three years of su­per­vised re­lease and a fine of $250,000.
Amid some re­newed ten­sion in US-Chi­na re­la­tions — with Pres­i­dent Don­ald Trump point­ing fin­gers at Chi­na's ini­tial han­dling of the coro­n­avirus out­break, and Xi Jin­ping es­sen­tial­ly dar­ing the US by im­pos­ing a na­tion­al se­cu­ri­ty law on Hong Kong — Amer­i­can of­fi­cials are said to be con­sid­er­ing fur­ther re­stric­tions on the en­try of Chi­nese stu­dents as re­tal­i­a­tion. The re­ports sparked new de­bates around the Trump ad­min­is­tra­tion's ac­cu­sa­tions that Chi­na has been steal­ing sci­en­tif­ic se­crets by in­fil­trat­ing top or­ga­ni­za­tions. With­in the bio­med­ical en­ter­prise, aca­d­e­m­ic es­pi­onage is an ac­knowl­edged prob­lem, al­though sci­en­tists are di­vid­ed on what counts as spy­ing, how per­va­sive it is and whether the gov­ern­ment is throw­ing out the ba­by with the bath wa­ter.
As an in­ter­nal in­ves­ti­ga­tion by the Mof­fitt Can­cer Cen­ter high­light­ed, col­lab­o­rat­ing with or even re­ceiv­ing funds from Chi­nese uni­ver­si­ties aren't an of­fense in the gov­ern­ment and re­search in­sti­tu­tions' eyes. It on­ly be­comes an is­sue when re­searchers hide their af­fil­i­a­tion — time com­mit­ment as well as pay­ments — even when no se­crets are ap­par­ent­ly di­vulged.
At Mof­fitt, the fail­ure to re­port cost six top of­fi­cials their job, in­clud­ing its for­mer CEO and ac­claimed hema­tol­o­gist Alan List.
Lieber's ties to Chi­na al­leged­ly be­gan in 2011 when he, "un­be­knownst to Har­vard Uni­ver­si­ty," be­came a strate­gic sci­en­tist at Wuhan Uni­ver­si­ty of Tech­nol­o­gy. For the next three years, he would sign on­to the Thou­sand Tal­ents Plan, which is de­signed to re­cruit top brains like him­self.
Un­der that con­tract, the DOJ said he was paid a salary of $50,000 per month, liv­ing ex­pens­es of up to ap­prox­i­mate­ly $158,000 USD, and award­ed more than $1.5 mil­lion to es­tab­lish a re­search lab at the uni­ver­si­ty. In re­turn, he al­leged­ly agreed to no less than nine months of work per year.
All of that came in on top of the $15 mil­lion in grants Lieber has re­ceived from the NIH over the years.
But when the feds came knock­ing in April 2018, he told in­ves­ti­ga­tors that he was nev­er asked to par­tic­i­pate in Thou­sand Tal­ents, ac­cord­ing to the com­plaint. Har­vard, al­leged­ly tak­ing him by his word, al­so told the NIH he had no for­mal as­so­ci­a­tion with WUT af­ter 2012 and that the Wuhan in­sti­tu­tion was false­ly ex­ag­ger­at­ing his role there.
His lawyer, Marc Mukasey, told the Har­vard Crim­son that the gov­ern­ment has it wrong, and that Lieber is the vic­tim, not the per­pe­tra­tor.
"Pro­fes­sor Lieber has ded­i­cat­ed his life to sci­ence and to his stu­dents," Mukasey wrote. "Not mon­ey, not fame, just his sci­ence and his stu­dents. […] "When jus­tice is done, Char­lie's good name will be re­stored and the sci­en­tif­ic com­mu­ni­ty again will be able to ben­e­fit from his in­tel­lect and pas­sion."