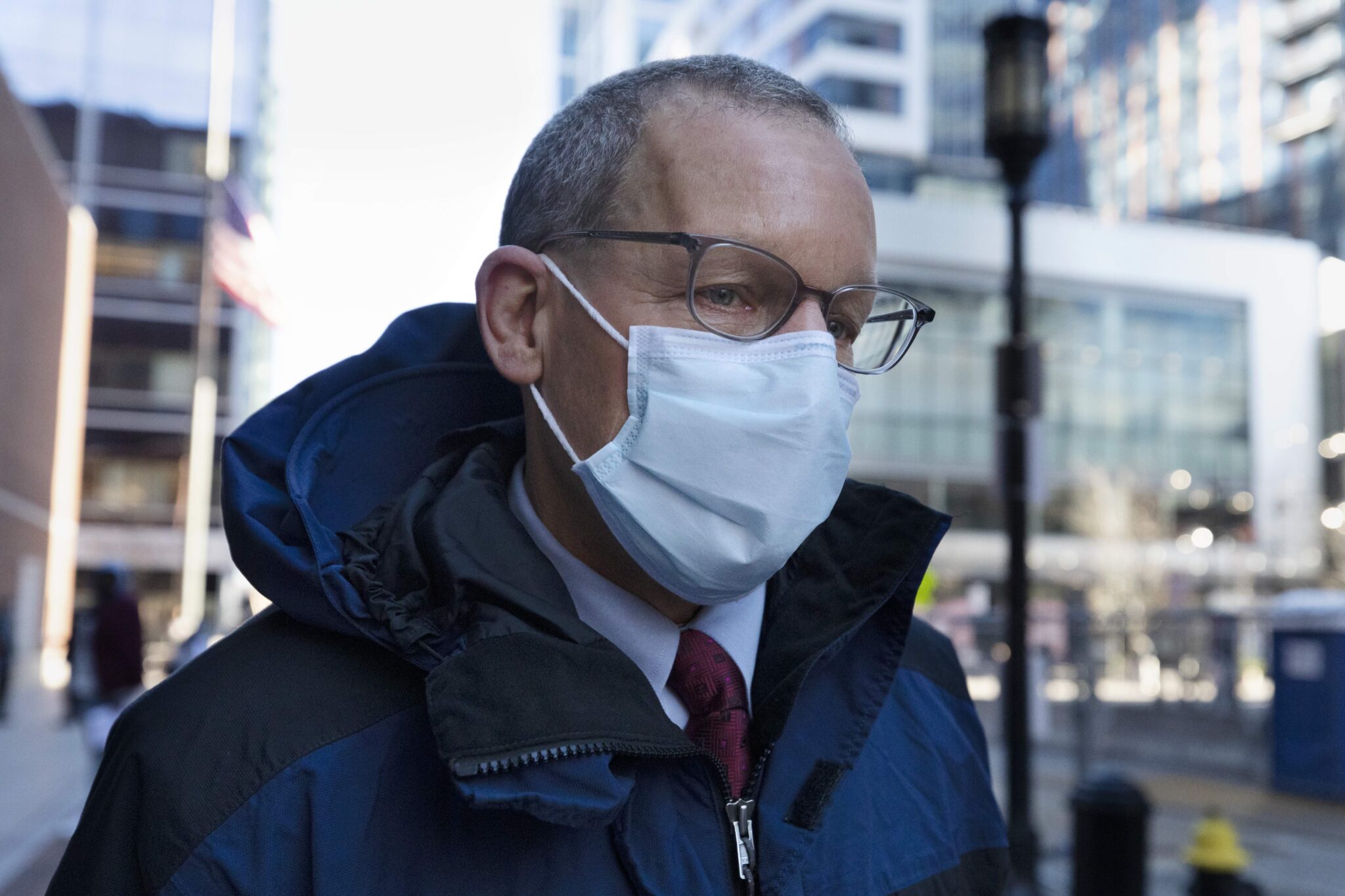 Harvard University professor Charles Lieber leaves federal court, Tuesday, Dec. 14, 2021, in Boston (Michael Dwyer/AP Images)
'He re­peat­ed­ly lied': Feds pile on as Har­vard chemist Charles Lieber con­vict­ed of ly­ing about Chi­nese ties
In a stun­ning cli­max to an eye-catch­ing saga, Har­vard sci­en­tist Charles Lieber has been con­vict­ed of ly­ing to the fed­er­al gov­ern­ment about his ties to Chi­na's Thou­sand Tal­ents Pro­gram.
Fol­low­ing close to three hours of de­lib­er­a­tion, a fed­er­al ju­ry in Boston found 62-year-old Lieber — a pi­o­neer in med­ical nan­otech­nol­o­gy and the for­mer chair of Har­vard's chem­istry de­part­ment — guilty of all six felony charges, in­clud­ing two counts of mak­ing false state­ments, two counts of fil­ing false tax re­turns and two counts of fail­ing to dis­close a for­eign (in this case Chi­nese) bank ac­count.
The three types of charges car­ry max­i­mum sen­tences of five years, three years and five years, re­spec­tive­ly, adding up to a 26-year stretch plus hun­dreds of thou­sands of dol­lars in fines.
In an email to the Boston Globe, Lieber's at­tor­ney, Marc Mukasey wrote, "We re­spect the ver­dict and will keep up the fight."
Lieber's ar­rest back in ear­ly 2020 sent shock­waves across the bio­med­ical sphere as it rep­re­sent­ed the most high-pro­file case to emerge in the US De­part­ment of Jus­tice's "Chi­na Ini­tia­tive." Amid es­ca­lat­ing US-Chi­na ten­sion, the Trump ad­min­is­tra­tion be­gan a con­tro­ver­sial crack­down on sus­pect­ed aca­d­e­m­ic es­pi­onage and fail­ures to dis­close ties with Chi­nese in­sti­tu­tions.
In par­tic­u­lar, the fed­er­al in­ves­ti­ga­tions shed a harsh spot­light on the Thou­sand Tal­ents Pro­gram, a cam­paign launched by the Chi­nese gov­ern­ment to at­tract sci­en­tists from over­seas through fund­ing and oth­er re­sources. Where­as the pro­gram most­ly re­cruit­ed aca­d­e­mics of Chi­nese her­itage, some high-pro­file West­ern re­searchers would al­so be ap­proached with of­fers, as de­tailed in the re­ports about Lieber and for­mer Mof­fitt Can­cer Cen­ter CEO Alan List.
For Lieber, his cen­tral of­fens­es were con­ceal­ing a re­la­tion­ship with the Wuhan Uni­ver­si­ty of Tech­nol­o­gy, where he agreed to be a "strate­gic sci­en­tist" and open up a lab in ex­change for fund­ing, and par­tic­i­pa­tion in Thou­sand Tal­ents.
"By Charles Lieber's own ad­mis­sion – af­ter we ar­rest­ed him – the ev­i­dence against him was for­mi­da­ble," Joseph Bonavolon­ta, FBI spe­cial agent in charge of the Boston di­vi­sion, said in a state­ment. "He re­peat­ed­ly lied to his em­ploy­er, the fed­er­al gov­ern­ment, and tax­pay­ers to fraud­u­lent­ly main­tain ac­cess to fed­er­al re­search funds."
But crit­ics slammed what they see as a witch hunt that puts a neg­a­tive spin on rou­tine — even pre­vi­ous­ly en­cour­aged — in­ter­na­tion­al sci­en­tif­ic col­lab­o­ra­tions and dis­pro­por­tion­ate­ly pun­ish­es sci­en­tists for what could sim­ply be hon­est mis­takes or an over­sight. In the wake of his pros­e­cu­tion, Lieber was quick­ly placed on ad­min­is­tra­tive leave. He lat­er sued Har­vard for aban­don­ing him.
"Isn't it trou­bling that Dr. Lieber's work was all pub­lic and for the ben­e­fit of the world, but he's fac­ing crim­i­nal charges for it?" Mukasey ar­gued in court, per the Globe. "Al­most every­one got what they want­ed. The Na­tion­al In­sti­tutes of Health and the De­part­ment of De­fense got to keep Dr. Lieber's grant re­search; Har­vard got to keep their mil­lions of dol­lars in grant mon­ey. The FBI got its big case af­ter work­ing hard one day, but Char­lie Lieber got left hold­ing the bag."
Lieber, who is cur­rent­ly bat­tling lym­phoma, told spe­cial agents in in­ter­ro­ga­tions that he was al­so mo­ti­vat­ed by his de­sire to win a No­bel Prize.
"I was younger and stu­pid," he said in video clips played in court, as re­port­ed by the New York Times. "I want to be rec­og­nized for what I've done. Every­one wants to be rec­og­nized."