Head­ed for a block­buster smash, Roche picks up an­oth­er key OK for land­mark MS drug Ocre­vus
Roche's quest to make its pi­o­neer­ing MS drug Ocre­vus in­to a multi­bil­lion-dol­lar block­buster has gath­ered some added steam with an EU mar­ket­ing ap­proval — 9 months af­ter the big FDA green light came through.
An­a­lysts ex­pect that Ocre­vus can rack up $3 bil­lion in peak sales, with the phar­ma gi­ant rolling up not that far from $1 bil­lion in just the first 9 months in the US. That's ex­act­ly the kind of block­buster smash that Roche needs now as fran­chise drugs like Rit­ux­an, Her­ceptin and Avastin are shred­ded by gener­ic ri­vals.
What makes Ocre­vus spe­cial?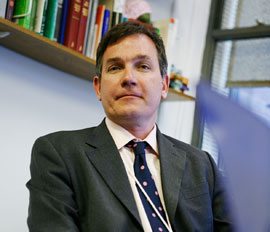 Gavin Gio­van­noni
It's the first drug ap­proved for both pri­ma­ry pro­gres­sive as well as the re­laps­ing re­mit­ting forms of the dis­ease. And Roche ag­gres­sive­ly went af­ter mar­ket share with a tough strat­e­gy that in­clud­ed a low­er price than Mer­ck KGaA's Rebif as well as da­ta demon­strat­ing it can beat Rebif at its own game.
In of­fer­ing a dou­ble-dig­it dis­count to Rebif, Roche al­so spot­light­ed the big in­creas­es in the price of the old­er MS drugs over time, a key pric­ing strat­e­gy that has sus­tained many com­pa­nies through a drought of new drug ap­provals. Of course, Roche hasn't been averse to find­ing new ways to in­crease rev­enue from old drugs, as it proved a few years ago when the multi­na­tion­al cut dozens of whole­salers out of the dis­tri­b­u­tion of its big three can­cer drugs, elim­i­nat­ing dis­counts that had once gone to hos­pi­tals.
Said Gavin Gio­van­noni, pro­fes­sor of neu­rol­o­gy at Barts:
Un­til Ocre­vus, peo­ple with pri­ma­ry pro­gres­sive MS, who of­ten have to re­ly on a cane or wheel­chair, give up work or have car­ers look af­ter them, have not had an ap­proved treat­ment to slow the pro­gres­sion of their dis­ease.