Here's the in­side ac­count of Gilead­'s 11-week sprint to its $12B Kite buy­out
What start­ed as a ca­su­al dal­liance be­tween ex­ec­u­tives at Gilead and Kite in 2015 marked by some oc­ca­sion­al flir­ta­tion over head-turn­ing tech­nol­o­gy turned se­ri­ous ear­ly this year, prob­a­bly at JP Mor­gan, as two top deal­mak­ers — Gilead's An­drew Dick­in­son and Kite's He­len Kim — de­cid­ed to see if they should get se­ri­ous about a union of the two biotechs.
By mid-June the two CEOs, John Mil­li­gan and Arie Bellde­grun, got in­to the act. And over the next 11 weeks the over­ture turned pas­sion­ate enough for Mil­li­gan and Gilead to up their ini­tial of­fer by about $5 bil­lion.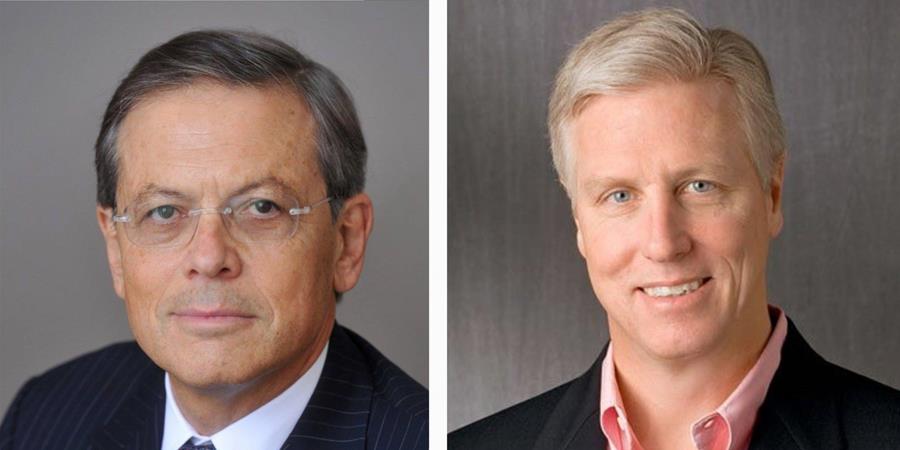 Arie Bellde­grun and John Mil­li­gan
---
There was an ini­tial bid, which was stiffly re­buffed. The come­back with a sweet­ened of­fer was al­so re­ject­ed, but as the num­bers grew larg­er — so did the in­ter­est in a buy­out as Gilead turned from a spec­ta­tor in the fi­nal leg of one of the most close­ly-watched de­vel­op­ment races in biotech to a jock­ey in the fi­nal stretch.
It's all spelled out in a new SEC fil­ing that says a lot about how these big deals get done, and the val­u­a­tions that game-chang­ing tech­nolo­gies like CAR-T are fetch­ing.
In a sim­pli­fied blow-by-blow, here are the high­lights:
Bellde­grun and Mil­li­gan, chap­er­oned by Gilead COO Kevin Young, had their first sit down about a deal on June 12.
At the end of June there was a cru­cial gath­er­ing of Mil­li­gan with the team at Kite to dis­cuss com­mer­cial and man­u­fac­tur­ing plans. Kite had been fine tun­ing this pre­sen­ta­tion for more than a year, and based on Mil­li­gan's warm com­ments lat­er about the San­ta Mon­i­ca crew at Kite, he clear­ly hit it off with some of the key play­ers.
The next key event was No­var­tis' ODAC com­mit­tee meet­ing at the FDA on Ju­ly 12 for CTL019, which led to a near unan­i­mous vote for an ap­proval. Gilead ex­ecs watched every minute of it. It was a chance to size up an im­por­tant po­ten­tial ri­val. "Al­though Kite's CAR-T ther­a­py, axi-cel, was sub­mit­ted for ap­proval for a dif­fer­ent in­di­ca­tion, the out­come of the ODAC meet­ing was im­por­tant to fur­ther in­form Par­ent's (Gilead's) eval­u­a­tion of Kite and CAR-T ther­a­pies."
The very next day Kite R&D chief David Chang ar­rived at Gilead HQ to dis­cuss his work.
It must have gone well. Three days lat­er came the first of­fer: $127 per share in cash, a strong 51% pre­mi­um over the 60-day weight­ed av­er­age.
Ju­ly 19, the Kite board slammed the door on that. They not on­ly said no to that price, they added the com­pa­ny was not for sale.
Ju­ly 28. How about $160? Bellde­grun said he was still dis­ap­point­ed, but he was al­so clear­ly not of­fend­ed. How about an­oth­er get-to­geth­er in LA? Now, the com­pa­ny was clear­ly for sale.
On Au­gust 1 the top ex­ecs at both com­pa­nies gath­ered to dis­cuss not just the lead drug, mar­ket­ing and man­u­fac­tur­ing, but all the next-gen re­search work that Kite has un­der­way. Bellde­grun to Mil­li­gan: That was a dis­ap­point­ing of­fer, if this is go­ing to hap­pen, you have to make it 'com­pelling.' Mil­li­gan to Bellde­grun: That's go­ing to be a tough sale to the board.
On Au­gust 8, af­ter meet­ings and fol­lowup dis­cus­sions, Kite an­nounced with some fan­fare that they had filed their IND and that the FDA would not re­quire a com­mit­tee re­view. The news made a splash, and it didn't es­cape the at­ten­tion of Mil­li­gan or any­one at Gilead in the know.
Au­gust 18. Mil­li­gan and Gilead ex­ec­u­tive chair­man John Mar­tin met with Bellde­grun in New York and in­for­mal­ly of­fered $176 a share. Bellde­grun coun­tered quick­ly, ask­ing for $180, an 82% pre­mi­um.
Due dili­gence fol­lowed. Sul­li­van & Cromwell weighed in. Kite ex­ecs had a chance to talk about re­tain­ing Kite staff. And on Au­gust 28, the deal was done at $180 a share, or close to $12 bil­lion in to­tal.
Bellde­grun's share of that is about $600 mil­lion based on­ly on his own stock.
There was nev­er a men­tion of any oth­er bid­der or at­tempt to start a bid­ding war, as David Hung had done with great ef­fect when he was di­rect­ing the ne­go­ti­a­tions with Pfiz­er over the $14 bil­lion Medi­va­tion deal.