Largely overshadowed by BioMarin's potentially landmark gene therapy results for hemophilia A, a group from Roche's Chugai subsidiary turned up at the same scientific conference this week to spotlight updated evidence that their bispecific antibody emicizumab dramatically slashed the rate of bleeding episodes in a small but significant clinical trial.
Emicizumab, formerly ACE910, has been repeatedly tapped by Roche's Daniel O'Day as a top blockbuster candidate for the pharma giant. But now the injectable will have to compete for attention with BioMarin and rivals who are working with once-and-done gene therapies that promise to fix the biologic dysfunction that prevents normal clotting in patients' blood.
Roche also has at least one big advantage in its favor: Their drug—an anti-factor IXa/X bispecific which mimics the function of Factor VIII, even in the presence of FVIII inhibitors—is already well into a major, Roche-style Phase III program with a drug blessed by the FDA with a breakthrough drug designation. Two Phase III studies have begun in children and adults who have acquired Factor VIII inhibitors. Another Phase III in patients without the FVIII inhibitors is starting, and there's a fourth Phase III planned for a once-every-4-weeks dose, to see if they can come up with an easier administration schedule than the once-weekly injection they're working with now.
Investigators say that their followup of 18 patients in the key proof of concept study revealed that emicizumab cut the bleeding rate of patients by more than 95% after a followup review lasting up to 32.6 months long. And that's what they expect to prove in Phase III.
Hemophilia A patients lack the Factor VIII protein required for clotting, making a genetic fix one of the first targets – along with hemophilia B – selected by a wave of gene therapy companies jumping into the game. But while BioMarin has seized the lead with its hemophilia A gene therapy, it still has a long way to go before proving that it can be done safely over a prolonged period of time.
Still, its treatment demonstrated a startling ability to boost Factor VIII in patients, with investigators tracking Factor VIII levels in several patients breaking the 100% mark. Bleeding episodes were dramatically reduced, but not eliminated.
So the next time you handicap the race on hemophilia drugs, where Biogen, Shire and others are scrambling to protect large franchises, don't forget Roche, which has the most advanced drug in the clinic.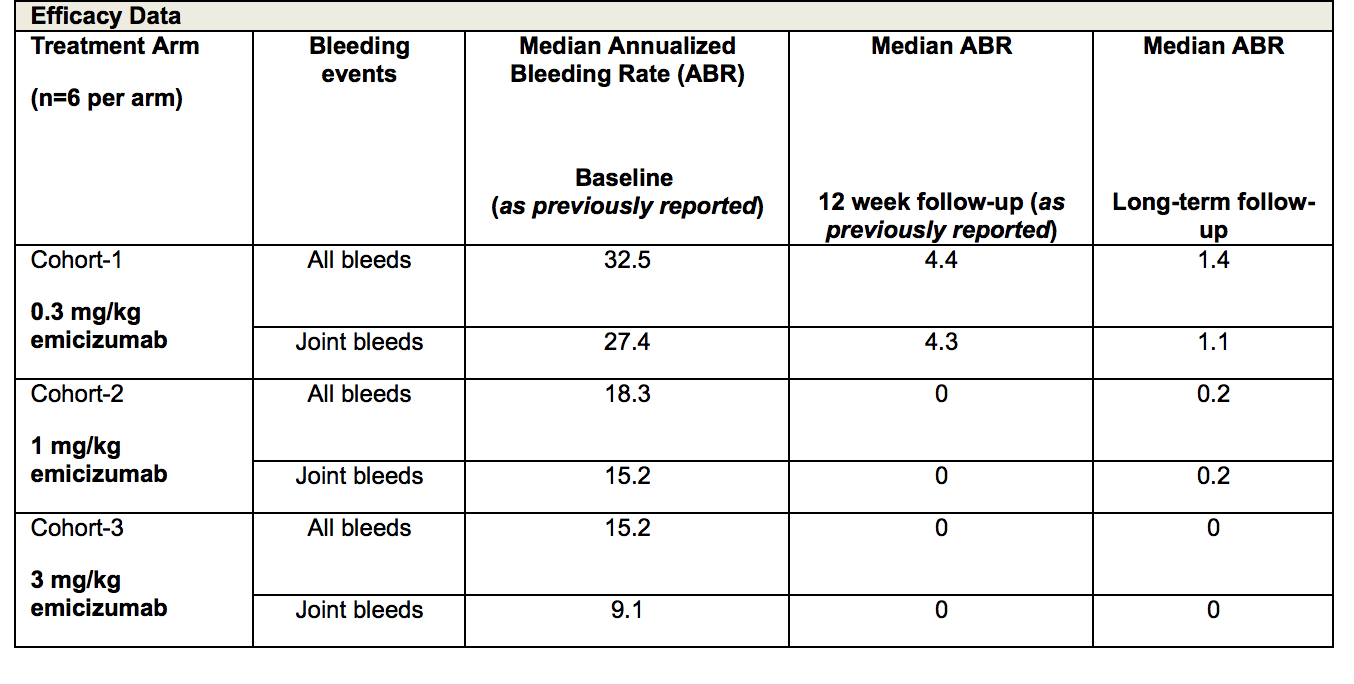 ---
The best place to read
Endpoints News

? In your inbox.

Comprehensive daily news report for those who discover, develop, and market drugs. Join 45,100+ biopharma pros who read Endpoints News by email every day.

Free Subscription
---
---
---