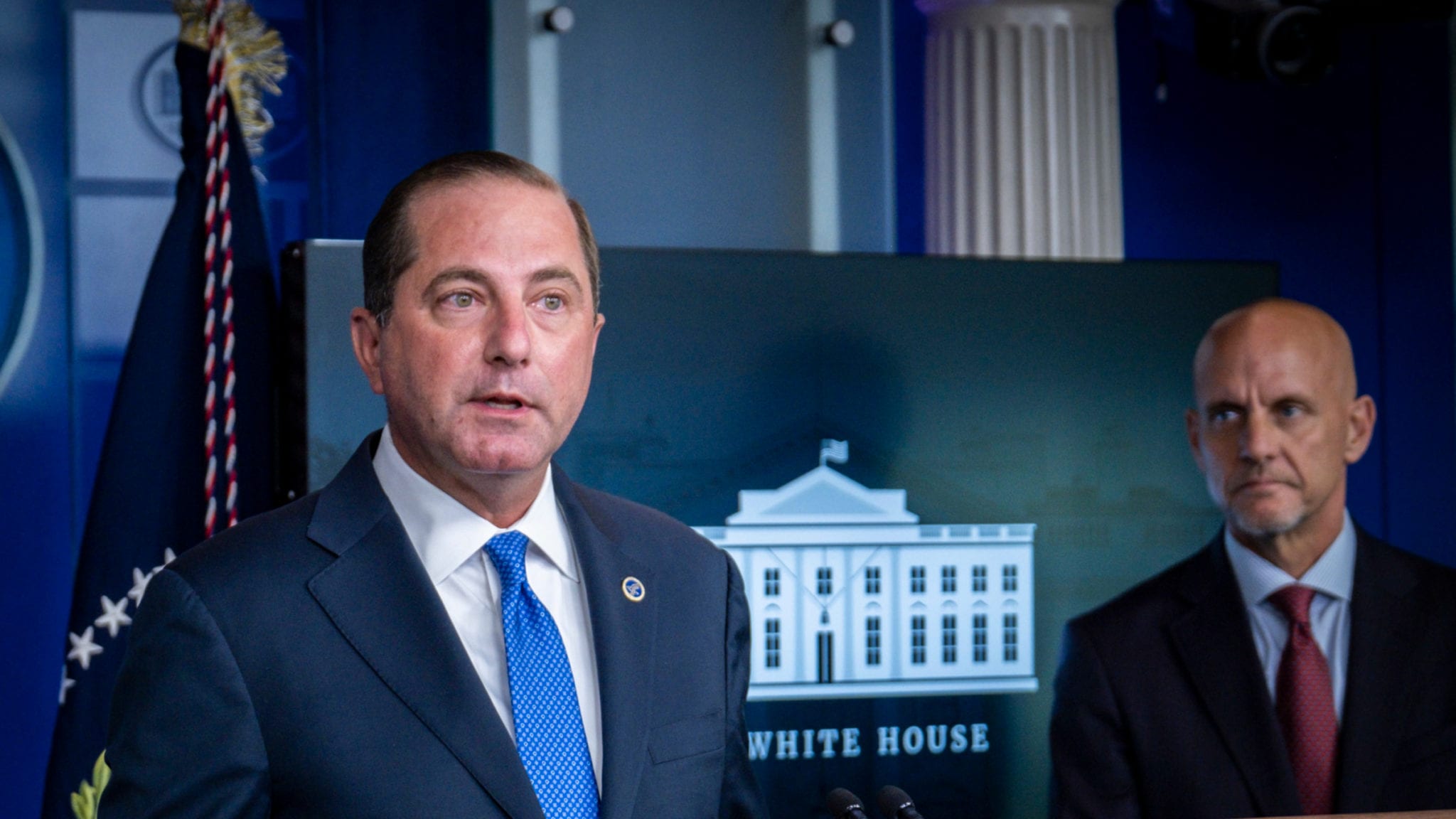 Alex Azar (Photo by Pete Marovich/Getty Images)
HHS seeks to pull Trump-era 'tick­ing time­bom­b' rule that would've put 95% of FDA reg­u­la­tions on the chop­ping block
The HHS is propos­ing to with­draw a Trump-era fi­nal rule that would have sun­set thou­sands of FDA and oth­er pub­lic health agency rules based on how long they've been in place.
The de­ci­sion fol­lows the fil­ing of a law­suit last March, in which sev­er­al non­prof­its al­leged: "The out­go­ing ad­min­is­tra­tion plant­ed a tick­ing time­bomb set to go off in five years un­less the HHS, be­gin­ning right now, de­votes an enor­mous amount of re­sources to an un­prece­dent­ed and in­fea­si­ble task."
That task for the FDA, ac­cord­ing to the HHS, would be to re­view over 7,000 sec­tions of the CFR that were pro­mul­gat­ed by the agency and which are more than 10 years old, or would be­come more than 10 years old dur­ing the first five years the rule would be in ef­fect, rep­re­sent­ing over 95% of the FDA's cur­rent reg­u­la­tions. The HHS al­so pre­vi­ous­ly de­layed the start of the Trump rule so that crit­i­cal re­sources weren't di­vert­ed away from the pan­dem­ic to the re­view of fed­er­al reg­u­la­tions.
The HHS said Fri­day that, over­all, pulling the rule will save it more than $900 mil­lion over the next decade, and added sig­nif­i­cant de­tails on the ways in which for­mer HHS Sec­re­tary Alex Azar's pre­vi­ous fi­nal rule was flawed:
Our think­ing is in­formed by a reeval­u­a­tion of the fac­tu­al premis­es and con­clu­sions in the SUN­SET fi­nal rule that are cen­tral to the De­part­ment's analy­sis of the rule's im­pli­ca­tions and ef­fects. In par­tic­u­lar, based on a re­analy­sis of the reg­u­la­to­ry im­pact of the rule, we now be­lieve that the rule like­ly rest­ed on a flawed un­der­stand­ing of the re­sources re­quired for this un­der­tak­ing, which im­pli­cates the like­li­hood that HHS reg­u­la­tions would ex­pire, and which in turn will re­quire the De­part­ment to make re­source al­lo­ca­tion de­ci­sions which could im­pede the De­part­ment's abil­i­ty to car­ry out oth­er key pri­or­i­ties. That di­ver­sion of re­sources will like­ly im­pede ef­forts to adopt new rules to ad­dress na­tion­al pri­or­i­ties and ad­vance eq­ui­ty for all, in­clud­ing his­tor­i­cal­ly un­der­served and mar­gin­al­ized com­mu­ni­ties. It is there­fore po­ten­tial­ly in­con­sis­tent with the cur­rent Ad­min­is­tra­tion's poli­cies that aim to em­pow­er agen­cies to use ap­pro­pri­ate tools to achieve those ends.