Hong Kong IPO de­liv­ers $421M to In­novent as an­oth­er one of Chi­na's biotech uni­corns hauls in big mon­ey
Say what you may about the biotech chap­ter of the Hong Kong Stock Ex­change, but it has not stopped In­novent Bi­o­log­ics from reap­ing $421 mil­lion in its pub­lic de­but — the largest of the three maid­en IPOs so far.
Sources have told Reuters and Bloomberg that the Suzhou-based uni­corn priced 236.35 mil­lion shares near the top of the range at HK$13.98 — rough­ly $2 USD — mar­ket­ing them in the HK$12.50 to HK$14 range.
A group of 10 cor­ner­stone in­vestors chipped in $245 mil­lion for the raise, which pegs In­novent's to­tal val­u­a­tion at around $2 bil­lion. They in­clude Sin­ga­pore sov­er­eign wealth fund Temasek, Se­quoia Cap­i­tal Chi­na, Shang­hai-based Green­woods In­vest­ment, Hong Kong-based as­set man­age­ment com­pa­ny Val­ue Part­ners and Amer­i­can fi­nan­cial ser­vices com­pa­ny Cap­i­tal Group.
De­spite rais­ing am­ple cap­i­tal, pre-rev­enue biotechs list­ed un­der HKEX's new rules have all giv­en less-than-rosy per­for­mances. As­cle­tis, which raised $400 mil­lion, is trad­ing at less than 50% of its IPO price; Hua Med­i­cine has fall­en 14% af­ter bag­ging $110.5 mil­lion raise; and Nas­daq-list­ed BeiGene has seen its shares de­cline by a third since its $903 mil­lion sec­ondary list­ing.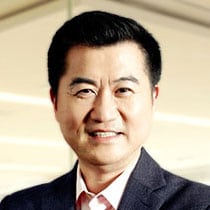 Jonathan Wang
"The new biotech sec­tion of the HKEX is like a new­born," said Jonathan Wang, se­nior man­ag­ing di­rec­tor of Or­biMed Asia, in a re­cent in­ter­view. "It's im­pos­si­ble to guar­an­tee that it nev­er gets sick and is al­ways bliss­ful. No stock mar­ket would see all its stocks go up and nev­er come down. Even ma­ture mar­kets like the Nas­daq are not im­mune to volatil­i­ty. In fact it went through quite a down pe­ri­od two years ago, and it wasn't un­til re­cent­ly that it climbed back to the lev­el we saw three years ago."
Na­tal­ie Chan, an as­sis­tant VP at the HKEX, echoed the sen­ti­ment at the US-Chi­na Bio­phar­ma In­no­va­tion and In­vest­ment Sum­mit host­ed by End­points and Pharm­Cube:
Every mar­ket ex­pe­ri­ences an ad­just­ment process. Are the val­u­a­tions too high? We ren­der to the mar­ket what is the mar­ket's. In three to five years when we get more biotech an­a­lysts and when gen­er­al in­vestors have more knowl­edge, things could be dif­fer­ent.
In the mean­time, In­novent will see in a week whether the im­me­di­ate re­ac­tions have changed. It be­gins trad­ing on Oc­to­ber 31.
Mor­gan Stan­ley, Gold­man Sachs, JP­Mor­gan Chase and Chi­na Mer­chants Se­cu­ri­ties were joint spon­sors of the sale.