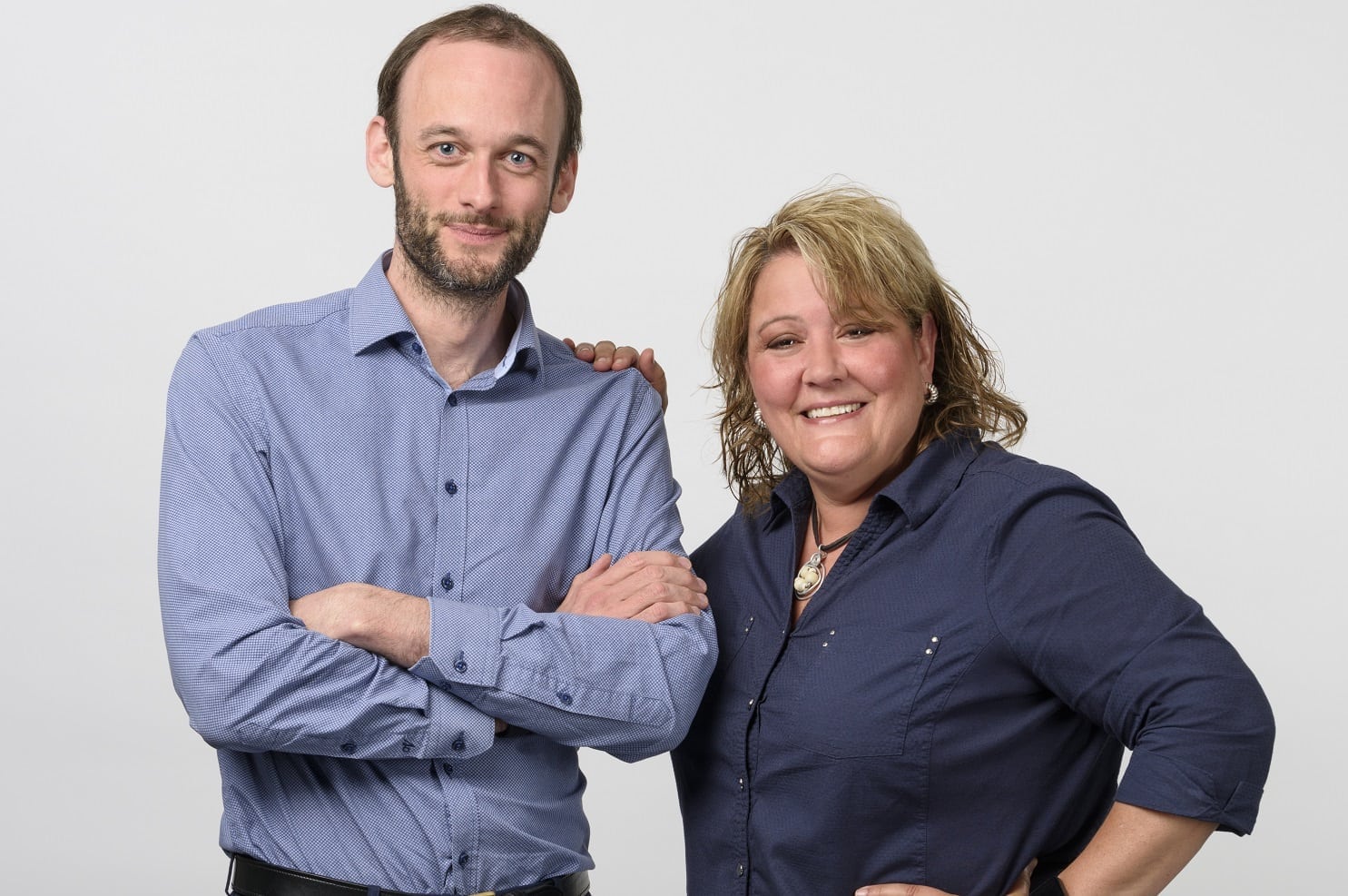 Jonathan Montagu and Gerry Harriman (HotSpot)
HotSpot an­nounces $65M Se­ries B, as Nim­bus pi­o­neers look to keep up in a crowd­ing field
In the decade since Nim­bus Ther­a­peu­tics built a com­pa­ny around com­pu­ta­tion and lit­tle-known phe­nom­e­na like al­losteric reg­u­la­tion, the in­dus­try has brimmed with al­go­rithm com­pa­nies and even a few chas­ing those same tar­gets. Still, a cou­ple of the old lead­ers think they can keep an edge.
"We're very proud to have pi­o­neered the field," Ger­ry Har­ri­man told End­points News. "And we're al­so very proud to say our port­fo­lio is full of tar­gets that have al­losteric in­hibitors re­al­ly for the first time that has ever been de­scribed."
Har­ri­man led Nim­bus's ACC pro­gram — the part that sold to Gilead for up-to $1.2 bil­lion — be­fore she and for­mer Nim­bus CBO Jonathan Mon­tagu found­ed HotSpot Ther­a­peu­tics 3 years ago. The idea was to take the same prin­ci­ples and tech­nol­o­gy that led to the Gilead-li­censed drugs and un­leash it on a suite of dis­eases.
To­day Har­ri­man and Mon­tagu say they've de­vel­oped a long list of tar­gets, in­clud­ing two lead pro­grams in au­toim­mune dis­or­ders and rare meta­bol­ic dis­eases. They've al­so se­cured $65 mil­lion to bring them for­ward, in a Se­ries B round led by SR One, Lim­it­ed. And more news could be com­ing soon.
"We've got a num­ber of quite ad­vanced dis­cus­sions with Phar­ma," Mon­tagu told End­points.
In the four years since Nim­bus sold its ACC pro­gram, Gilead's NASH pro­gram has strug­gled, al­though the Nim­bus drug re­mains in de­vel­op­ment, in­clud­ing Phase II tri­al. In­ter­est in al­lostery has on­ly grown in the last half decade. Black Di­a­mond Ther­a­peu­tics jumped in a lit­tle over a year ago from a stealth mode to a bil­lion-dol­lar com­pa­ny with a $200 mil­lion IPO on its plat­form of al­losteric can­cer drugs.
These al­losteric sites are some­times known as hotspots (hence the biotech name), nodes that the body us­es for its own in­ter­nal mech­a­nism of com­mu­ni­ca­tion and reg­u­la­tion. These nodes can be dif­fi­cult to find, much less tar­get, but they hold sig­nif­i­cant po­ten­tial as drug tar­gets, both be­cause they are a "nat­ur­al" lo­cus of ac­tiv­i­ty and be­cause they of­fer a way to drug pro­teins that lack the easy grooves.
"Po­ten­cy, se­lec­tive­ly, drug-like prop­er­ties are the re­al ad­van­tages of this ap­proach," Mon­tagu said. "And for those tar­gets that don't have ac­tive sites, it's re­al­ly the on­ly way to build a first-in-class [drug]."
HotSpot is built around their com­put­er plat­form that us­es a slew of dif­fer­ent al­go­rithms to search for these al­losteric sites. They go af­ter pro­teins that ge­net­ics have shown dri­ve dis­ease. They start with the pro­tein struc­ture — of a ki­nase — and then build evo­lu­tion­ary maps that, with ma­chine learn­ing, al­low you to scout out the com­mon reg­u­la­to­ry spots.
"We knew that a pri­ori that not one sin­gle tech­nol­o­gy would al­low us to a sys­tem­at­ic un­cov­er­ing of reg­u­la­to­ry hotspots," Har­ri­man said. "So we put about a dozen dif­fer­ent al­go­rithms to­geth­er that helps us to find the reg­u­la­to­ry hotspots, de­ter­mine if they're drug­gable, un­der­stand the struc­ture func­tion, un­veil these mol­e­c­u­lar fin­ger­prints of fin­ger­tips."
HotSpot will now look to get clin­i­cal da­ta on two drugs by 2022. One is an al­losteric in­hibitor of PKC-theta, an en­zyme phar­ma com­pa­nies have with more con­ven­tion­al in­hibitors, to lit­tle suc­cess. HotSpot will test it in au­to-im­mune dis­eases dri­ven by reg­u­la­to­ry T cells and Th2 cells. The sec­ond is an in­hibitor for S6 ki­nase, an en­zyme that's been stud­ied as a treat­ment for obe­si­ty and that Hot­pot will test on rare meta­bol­ic dis­eases.
But those, Mon­tagu said, are on­ly the first cou­ple drugs they're bring­ing for­ward in-house. The com­pa­ny is al­so work­ing on drug­ging tran­scrip­tion fac­tors, the DNA-reg­u­lat­ing pro­teins that play a cru­cial role in a host of dis­eases but have been dif­fi­cult to drug be­cause they lack easy grooves in­to which you could sneak a small mol­e­cule. That pro­gram has gen­er­at­ed in­ter­est from Phar­ma, Mon­tagu said, as have some of their im­muno-on­col­o­gy find­ings.
"Even big com­pa­nies find im­muno-on­col­o­gy chal­leng­ing," he said. "So we'd like to part­ner the I/O as­sets and ad­dress our­selves in the im­munol­o­gy space."
Cor­rec­tion: The sto­ry has been up­dat­ed to cor­rect the sta­tus of the Gilead's ACC drug.