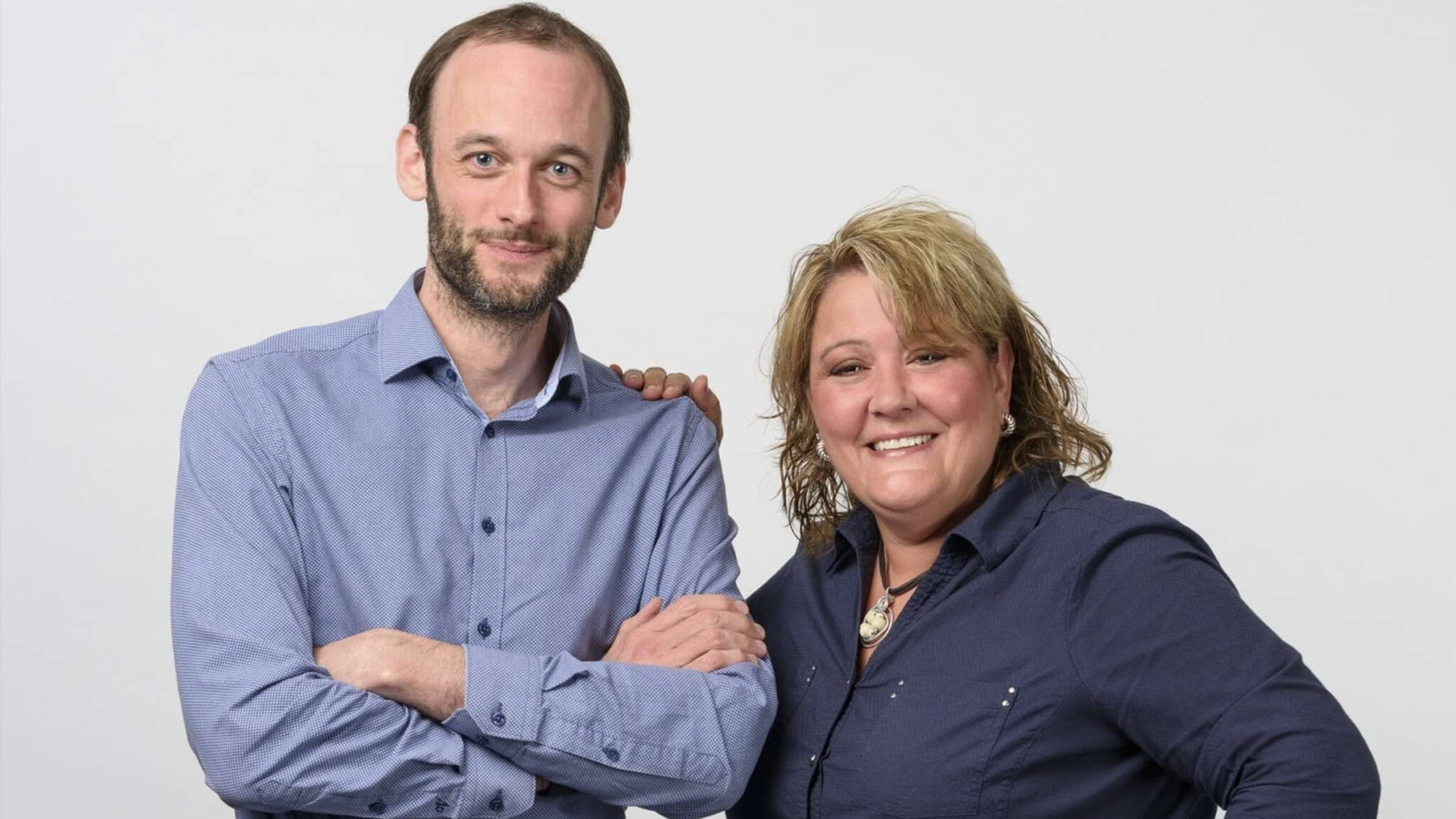 Jonathan Montagu (L) and Gerry Harriman, HotSpot co-founders
HotSpot gets hot­ter with $100M raise to push to­ward clin­ic
HotSpot Ther­a­peu­tics, the al­lostery-fo­cused biotech that works on what it calls "nat­ur­al hotspots" — hence the name — is get­ting a bit hot­ter in its val­u­a­tion from in­vestors. And to that end they've raised $100 mil­lion.
The four-year-old AI com­pu­ta­tion­al biotech start­ed by two for­mer Nim­bus ex­ecs an­nounced this morn­ing that it closed its Se­ries C round right at the line of a 9-fig­ure in­vest­ment, cour­tesy of some big in­vestors.
Piv­otal bioVen­ture Part­ners took the lead on the round — with "sig­nif­i­cant par­tic­i­pa­tion" by LSP and B Cap­i­tal Group. A slew of new in­vestors hopped on the band­wag­on, such as Monashee In­vest­ment Man­age­ment and Rev­e­la­tion Part­ners, along with some old in­vestors like At­las Ven­ture, SR One Cap­i­tal Man­age­ment and Sofinno­va Part­ners.
This new round more than dou­bles what HotSpot has pre­vi­ous­ly raised, bring­ing it to a to­tal of $190 mil­lion. The last time HotSpot raised funds was in May 2020, when the biotech an­nounced a $65 mil­lion Se­ries B.
The biotech fol­lows in Nim­bus' foot­steps of de­vel­op­ing ther­a­pies for so-called al­losteric tar­gets us­ing a com­pu­ta­tion­al plat­form — look­ing at pro­tein pock­ets be­yond ac­tive sites to find ways to drug pro­teins that were pre­vi­ous­ly deemed un­drug­gable or hard to drug.
And as with many rounds, there's al­so board ap­point­ments. Ash Khan­na, a ven­ture part­ner with Piv­otal bioVen­ture Part­ners, and Fouad Az­zam of LSP will join HotSpot's board of di­rec­tors.
For HotSpot's co-founders, CEO Jonathan Mon­tagu and CSO Ger­ry Har­ri­man, this al­lows HotSpot to piv­ot more in­to clin­i­cal de­vel­op­ment.
And with the Se­ries C, an IPO is usu­al­ly not far be­hind. As Mon­tagu put it, this raise puts HotSpot "in the dri­ver's seat," he told End­points News — and while it's too ear­ly to con­sid­er a move in­to the pub­lic eq­ui­ty mar­ket, he says it al­lows HotSpot the flex­i­bil­i­ty as to when it goes pub­lic.
With the cash run­way un­til 2024, the new round al­lows the biotech to move pro­grams in­to the IND-en­abling phase, Mon­tagu said. Their plan is to file an IND on their lead pro­gram some­time next year — a CBL-B tar­get fo­cus­ing on the E3 lig­ase — af­ter HotSpot nom­i­nates a de­vel­op­ment can­di­date for that tar­get. Even­tu­al­ly, HotSpot's goal is to start dos­ing pa­tients in a clin­i­cal set­ting by the end of 2022.
The com­pa­ny hopes the IND will be the first of many. Out­side of the com­pa­ny's 3 pub­licly-known tar­gets, there's a few more that re­main undis­closed that, in Mon­tagu's mind, gives HotSpot lever­age in ef­fi­cient R&D.
"We're go­ing to scale the com­pa­ny so that we can have a steady state of 2-3 lead op­ti­miza­tion pro­grams at any one time, which will trans­late in­to a steady ca­dence of mol­e­cules en­ter­ing the clin­ic," Mon­tagu said in an in­ter­view.
Out­side of the pipeline, the com­pa­ny is al­so look­ing to in­crease the num­ber of em­ploy­ees — which is cur­rent­ly split be­tween Boston and New Jer­sey. HotSpot is cur­rent­ly ex­pand­ing its team over­seas in Berlin, Ger­many, Mon­tagu con­firmed.
"What we would like to do is to re­al­ly build out a num­ber of ar­eas in our re­search or­ga­ni­za­tion that can not on­ly sup­port a grow­ing pipeline, but al­so make deep in­vest­ments in­to our plat­form. So we will see growth in ar­eas such as bi­ol­o­gy, chem­istry, and then our AI ef­forts in our plat­form," Har­ri­man told End­points in an in­ter­view.
Har­ri­man al­so said they would hire out­side com­pa­nies for man­u­fac­tur­ing when it reach­es that point.