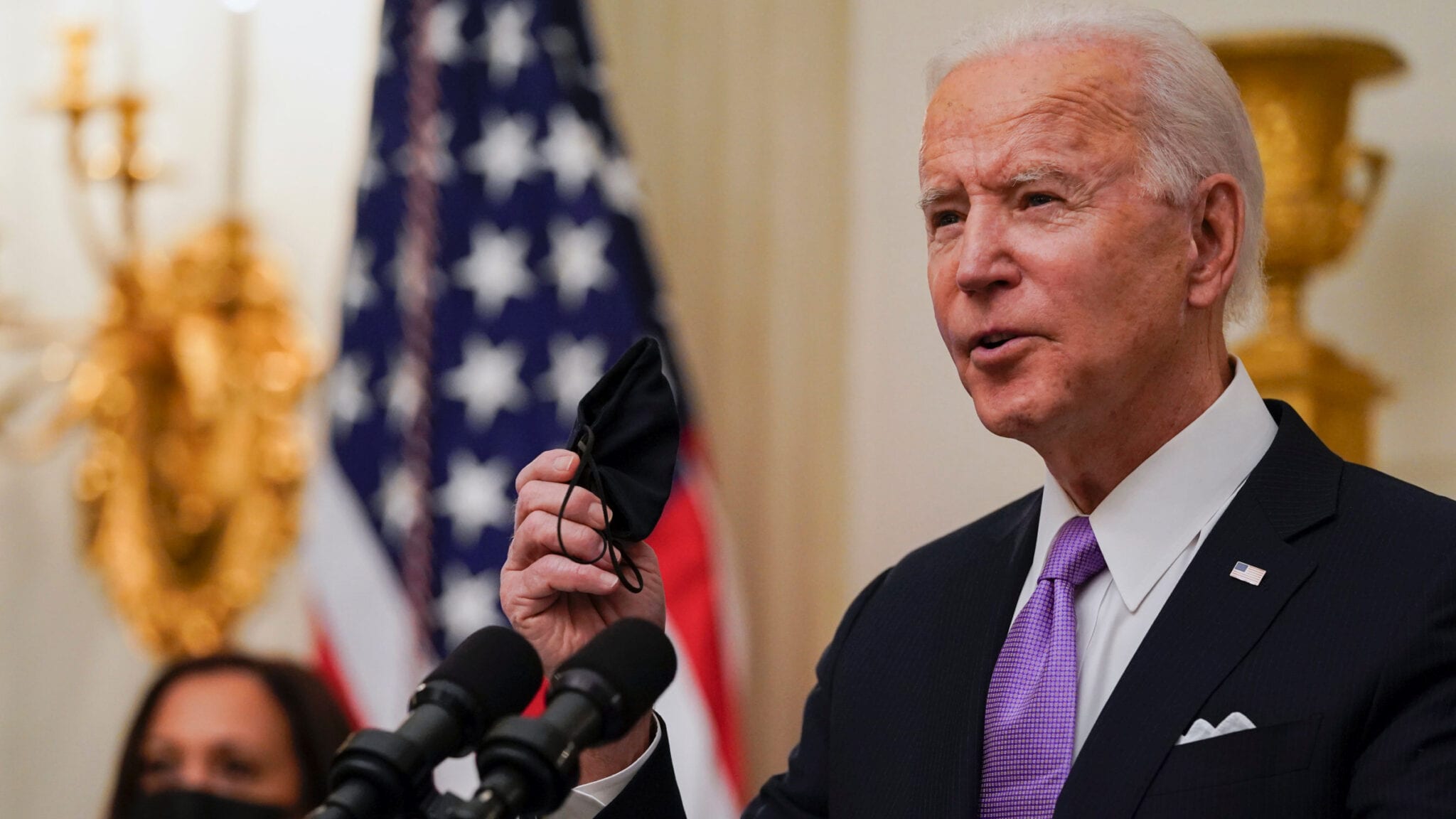 President Joe Biden (AP Images)
How will the Biden ad­min­is­tra­tion af­fect fund­ing for life sci­ence re­search?
Biotech Voices is a collection of exclusive opinion editorials from some of the leading voices in biopharma on the biggest industry questions today. Think you have a voice that should be heard? Reach out to Amber Tong.
The ad­vent of a new ad­min­is­tra­tion in Wash­ing­ton of­ten por­tends ma­jor changes in bud­get­ing and spend­ing, and thus it will be in the ad­min­is­tra­tion of Joe Biden, if he ad­heres to the 2020 De­mo­c­ra­t­ic Par­ty plat­form.
But one thing that is not like­ly to change is the on­go­ing uptick in fund­ing for re­search in the life sci­ences — par­tic­u­lar­ly the fund­ing for the Na­tion­al In­sti­tutes of Health, the Cen­ters for Dis­ease Con­trol, and oth­er fed­er­al agen­cies fo­cused on life sci­ence re­search.
The rea­son for that is sim­ple: Covid-19 is still with us, and based on re­cent num­bers, it shows no sign of leav­ing any­time soon — de­spite the de­vel­op­ment of vac­cines by Pfiz­er, Mod­er­na, and oth­er phar­ma­ceu­ti­cal com­pa­nies. In a speech on the week­end pri­or to his in­au­gu­ra­tion, Biden said that it was his goal "to help re­store faith in Amer­i­ca's place in the fron­tier of sci­ence and dis­cov­ery." Sci­ence, he added, "is dis­cov­ery … it's about hope."
And while politi­cians — whether they be city coun­cil mem­bers or pres­i­dents — are known for their hy­per­bol­ic de­c­la­ra­tions that don't al­ways lead some­where, Biden is not an un­known quan­ti­ty. As a mem­ber of the Sen­ate for decades, he has an eas­i­ly-ex­am­ined record on mat­ters of all kinds, in­clud­ing life sci­ence fund­ing and re­search.
Ac­cord­ing to med­ical jour­nal The Lancet, Biden "has had a long-stand­ing in­ter­est in med­ical re­search." As Vice Pres­i­dent un­der Barack Oba­ma, he was in charge of the ad­min­is­tra­tion's Can­cer Moon­shot Task Force, which "brought a new ur­gency to the Fed­er­al gov­ern­ment ef­forts to fight can­cer, and forged new part­ner­ships and cre­at­ed new pro­grams and poli­cies." A re­port is­sued at the end of the ad­min­is­tra­tion's term shows that sig­nif­i­cant progress was made in mar­shal­ing re­sources, both pub­lic and pri­vate, to "achieve a decade's worth of progress in five years" in the fight against can­cer.
With a pan­dem­ic still rag­ing, Biden has pledged to bring the same com­mit­ment to fight­ing Covid-19 — in which he promis­es "a de­ci­sive pub­lic health re­sponse" that in­cludes de­vel­op­ment of vac­cines, fund­ing for its dis­tri­b­u­tion, and "the full de­ploy­ment and op­er­a­tion of nec­es­sary sup­plies, per­son­nel, and fa­cil­i­ties."
If Biden does in­deed in­crease bud­gets for life sci­ence re­search, he will be fol­low­ing in a decades-strong tra­di­tion. The bud­get for the NIH, for ex­am­ple, has near­ly quadru­pled since 1995, grow­ing every year, in­clud­ing in 2021; in its bud­get for this year, Con­gress ap­proved a 3% in­crease in the agency's fund­ing, with the to­tal al­lo­ca­tion for the year at $42.9 bil­lion, $1.25 bil­lion more than the 2020 lev­el.
Last year, the NIH award­ed 10 grants for the es­tab­lish­ment of the first-ever Cen­ters for Re­search in Emerg­ing In­fec­tious Dis­eases (CREID), a "glob­al net­work will in­volve mul­ti­dis­ci­pli­nary in­ves­ti­ga­tions in­to how and where virus­es and oth­er pathogens emerge from wildlife and spillover to cause dis­ease in peo­ple."
That ini­tia­tive is a sign of things to come; the Covid-19 pan­dem­ic has raised con­cerns among sci­en­tists that hu­man­i­ty could see a rise in zoonot­ic dis­eases, re­sult­ing in even greater pub­lic health threats in the years to come.
One of the lessons of the pan­dem­ic is that we can­not rest on our lau­rels when it comes to health­care re­search. Along with pre­vent­ing pan­demics, the NIH will con­tin­ue fund­ing the many oth­er ar­eas in which it is ac­tive, in­clud­ing can­cer re­search, ar­ti­fi­cial in­tel­li­gence, Alzheimer's treat­ment, etc. That fund­ing will go to uni­ver­si­ties, star­tups, phar­ma­ceu­ti­cal firms, and oth­er or­ga­ni­za­tions that are do­ing deep-dive re­search in all these ar­eas.
While much of that fund­ing goes to aca­d­e­m­ic re­search, the NIH pro­vides bil­lions of dol­lars an­nu­al­ly for small life sci­ence re­search firms, who are at the fore­front of de­vel­op­ing sci­en­tif­ic ini­tia­tives in­to prod­ucts and ser­vices that will help solve some of our most press­ing health prob­lems.
In fact, it was such non-di­lu­tive gov­ern­ment fund­ing that en­abled the phar­ma­ceu­ti­cal firms to quick­ly de­vel­op the Covid-19 vac­cines, based on the use of mR­NA tech­nol­o­gy to en­able the de­vel­op­ment of an­ti­bod­ies to the virus. That tech­nol­o­gy has been around for years, based on re­search con­duct­ed by small and start­up biotech firms and labs stretch­ing back decades.
An­oth­er les­son learned from Covid-19: Lis­ten to the sci­ence. The vac­cines are the re­sult of years of re­search and ex­ten­sive col­lab­o­ra­tion be­tween sci­en­tists all over the world, and that col­lab­o­ra­tion suc­ceed­ed. If that ap­proach was able to bring a so­lu­tion to one of the biggest prob­lems we've faced in mod­ern times, it can help solve many oth­er prob­lems, too — and there is no doubt that the new ad­min­is­tra­tion will ap­ply that Covid-in­duced les­son to oth­er prob­lems, too.
Ram May-Ron is a man­ag­ing part­ner at Free­Mind.