How your com­pa­ny can fund the work at End­points News — and give your em­ploy­ees com­plete ac­cess to our con­tent
Last sum­mer we launched a prod­uct — En­ter­prise — that is es­sen­tial to the fu­ture of End­points News. Cor­po­rate cus­tomers can now di­rect­ly sup­port our fu­ture de­vel­op­ment through paid sub­scrip­tions, and get a list of ex­tra ben­e­fits and con­tent. If you'd like to sup­port the work, please con­sid­er do­ing so to­day. (We al­so have a prod­uct for in­di­vid­u­als called In­sid­er, which you can read about here.)
The news is this: We want to hit our sub­scrip­tion rev­enue goals now so we can ex­pand the team, bring­ing you even bet­ter re­port­ing soon­er rather than lat­er. It's just $1,000/year for your en­tire com­pa­ny no mat­ter the size — and you can see one of the ben­e­fits be­low. Every em­ploy­ee who sub­scribes to End­points News will be­gin to see this new spe­cial email head­er that demon­strates your com­pa­ny's sup­port.
Spe­cial head­er em­ploy­ees would see with an En­ter­prise sub­scrip­tion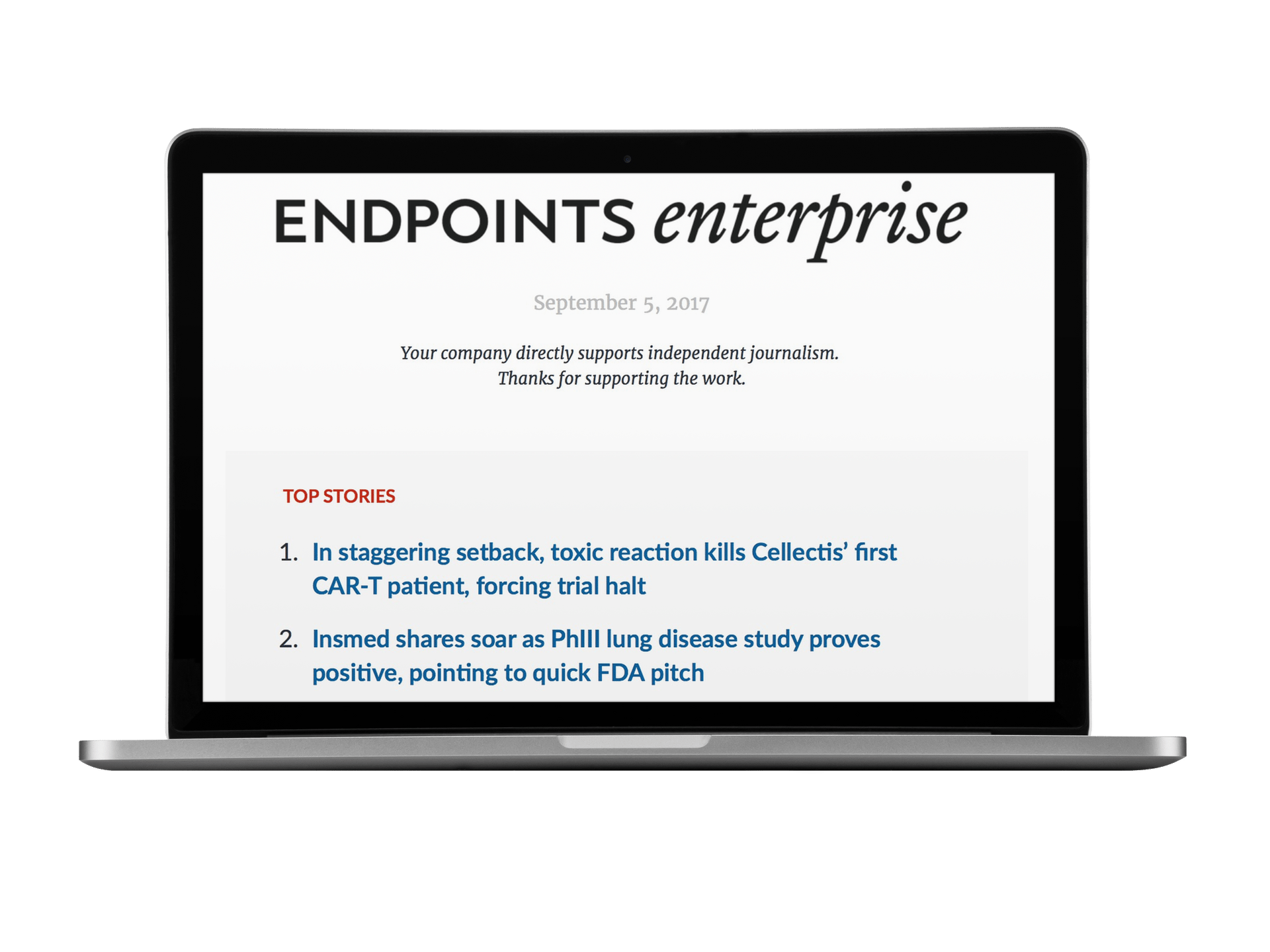 Get End­points En­ter­prise ($1,000/year)
---
This isn't a plea for do­na­tions. With a paid sub­scrip­tion, we're pro­vid­ing you val­ue and new tools (more on that be­low) and in ex­change we're charg­ing a price.
To do in­de­pen­dent jour­nal­ism root­ed in the style John and I have set out since we launched — 2 years, 3,700 ar­ti­cles and 500 dai­ly newslet­ters ago — here's one ab­solute truth: Read­ers must di­rect­ly sup­port the busi­ness mod­el. And now your com­pa­ny can.
Give your em­ploy­ees full ac­cess to end­points news
Let's say your com­pa­ny has 2,000 em­ploy­ees. Per­haps 500 of them vis­it our web­site and 50 of them are free email sub­scribers. For just $1,000/year, you can in­stant­ly up­grade all 50 to En­ter­prise — and then as long as your sub­scrip­tion is cur­rent, we'll au­to­mat­i­cal­ly flag all new email sub­scribers from your cor­po­rate do­main and grant them full ac­cess to your firm's En­ter­prise li­cense.
All of your em­ploy­ees who sub­scribe to End­points News will see the spe­cial head­er in their newslet­ter, re­mind­ing them of your com­pa­ny's sup­port of in­de­pen­dent jour­nal­ism. We'll send them all pre­mi­um End­points con­tent which is ex­clu­sive to paid sub­scribers on­ly. And there's more. Your em­ploy­ees al­so get:
Print-to-PDF: The PDF but­ton above all our news ar­ti­cles will now work.
Cut-and-paste rights: Share our work legal­ly in full, with­out the URL, in­ter­nal­ly or with part­ners, in any dig­i­tal medi­um. A huge li­brary of news con­tent at their fin­ger­tips. With­out a sub­scrip­tion, just a fair-use, lim­it­ed amount is per­mis­si­ble.
Reprint rights: Go ahead and print our ma­te­r­i­al for busi­ness use, they'd have our full per­mis­sion.
And now:
Two Pre­mi­um Job List­ings: At End­points Ca­reers, we of­fer a way for cor­po­rate sub­scribers to get their open po­si­tions in front of our en­tire sub­scriber base. We're of­fer­ing two free Pre­mi­um List­ings per year to each cor­po­rate cus­tomer. That is an $1,800 cost by it­self, which alone ex­ceeds the cost of a one year sub­scrip­tion.
Pay­wall ac­cess
Once you sub­scribe, here's just a sam­ple of the con­tent every­one at your com­pa­ny will have ac­cess to:
---
---
---
---
---
… and much more to come
---
Now is the time to sup­port the work
To the hun­dreds of amaz­ing com­pa­nies and in­di­vid­u­als who've al­ready signed up, thank you — what we do isn't pos­si­ble with­out you.
If you've been think­ing about it but have put it off, we to­tal­ly get it. But we need your help this month if we're to hit the lofty to­tals that'll al­low us to hire a top-class team and build new prod­ucts while main­tain­ing our in­de­pen­dence.
We've de­signed a re­al­ly easy form that takes a cou­ple min­utes to fill out, and re­quires a cred­it card pay­ment at the end. With­in 24 hours, usu­al­ly much soon­er, you'll get an email with a full PDF li­cense. You can see the en­tire terms and con­di­tions here. All of your em­ploy­ees can start en­joy­ing the ben­e­fits of a sub­scrip­tion im­me­di­ate­ly.
Need help? Now many com­pa­nies have com­pli­cat­ed billing process­es and pro­to­cols. You can chat with our team dur­ing busi­ness hours via our up­grade page or Read­er Cen­ter should you re­quire spe­cial as­sis­tance. To sign in, you can use a tra­di­tion­al pass­word or click a se­cure "mag­ic link" that we send to your email on file with us. You can al­so send an email to help@end­pointsnews.com.
We re­quire a cred­it card pay­ment but in lim­it­ed cir­cum­stances can in­voice your com­pa­ny if there is no al­ter­na­tive.
To be­gin your com­pa­ny's paid sub­scrip­tion, click on the but­ton be­low.
Once again, this is a cru­cial month for this com­pa­ny. You can di­rect­ly sup­port our fu­ture de­vel­op­ment, so we can build on the track we've laid so far. We'll have more posts over the month on our pro­grams but we need your sup­port to­day. Thanks for be­ing part of the End­points News com­mu­ni­ty.