Icosavax nabs $51M as syn­thet­ic virus heads to­ward clin­ic
A new biotech is us­ing an ar­ti­fi­cial virus-like par­ti­cle to try to vac­ci­nate against the res­pi­ra­to­ry syn­cy­tial virus (RSV), a flu-like dis­ease for which no vac­ci­na­tion or cure ex­ists.
Icosavax launch­es with a $51 mil­lion Se­ries A fi­nanc­ing from Qim­ing Ven­ture Part­ners USA, Adams Street Part­ners, Sanofi Ven­tures and Nan­oDi­men­sion that will pro­pel it in­to a Phase I tri­al for IVX-121, their new vac­cine for old­er adults.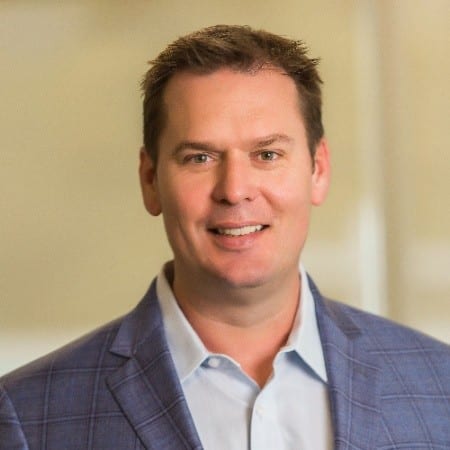 Adam Simp­son
"The mag­ic of the VLP is that it looks and smells like a virus but it's safe," CEO Adam Simp­son told End­points News. "You get all the ben­e­fits of your body giv­ing off the dan­ger sig­nal with­out the down­side."
RSV will af­fect vir­tu­al­ly all chil­dren be­low the age of 2, ac­cord­ing to the NIH, in­duc­ing a mild cold for most but forc­ing a small per­cent­age to be hos­pi­tal­ized. It can have se­vere con­se­quences in old­er adults, an­nu­al­ly con­tribut­ing to the deaths of 14,000 Amer­i­cans.
Simp­son wants you to pic­ture a soc­cer ball. He wants you to pic­ture it be­cause it's rough­ly what a virus looks like if you add lit­tle anti­gen prongs to every black tile, and thus its rough­ly what their virus-like par­ti­cle (VLP) looks like.
This par­ti­cle works like a stan­dard virus-based vac­cine, trig­ger­ing the body's im­mune re­sponse by bind­ing to lym­pho­cyte cells and mak­ing them think the body is in­fect­ed. Simp­son ar­gues this is safer than a con­ven­tion­al vac­cine be­cause it doesn't in­volve any ac­tu­al for­eign virus.
This VLP, though, is crit­i­cal for RSV for oth­er rea­sons, he said. A vac­cine for the very com­mon virus has elud­ed re­searchers for years in large part be­cause the virus changes form dra­mat­i­cal­ly when it comes in­to con­tact with a cell. The trick, then, was to de­vise a vac­cine that would prime the body's im­mune sys­tem against the virus's pre-con­tact form.
The NIH cre­at­ed an anti­gen for that form last year, Simp­son said — pro­vid­ing a prong for Icosavax to at­tach to their VLP.
"What we've been able to do is come up with a tech­nique to make this soc­cer-ball-look­ing struc­ture with com­plex anti­gens and ac­tu­al­ly man­u­fac­ture it," Simp­son said, "And that's what's nev­er been done be­fore."
VLPs are al­ready wide­ly used for vac­cines, in­clud­ing for in­oc­u­la­tion against he­pati­tis B and hu­man pa­pil­lo­mavirus. But Simp­son and the builders of the VLP at the In­sti­tute for Pro­tein De­sign at the Uni­ver­si­ty of Wash­ing­ton told End­points this presents a ma­jor step for­ward by al­low­ing re­searchers to build them from scratch, us­ing com­pu­ta­tion­al mod­els — tech­niques, they said, that could be used in build­ing vac­cines for oth­er virus­es that have thus far elud­ed re­searchers.
The new mod­el works by mim­ic­k­ing the repet­i­tive struc­ture the body au­to­mat­i­cal­ly as­so­ciates with virus­es, Neil King told End­points.
"The beau­ti­ful thing about the par­ti­cle we've de­signed is they're very ro­bust and ver­sa­tile," King, an as­sis­tant pro­fes­sor at the In­sti­tute for Pro­tein De­sign said. "You could use the par­ti­cles to make HIV vac­cines or malar­ia vac­cines or flu vac­cines as well as RSV just by swap­ping out dif­fer­ent anti­gens."
Icosavax will soon be­gin a Phase Ib tri­al on old­er adults, eval­u­at­ing safe­ty and proof-of-con­cept. Simp­son said they will soon look at oth­er in­di­ca­tions but de­clined to name them.