In a break­through, Chi­nese re­searchers clone mon­keys hop­ing to pro­vide bet­ter dis­ease mod­els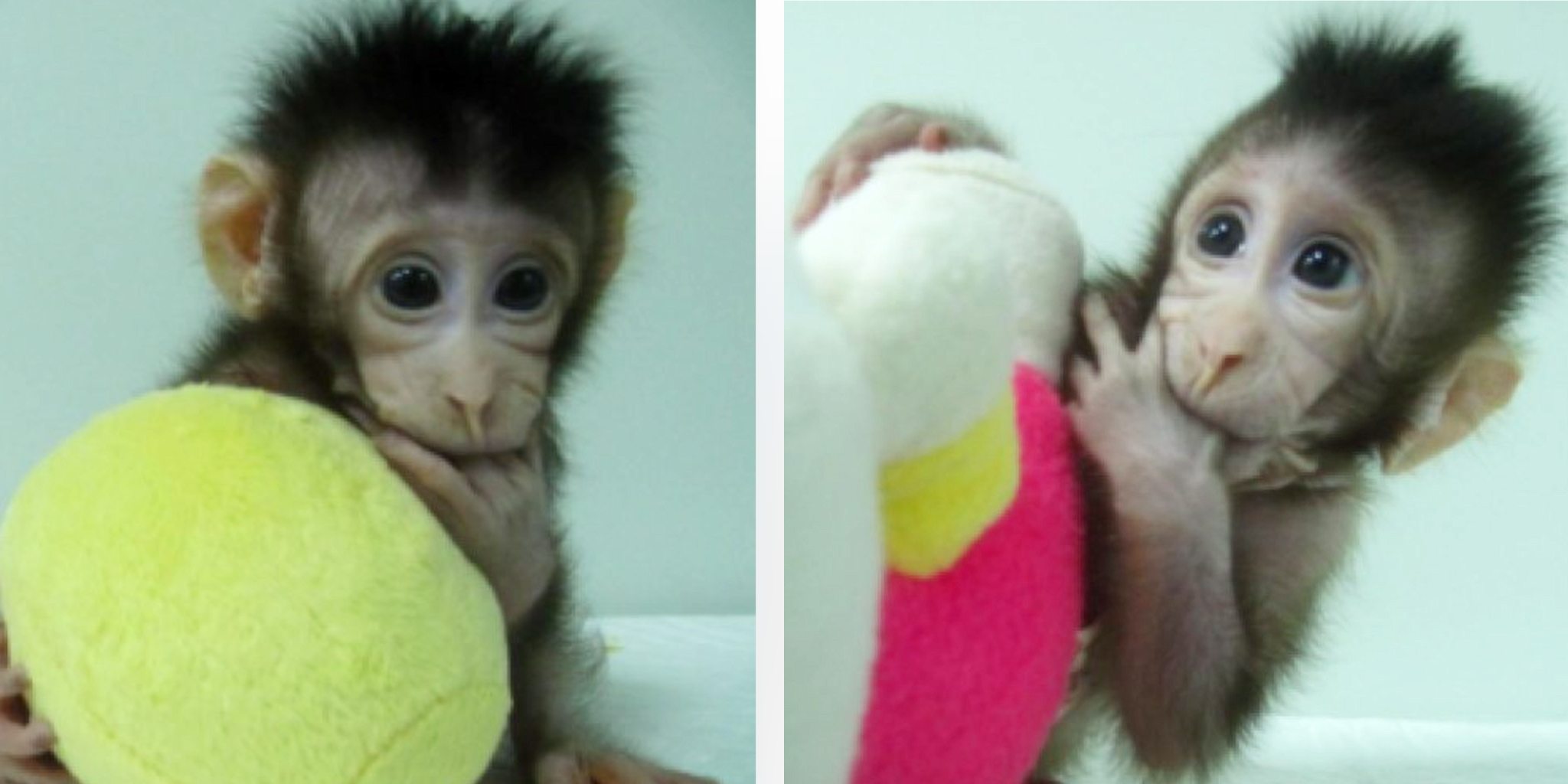 Hua Hua (left) and Zhong Zhong (right), the first two mon­keys cre­at­ed by so­mat­ic cell nu­clear trans­fer.
Cred­it: Qiang Sun and Mu-ming Poo / Chi­nese Acad­e­my of Sci­ences
---
Two mon­keys are mak­ing head­lines around the world. Now bare­ly two months old, they might help lead the way down the path to some of the Holy Grails of bio­med­ical re­search — at least that's the hope of their cre­ators.
Zhong Zhong and Hua Hua, the iden­ti­cal long-tailed macaques, were cre­at­ed at the Chi­nese Acad­e­my of Sci­ences In­sti­tute of Neu­ro­science in Shang­hai with the same method that gave birth to Dol­ly the sheep in 1996. Known as so­mat­ic cell nu­clear trans­fer, or SC­NT, it takes the nu­cle­us of a dif­fer­en­ti­at­ed cell from one an­i­mal and in­fus­es it in­to an emp­ty egg cell from an­oth­er. An elec­tric cur­rent trig­gers the egg to de­vel­op in­to an ear­ly em­bryo, and the re­sult­ing fe­tus, grown in a sur­ro­gate, would be a repli­ca of the an­i­mal that do­nat­ed the nu­cle­us.
Sci­en­tists have cloned more than 20 species this way, but cloning pri­mates re­mained a unique chal­lenge. Pre­vi­ous at­tempts have nev­er pro­gressed be­yond the ear­ly em­bryo stage.
The break­through here was the in­tro­duc­tion of two mod­u­la­tors — specif­i­cal­ly, Kdm4d mR­NA and a hi­s­tone deacety­lase in­hibitor called tri­cho­statin A — in the one-cell stage that switched on or off a num­ber of genes that were af­fect­ing em­bryo de­vel­op­ment.
From there, the re­searchers yield­ed what they hope to be the first of many ge­net­i­cal­ly uni­form mon­key mod­els that, com­bined with gene edit­ing tools, could shed light on dis­ease mech­a­nisms and of­fer ther­a­peu­tic test­ing ground for dis­eases that have elud­ed hu­man un­der­stand­ing, such as Alzheimer's and Parkin­son's. Those are ar­eas where mice mod­els have proven woe­ful­ly in­ad­e­quate in terms of pre­dict­ing hu­man re­ac­tions to drugs; mul­ti­ple oth­er ge­net­ic dis­eases could al­so be tar­gets.
But — as one would rea­son­ably ex­pect — this cloning suc­cess car­ries im­por­tant caveats. First off, it ba­si­cal­ly on­ly works in fe­tal cells. While two ba­bies were born us­ing adult mon­key cu­mu­lus, they were both short-lived and one had ab­nor­mal body de­vel­op­ment.
Fur­ther­more, the low suc­cess rate means pro­duc­ing a pop­u­la­tion of cloned mon­keys large enough to be ef­fec­tive would re­quire an ex­po­nen­tial­ly larg­er num­ber of em­bryos and sur­ro­gates. At that scale, the prac­ti­cal and eth­i­cal ques­tions al­ready sur­round­ing pri­mate re­search would like­ly snow­ball in­to some­thing even big­ger.
To put things in­to per­spec­tive, Zhong Zhong and Hua Hua were the on­ly lucky ones from six preg­nan­cies from 21 sur­ro­gates with 79 im­plant­ed em­bryos be­tween them. An ad­di­tion­al 22 preg­nan­cies were con­firmed among 42 sur­ro­gates in the adult cell group.
So no, cloned mon­keys are not com­ing to a lab near you any­time soon. But it's sure to set off — and it al­ready has — a flur­ry of de­bate and, pos­si­bly, new re­search.