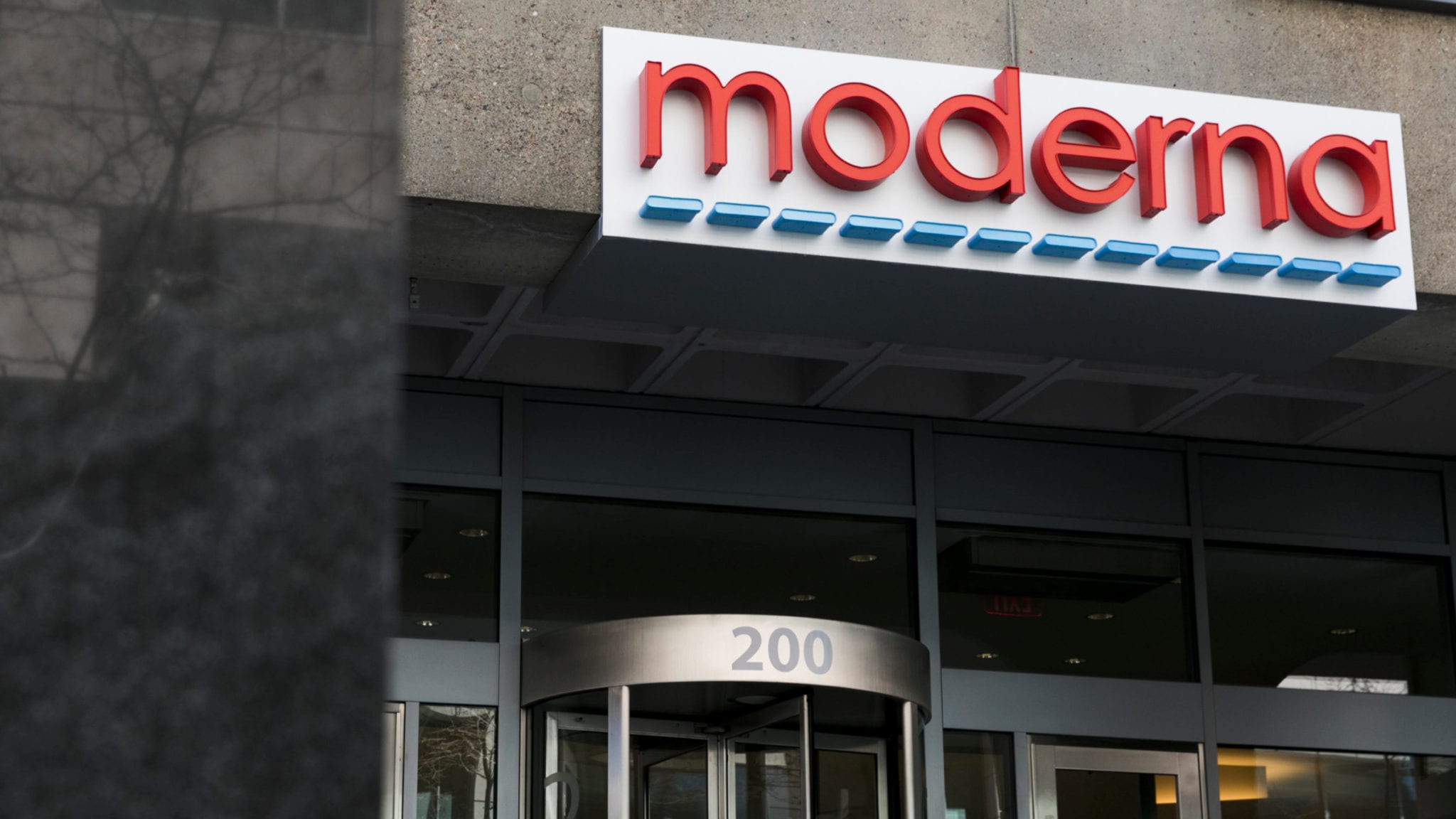 In his­toric vote, mR­NA vac­cines go 2 and 0 as FDA ex­perts unan­i­mous­ly back Mod­er­na's Covid-19 vac­cine
Come Sat­ur­day, the US will like­ly have two Covid-19 vac­cines.
The FDA's ad­vi­so­ry com­mit­tee on vac­cines vot­ed unan­i­mous­ly Thurs­day — with one ab­sten­tion — to rec­om­mend an emer­gency use au­tho­riza­tion for Mod­er­na's mR­NA-based Covid-19 shot, set­ting the agency up to like­ly is­sue the EUA on Fri­day. The agency does not have to lis­ten to the com­mit­tee but usu­al­ly does.
"The ev­i­dence that has been stud­ied in great de­tail on this vac­cine high­ly out­weighs any is­sues that we've seen," Stan­ford in­fec­tious dis­ease pe­di­a­tri­cian Hay­ley Gans said. "And I think re­al­ly sup­ports us be­ing able, with the pan­dem­ic, move for­ward and fi­nal­ly pro­vide a safe and ef­fec­tive way of get­ting to herd im­mu­ni­ty."
The unan­i­mous vote con­trast­ed with last week's ad­vi­so­ry hear­ing on Pfiz­er-BioN­Tech's own mR­NA shot, where four com­mit­tee mem­bers vot­ed against the ques­tion put to them and one ab­stained. But the dis­crep­an­cy may come down to a mi­nor dif­fer­ence be­tween the two ap­pli­ca­tions.
Pfiz­er asked for an EUA to vac­ci­nate any­one 16 years of age or old­er, but some mem­bers of the com­mit­tee were con­cerned that Pfiz­er did not con­duct suf­fi­cient test­ing on 16 and 17 year olds and vot­ed ac­cord­ing­ly, even though they sup­port­ed vac­ci­nat­ing any­one over 18. Mod­er­na on­ly re­quest­ed an EUA for peo­ple 18 and up, as­suag­ing the com­mit­tee's con­cerns.
Nev­er­the­less, some ad­vi­so­ry mem­bers still sparred with the FDA over the word­ing of the ques­tion put be­fore the com­mit­tee, fear­ing that the word­ing may mis­lead the pub­lic in­to be­liev­ing that the vac­cine has been ful­ly ap­proved. They of­fered adding "ex­per­i­men­tal" or "emer­gency use au­tho­riza­tion" to the ques­tion.
"This can be in­ter­pret­ed as rec­om­mend­ing full ap­proval," said NCAT's Michael Kuril­la. "That may… pre­clude not on­ly ad­e­quate eval­u­a­tion of this vac­cine but al­so fu­ture and on­go­ing Covid vac­cines in de­vel­op­ment.
FDA of­fi­cials and oth­er mem­bers, how­ev­er, quick­ly shot down the idea.
"The ques­tion is nev­er when do you know every­thing, it's when do you know enough," said Paul Of­fit, an in­fec­tious dis­ease physi­cian at Chil­dren's Hos­pi­tal of Philadel­phia.
Kuril­la ab­stained over the word­ing, as well as con­cerns that an ex­pand­ed ac­cess pro­to­col may have been more ap­pro­pri­ate than an EUA, al­low­ing tri­als to con­tin­ue to col­lect ran­dom­ized da­ta.
An EUA for Mod­er­na would rough­ly dou­ble the amount of vac­cine im­me­di­ate­ly avail­able in the U.S., from over 20 mil­lion dos­es to over 40 mil­lion dos­es. The vac­cine is al­so eas­i­er to dis­trib­ute as it can be han­dled at the same tem­per­a­ture as most ap­proved vac­cines — un­like Pfiz­er's shot — and the U.S. has ex­er­cised op­tions to ac­quire 200 mil­lion dos­es through June.
While prof­fer­ing dozens of ques­tions, the com­mit­tee nev­er ex­pressed se­ri­ous con­cerns about the safe­ty or ef­fec­tive­ness of the vac­cine. Mod­er­na an­nounced pre­vi­ous­ly that the vac­cine was 94.1% ef­fec­tive at pre­vent­ing symp­to­matic Covid-19. Al­though the FDA re­view re­vealed that the vac­cine ap­peared less ef­fec­tive in vol­un­teers over 65 — 86.5% pro­tec­tion — com­pa­ny ex­ec­u­tives not­ed that the dif­fer­ence was not sta­tis­ti­cal­ly sig­nif­i­cant.
In­stead, dis­cus­sion cen­tered on rare po­ten­tial side ef­fects and Mod­er­na's plan for what to do with ad­verse events. The FDA's re­view turned up one sur­pris­ing se­ri­ous event: Two vol­un­teers who had pre­vi­ous­ly re­ceived a der­mal fill­ing ex­pe­ri­enced fa­cial swelling af­ter re­ceiv­ing the vac­cine.
The pan­el asked re­peat­ed­ly the al­ler­gic re­ac­tions that have emerged in the two weeks since Pfiz­er's vac­cine was in­oc­u­lat­ed. Al­though Mod­er­na said they did not see any cas­es of ana­phy­lax­is in their study — out­side of one al­ler­gic re­ac­tion two months out, from some­one with a soy al­ler­gy — they al­so not­ed it as one po­ten­tial se­ri­ous event to mon­i­tor long term.
Still, Mod­er­na CMO Tal Zaks cau­tioned that each com­po­nent of the com­pa­ny's lipid nanopar­ti­cle, which may have trig­gered the al­ler­gic re­ac­tion in Pfiz­er re­cip­i­ents, was dif­fer­ent chem­i­cal­ly than the Pfiz­er-BioN­Tech vac­cine.
"While we all might say, oh there's an LNP here, there's a lipid and mR­NA, there­fore they must be all be the same," he said. "I would not nec­es­sar­i­ly as­sume that."
The on­ly point of con­tin­u­al fric­tion be­tween Mod­er­na and the pan­el arose around the ques­tion of what the com­pa­ny should do with their Phase III tri­al af­ter an EUA is is­sued. The group was skep­ti­cal last week when Pfiz­er pro­posed grad­u­al­ly un­blind­ing par­tic­i­pants as they be­come el­i­gi­ble for vac­cine un­der CDC pri­or­i­ty guide­lines. Mod­er­na want­ed to go fur­ther, im­me­di­ate­ly of­fer­ing the vac­cine to all place­bo par­tic­i­pants, re­gard­less of whether they would be el­i­gi­ble.
Mod­er­na ex­ec­u­tives said that they need­ed to un­blind to pre­vent vol­un­teers from drop­ping out of the study, and be­cause place­bo par­tic­i­pants are and would con­tin­ue to be in­fect­ed. They said they could vac­ci­nate them with clin­i­cal sup­ply of the vac­cine that would not draw from their com­mer­cial sta­ble.
"Ad­di­tion­al se­vere cas­es and death are a ques­tion more of when than a ques­tion of if," Mod­er­na se­nior vice pres­i­dent Jacque­line Miller said.
Many ad­vi­sors re­ject­ed the ap­proach, propos­ing that Mod­er­na ei­ther fol­low Pfiz­er's plan or adopt an ap­proach where the tri­al would stay blind­ed but par­tic­i­pants in the vac­cine arm would get place­bo and vol­un­teers in the place­bo arm would re­ceive vac­cine, al­low­ing com­par­isons on dura­bil­i­ty and long-term ad­verse events. A few, how­ev­er, backed the Mod­er­na ap­proach, say­ing the blind­ing pro­pos­al and even the Pfiz­er ap­proach may be in­fea­si­ble.
The de­bate got to the point that at least two dif­fer­ent ad­vi­sors pro­posed the agency al­low the pan­elists to vote on the is­sue, al­though they had not orig­i­nal­ly been asked to do so.
"It seems to me that there's an as­sump­tion that Mod­er­na is go­ing to do what it's go­ing to do. It doesn't have to be that way," Shel­don Taub­man, the con­sumer ad­vo­cate on the pan­el, said. "We weren't asked to vote on it, but we could vote on it."
Mar­i­on Gru­ber, di­rec­tor of the of­fices of vac­cine re­search at the FDA, though, neu­tral­ized that idea, cit­ing the "com­plex­i­ty of the sit­u­a­tion" and the fact that they did not ask the com­mit­tee to vote on the same is­sue at the Pfiz­er tri­al. The hear­ing end­ed with­out a res­o­lu­tion.
"I think we gave FDA a sense of our with that we could do a crossover blind­ed de­sign, but the re­al­iza­tion that that may be im­pos­si­ble," com­mit­tee chair Arnold Mon­to said. "FDA will be ne­go­ti­at­ing with Mod­er­na about the way they will ad­dress this prob­lem."