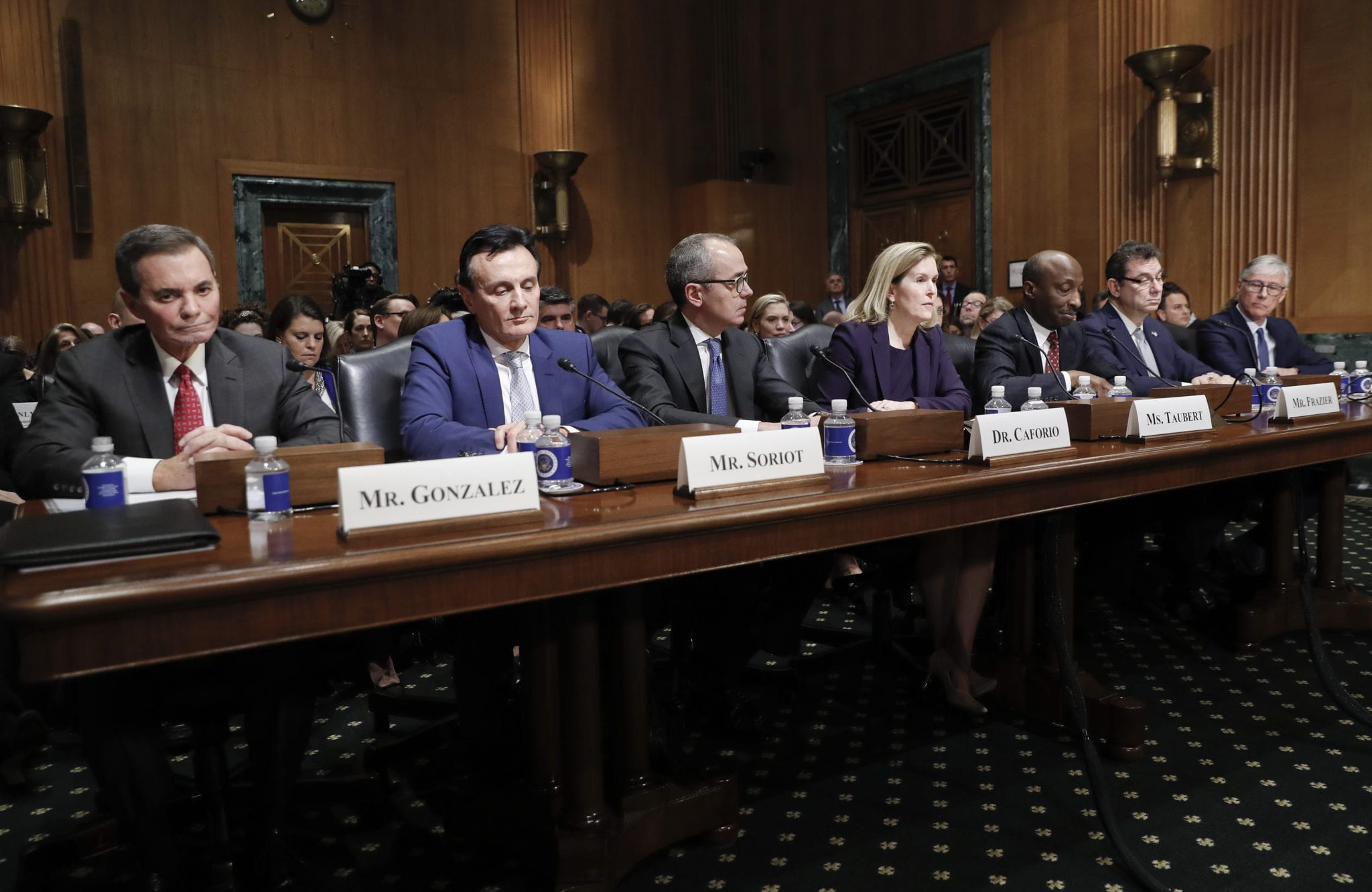 In land­mark hear­ing, drug­mak­ers and law­mak­ers agree that US pol­i­cy on drug pric­ing is ripe for change — but there's no con­sen­sus on much else
Sev­en big phar­ma ex­ec­u­tives faced a pla­toon of US sen­a­tors on Tues­day, ex­pect­ing a dress­ing down on the in­dus­try's track record of re­lent­less price hikes that has sparked bi­par­ti­san furor — but were in­stead treat­ed to a con­sci­en­tious de­bate, high on con­cern and low on con­tention.
Mat­ters kicked off with Sen­a­tor Ron Wyden ad­mon­ish­ing every bio­phar­ma rep­re­sen­ta­tive for their com­pa­ny's tac­tics, in­clud­ing Ab­b­Vie pro­tect­ing its $18-bil­lion-a-year Hu­mi­ra from gener­ics like "Gol­lum with his ring," and Pfiz­er for mak­ing the "emp­ti­est pric­ing ges­ture" by press­ing pause on hikes un­der pres­sure from Pres­i­dent Don­ald Trump for a pe­ri­od on­ly to re­sume lat­er.
He gave way to pre­pared re­marks from the com­pa­ny rep­re­sen­ta­tives: Ab­b­Vie chief $AB­BV Richard Gon­za­lez; As­traZeneca $AZN chief Pas­cal So­ri­ot; Bris­tol-My­ers $BMY chief Gio­van­ni Caforio; J&J's $JNJ Janssen head Jen­nifer Taubert; Mer­ck $MRK chief Ken Fra­zier; Pfiz­er's $PFE chief Al­bert Bourla and Sanofi $SNY chief Olivi­er Brandi­court.
Un­sur­pris­ing­ly, each ex­ec­u­tive blamed high list prices on the mid­dle­men: PBMs and in­sur­ers, sug­gest­ing that while the mag­ni­tude of re­bates of­fered by them were in­creas­ing, those ben­e­fits were not be­ing ac­crued to the pa­tient in the form of co-pays.
Fra­zier — Mer­ck's fire­brand chief and de-fac­to leader of the un­like­ly troop of pan­elists thanks to his le­gal ex­per­tise (Fra­zier served as Mer­ck's chief coun­sel back when it was fight­ing a flood of Vioxx law­suits) — al­so un­der­scored the fact that the is­sue of pric­ing is sys­temic to the US health­care sys­tem, lament­ing that pa­tients are ex­pect­ed to pay on av­er­age 13% in drug co-pays, but on­ly 3% of hos­pi­tal costs.
Ken­neth Fra­zier, Chair­man and Chief Ex­ec­u­tive Of­fi­cer at Mer­ck, tes­ti­fies be­fore the Sen­ate Fi­nance Com­mit­tee hear­ing on drug prices on Tues­day, Feb. 26, 2019 (

AP Pho­to/Pablo Mar­tinez Mon­si­vais

)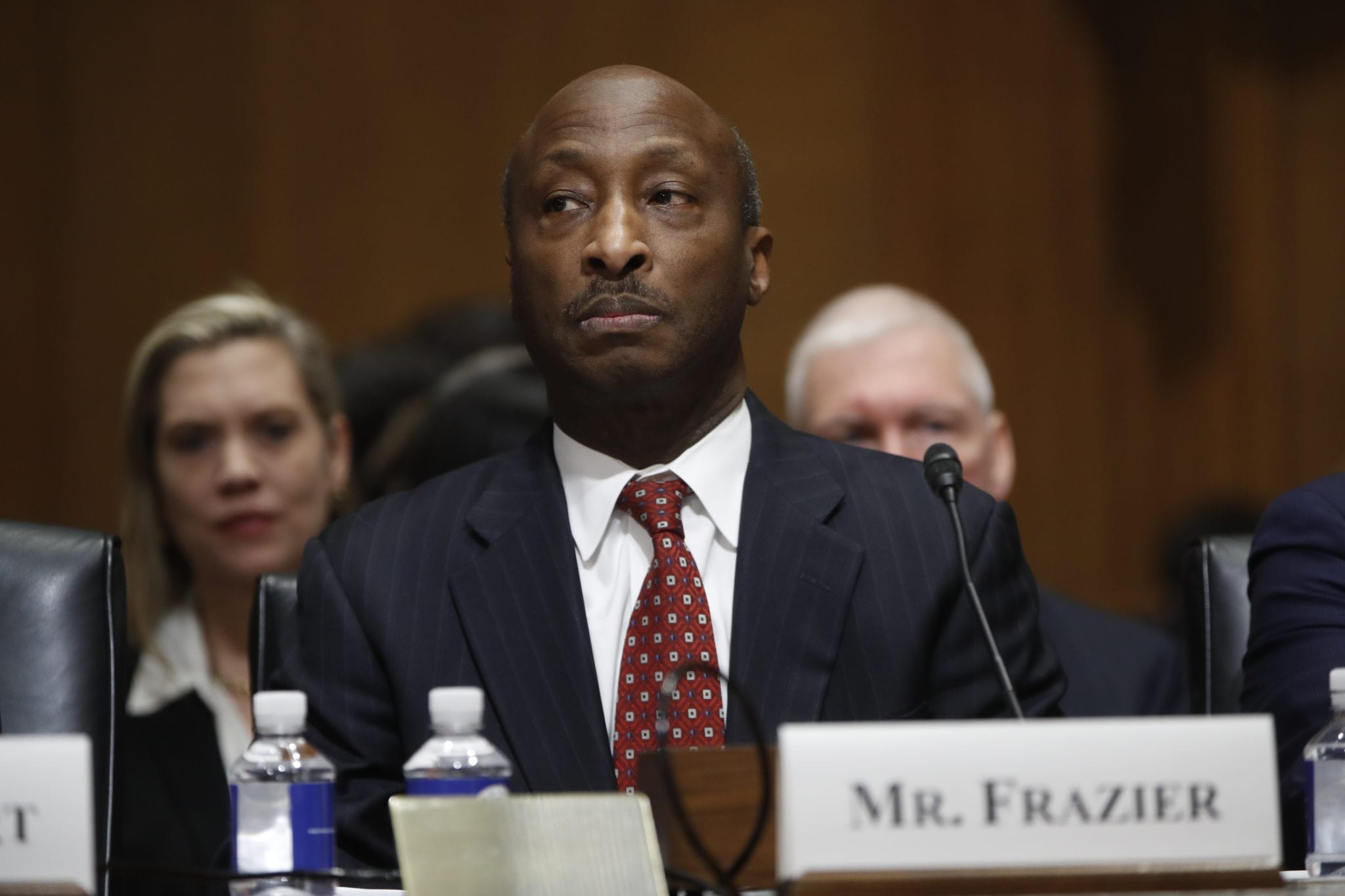 Click on the im­age to see the full-sized ver­sion
---
In gen­er­al, the drug­mak­ers voiced their sup­port for re­bate re­form. As­traZeneca's So­ri­ot sug­gest­ed that on av­er­age, rough­ly 50% of his com­pa­ny's list prices com­prise re­bates, and if they were to be dis­card­ed al­to­geth­er he would not be averse to cut­ting prices by the same mag­ni­tude. When asked point blank by more than one sen­a­tor about whether each ex­ec­u­tive would pledge to cut list prices if re­bates were elim­i­nat­ed, ex­ec­u­tives pro­posed cut­ting re­bates not just for Medicare but al­so on the com­mer­cial side to even the play­ing field for all drug man­u­fac­tur­ers, as suf­fi­cient in­cen­tive to low­er list prices.
An­oth­er so­lu­tion en­dorsed by the pan­el of drug­mak­ers was val­ue-based pric­ing.
Pfiz­er's new­ly-mint­ed CEO Bourla told sen­a­tors he would pre­fer that the com­pa­ny be paid for "the heart at­tacks we pre­vent, and not the pills we sell." Al­though the con­cept is gain­ing trac­tion for new­er, high­er priced drugs, it has not uni­ver­sal­ly been adopt­ed. Mean­while, old­er drugs (in­clud­ing in­sulin that is sub­ject to fre­quent price hikes) are not in con­tention for such val­ue-based con­tracts.
Drug­mak­ers al­so ex­pressed en­thu­si­asm for shoring up biosim­i­lar and gener­ic com­pe­ti­tion in the Unit­ed States as a mech­a­nism to low­er drug prices.
Some pan­elists al­so en­dorsed the Cre­at­ing and Restor­ing Equal Ac­cess to Equiv­a­lent Sam­ples (CRE­ATES) Act — a bill de­signed to cre­ate a faster and more po­tent le­gal process for gener­ic man­u­fac­tur­ers to chal­lenge brand­ed drug­mak­ers that they claim are with­hold­ing drug sam­ples in or­der to ob­struct gener­ic com­pe­ti­tion. When sen­a­tors in­quired whether any of the drug­mak­ers at the hear­ing had any his­to­ry of block­ing drug sam­ples when to thwart copy­cat drug de­vel­op­ment, each de­clined that their com­pa­nies had en­gaged in any such prac­tices. But a cur­so­ry look at the FDA's web­site sug­gests oth­er­wise.
The mood at the hear­ing was a mix­ture of cau­tious ad­mi­ra­tion for the in­dus­try for hav­ing de­vel­oped a pletho­ra of sci­en­tif­ic break­throughs, but in­cred­u­lous­ness that the Unit­ed States ef­fec­tive­ly shoul­ders the cost of in­no­va­tion, con­sid­er­ing oth­er West­ern in­dus­tri­al­ized na­tions — on av­er­age — pay low­er drug prices.
"Why are we a price tak­er, when we are the largest pur­chas­er?," Sen­a­tor Bill Cas­sidy asked in one ex­change. An­oth­er sen­a­tor cit­ed sup­port for the Trump ad­min­is­tra­tion pro­pos­al to im­port drug prices from over­seas, but was im­me­di­ate­ly re­buffed by the drug­mak­ers who ar­gued that a num­ber of these na­tions do not ac­cept new med­i­cines due to their pric­ing poli­cies, of­ten re­strict­ing ac­cess or de­clin­ing to adopt them al­to­geth­er.
Al­though drug­mak­ers were asked whether their tax breaks — en­gi­neered by the Trump ad­min­is­tra­tion — had been used to cut prices, the phar­ma­ceu­ti­cal com­pa­nies large­ly ac­knowl­edged that the sav­ings had large­ly not been used in that fash­ion.
The main vil­lain of the hear­ing was Ab­b­Vie chief Gon­za­lez, who was per­sis­tent­ly called out for his com­pa­ny's patent-ag­gres­sive ap­proach to pro­tect­ing their biggest, most lu­cra­tive as­set Hu­mi­ra — the world's largest sell­ing drug whose main US patent ran out in 2016. Gon­za­lez's main talk­ing point was that that while some Eu­ro­pean na­tions have bagged an 80% dis­count on Hu­mi­ra, the US price (and sales) is what keeps the com­pa­ny's R&D en­gine hot.
Per­sis­tent ques­tions by one sen­a­tor to adopt Cost­co-style pric­ing — get­ting sales via vol­ume ver­sus pric­ing — got a tepid re­sponse from pan­elists. But, one pro­pos­al did whet pan­elist ap­petites. Sen­a­tor Shel­don White­house called out the bad ac­tors and "non-in­no­va­tors" of the in­dus­try (re­mem­ber Shkre­li, the poster boy of bad, smug biotech?) that buy off-patent drugs used in con­di­tions with few or no treat­ment op­tions and jack up their prices cre­at­ing a mo­nop­oly and hang­ing pa­tients who use these decades-old treat­ments out to dry. When we try to crack down against these ac­tors, White­house said, your lob­by­ists push­back. "Help us at least solve that prob­lem…turn off your lawyers and your lob­by­ists!" he said to the nod­ding heads of in­dus­try reps. "We will," Fra­zier re­spond­ed.
Ear­li­er on, Sen­a­tor Bob Menen­dez made a thin­ly veiled threat to the crop of pan­elists be­fore him, sug­gest­ing that if drug­mak­ers were un­will­ing to rein in prices, "pol­i­cy­mak­ers are go­ing to do it for you." At the end of the pro­ceed­ings, the pan­elists large­ly agreed. The "gov­ern­ment has to step up and change the rules," So­ri­ot said. Now there's just the small mat­ter of fig­ur­ing out how to do that.