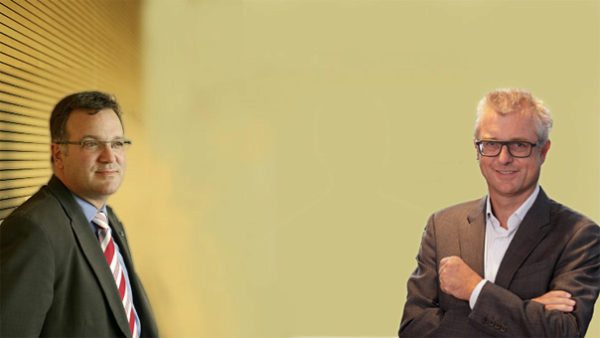 Image: Andreas Busch (left) and Joerg Moeller (right). Bayer
---
Andreas Busch, the head of discovery at Bayer, is exiting the company. And Bayer is melding its early research and development operations under one office occupied by current development chief Joerg Moeller.
There's no immediate word on where Busch is headed, but the booming biopharma scene has triggered a widespread global migration among pharma, biotech and academic groups.
Moeller is taking all the R&D reins as the company looks to boost its pharma work while struggling to complete a complex buyout of Monsanto. Just a week ago Bayer executed a $1.1 billion-plus discovery deal with Japan-based PeptiDream, which followed a high-profile, $1.55 billion partnership with Loxo on its late-stage cancer drug pipeline.
Bayer's Axel Bouchon, meanwhile, has been launching new companies, like their joint venture with CRISPR Therapeutics and BlueRock, a $225 million startup focused on stem cell therapies.
It hasn't all been upbeat for Bayer, which is trying to deliver on promises that it has a blockbuster filled pipeline. Looking to assure the markets that its pharma business wouldn't languish as it pursued Monsanto, Bayer had predicted that its pipeline included 6 drugs — vericiguat, finerenone, vilaprisan, BAY-1841788, anetumab ravtansine and copanlisib — with 6 billion euros in peak sales.  Anetumab was Exhibit A in that case, and it flopped in a Phase II last summer.
"The combined organization will enable us to seamlessly steer all the important activities of Research and Development, with a single objective to further enhance the delivery of much needed new treatment options to patients," said Dieter Weinand, president of Bayer's Pharmaceuticals Division.
---
The best place to read
Endpoints News

? In your inbox.

Comprehensive daily news report for those who discover, develop, and market drugs. Join 47,700+ biopharma pros who read Endpoints News by email every day.

Free Subscription
---
---
---