In blow to Shire, Roche bags an FDA OK for its block­buster he­mo­phil­ia A prospect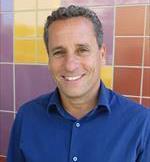 Guy Young, USC Keck School of Med­i­cine. Im­age: USC
De­spite be­ing dogged by ques­tions about safe­ty and an un­usu­al le­gal coun­ter­at­tack from ri­val Shire, Roche to­day scored an FDA ap­proval for emi­cizum­ab (ACE910), its he­mo­phil­ia A ther­a­py which will now hit the mar­ket as Hem­li­bra.
The drug is de­signed to bring to­geth­er fac­tor IXa and fac­tor X pro­teins to re­store the blood clot­ting process for he­mo­phil­ia A pa­tients, re­duc­ing the threat of bleeds. And an­a­lysts have pegged po­ten­tial sales at up to $5 bil­lion, though Reuters' most re­cent con­sen­sus was a con­sid­er­ably less frothy $1.6 bil­lion.
Sig­nif­i­cant­ly, the ap­proval comes more than three months ahead of its late-Feb­ru­ary PDU­FA date, reg­is­ter­ing as the 40th new mol­e­c­u­lar en­ti­ty of the year as the in­dus­try looks ready to cruise past the cur­rent-era record 44 new ap­provals achieved at CDER in 2015.
The ap­proval was based on some im­pres­sive da­ta on a drug that Roche has stead­fast­ly main­tained is a near cer­tain block­buster-to-be. But it al­so comes with a boxed warn­ing on a threat of blood clots and dam­age to blood ves­sels, which could al­so crimp sales.
Last sum­mer the phar­ma gi­ant laid out da­ta de­tail­ing how the drug re­duced the rate of treat­ed bleeds by 87%, hit­ting the pri­ma­ry end­point, the drug al­so hand­i­ly outscored by­pass­ing agents like Shire's. Their ther­a­py slashed "on-de­mand BPAs across all bleed mea­sure­ments, in­clud­ing ze­ro treat­ed bleeds (62.9 per­cent vs. 5.6 per­cent), ze­ro treat­ed spon­ta­neous bleeds (68.6 per­cent vs. 11.1 per­cent), ze­ro treat­ed joint bleeds (85.7 per­cent vs. 50.0 per­cent), ze­ro treat­ed tar­get joint bleeds (94.3 per­cent vs. 50.0 per­cent) and ze­ro bleeds over­all, which in­cludes all treat­ed and non-treat­ed bleeds (37.1 per­cent vs. 5.6 per­cent)."
Along the way, Roche blamed Shire's by­pass­ing agents for throm­boem­bol­ic events that they saw in their study, ad­vis­ing doc­tors to stop us­ing FEI­BA.
Shire, to put it mild­ly, flipped.
"To im­ply a cause-and-ef­fect of FEI­BA hav­ing caused the se­vere ad­verse events is mis­lead­ing," Shire hema­tol­ogy chief Ju­liana Dierks told Reuters. "We are look­ing for­ward to trans­paren­cy. Give us the da­ta, give us the facts."
Shire al­so claimed that Roche has been mis­lead­ing­ly of­fer­ing a look at "treat­ed bleeds" — a sec­ondary end­point — in­stead of the "num­ber of bleeds over time," orig­i­nal­ly laid out as the pri­ma­ry end­point in HAVEN 1. And by blam­ing throm­boem­bol­ic in­ci­dents in the study — with one pa­tient dy­ing of a rec­tal he­m­or­rhage — on its by­pass­ing agent, Shire al­so main­tained that it had been dam­aged. Shire sought an in­junc­tion against Roche in Ger­many, but the ac­tion was re­ject­ed by the court and the com­plaint hasn't slowed its Big Phar­ma ri­val at all.
How bad could this get for Shire? Bern­stein an­a­lysts say Hem­li­bra along with new ther­a­pies from No­vo Nordisk and Bay­er could shrink its share of the he­mo­phil­ia mar­ket from 49% to 29%
Roche has nev­er done any­thing but shrug the as­sault off. The phar­ma gi­ant is los­ing patent pro­tec­tion on three fran­chise drugs, and it needs to field ma­jor new drugs to fill the gap.
Hem­li­bra is priced to do just that. Roche, like a grow­ing num­ber of com­pa­nies, is us­ing an av­er­age whole­sale price based on av­er­age weight. At an av­er­age weight of about 127 pounds, Roche says, the cost "is ap­prox­i­mate­ly $482,000 for the first year of treat­ment and then ap­prox­i­mate­ly $448,000 per year, which is less than half of the WAC of the on­ly oth­er ap­proved pro­phy­lac­tic treat­ment for these pa­tients."
The price fits in at the low­er rung of the list of the 10 most ex­pen­sive drugs in the world, all among the rare dis­ease crowd.
"To­day's ap­proval pro­vides a new pre­ven­ta­tive treat­ment that has been shown to sig­nif­i­cant­ly re­duce the num­ber of bleed­ing episodes in pa­tients with he­mo­phil­ia A with Fac­tor VI­II in­hibitors," said Richard Paz­dur, whose ti­tles in­clude act­ing di­rec­tor of the Of­fice of Hema­tol­ogy and On­col­o­gy Prod­ucts. "In ad­di­tion, pa­tients treat­ed with Hem­li­bra re­port­ed an im­prove­ment in their phys­i­cal func­tion­ing."
"Peo­ple with he­mo­phil­ia A who de­vel­op in­hibitors face sig­nif­i­cant chal­lenges pre­vent­ing bleeds and typ­i­cal­ly re­quire in­fu­sions of med­i­cine mul­ti­ple times a week, which can be es­pe­cial­ly dif­fi­cult for young chil­dren and their fam­i­lies," said Guy Young, di­rec­tor of he­mo­sta­sis and throm­bo­sis pro­gram, Chil­dren's Hos­pi­tal Los An­ge­les, and pro­fes­sor of pe­di­atrics, Uni­ver­si­ty of South­ern Cal­i­for­nia Keck School of Med­i­cine. "This new med­i­cine has been shown to re­duce the fre­quen­cy of bleeds com­pared to the cur­rent­ly avail­able med­i­cines and on­ly needs to be in­ject­ed once a week. This could make a mean­ing­ful dif­fer­ence for these chil­dren."
Im­age: Roche, John Mc­Carter