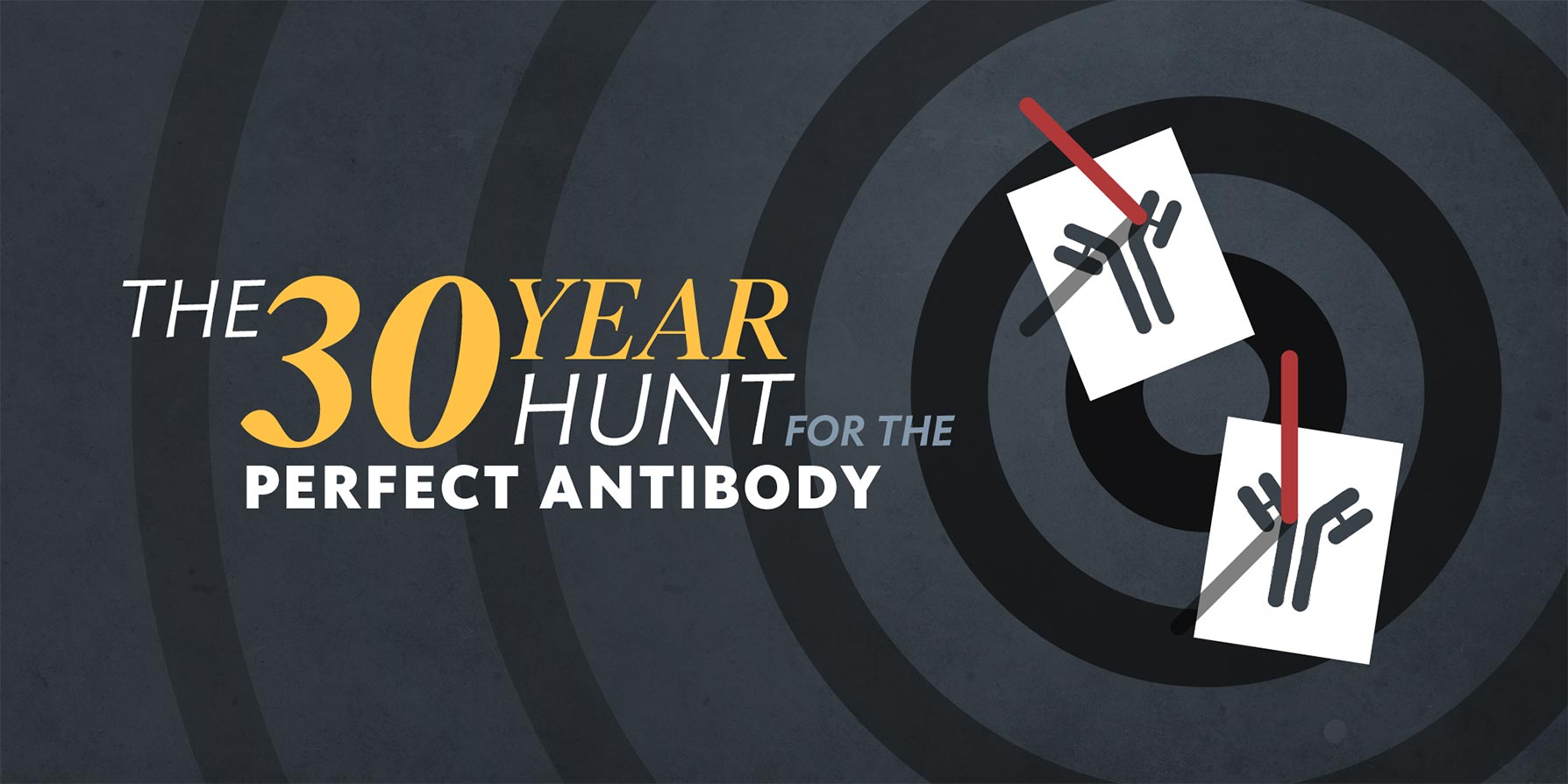 In­side the quixot­ic 30-year quest that gave us the Covid-19 treat­ments, vac­cines and could un­lock vac­ci­nol­o­gy's new holy grail
John Mas­co­la, Amer­i­ca's soft-spo­ken, no-non­sense chief vac­ci­nol­o­gist, spent 2020 on the fourth floor of the Vac­cine Re­search Cen­ter in Bethes­da, MD, pri­mar­i­ly work­ing on three projects. There's a de­cent chance one of them has al­ready been in­ject­ed in your arm — twice. An­oth­er was in­fused in­to hun­dreds of thou­sands of Covid-19 pa­tients, po­ten­tial­ly pro­tect­ing them from hos­pi­tal­iza­tion.
And the third is a sci­en­tif­ic codex that has be­dev­iled Mas­co­la, his col­leagues, and re­searchers around the world for the bet­ter part of three decades.
Be­fore Covid-19, the largest and longest-run­ning mys­tery in in­fec­tious dis­ease was how to build a vac­cine against HIV, the fa­mous­ly eva­sive virus that has claimed the lives of 36 mil­lion peo­ple since the 1980s. With­in a year of the nov­el coro­n­avirus' dis­cov­ery, two vac­cines were al­ready avail­able and shown to be 95% ef­fec­tive. Thir­ty-eight years af­ter HIV's dis­cov­ery, you could fill en­cy­clo­pe­dias with all sci­en­tists have learned about the pathogen, but it's hard to say whether or not we're any clos­er to a vac­cine.
Part of that dis­par­i­ty has to do with the coro­n­avirus' com­par­a­tive sim­plic­i­ty — "this is a stu­pid easy virus to vac­ci­nate against," as the im­mu­nol­o­gist Michael Farzan put it last year. HIV is, by any de­f­i­n­i­tion, the hard­est.
But part of it al­so has to do with all the tools re­searchers de­vel­oped try­ing to in­oc­u­late against HIV. Con­front­ed by a mi­cro­bial en­e­my more cun­ning than any hu­man­i­ty had ever en­coun­tered, the world's lead­ing re­searchers were forced to go back to the draw­ing board. Cross­ing dis­ci­plines and con­ti­nents, they came up with new tools to un­der­stand both virus­es and the im­mune sys­tem and new ways of turn­ing that knowl­edge in­to walls and weapons against any pathogen, how­ev­er stu­pid or in­ge­nious it may be.
Those same re­searchers jumped out in the win­ter of 2020 to study the coro­n­avirus, un­leash­ing tools honed on a far more cun­ning foe. Mas­co­la, who had spent thir­ty years on HIV vac­cine de­vel­op­ment, most no­tably launched the ef­fort to find the first an­ti­body treat­ment, lat­er mar­ket­ed by Eli Lil­ly. Leg­endary AIDS re­searcher David Ho worked on his own an­ti­body treat­ment and con­duct­ed cru­cial stud­ies to see whether these ther­a­pies were evad­ing the virus.
"HIV was such a chal­leng­ing virus that we had to come up with new­er and new­er tech­nolo­gies," said Neal Padte, Ho's long­time col­lab­o­ra­tor. "So when SARS-CoV-2 broke out, we had a tool­box ready."
The tim­ing — if this can ever be said of a pan­dem­ic — was for­tu­itous. Be­fore Covid-19, Mas­co­la and oth­ers re­searchers were fi­nal­ly near­ing, well, some­thing. It's not quite a vac­cine, though it may yet lead to one. In­stead, it could turn in­to one of the best con­so­la­tion prizes in the his­to­ry of med­i­cine, a byprod­uct of the vac­cine hunt that may ul­ti­mate­ly prove near­ly as use­ful: a set of ul­tra-rare, Y-shaped mol­e­cules that, at least in an­i­mals, could neu­tral­ize most strains of HIV, po­ten­tial­ly pro­tect­ing at-risk peo­ple for months or a year and of­fer­ing a path to new treat­ments.
The sto­ry of how re­searchers ar­rived at these so-called broad­ly neu­tral­iz­ing an­ti­bod­ies over the last 30 years is one of the hid­den sto­ries of every­thing that went right about Amer­i­ca's pan­dem­ic re­sponse, the silent en­gine be­hind the vac­cine and, par­tic­u­lar­ly, the most ef­fec­tive treat­ments: an­ti­body ther­a­pies from Vir, Re­gen­eron, and Eli Lil­ly.
It may al­so be the sto­ry of how the US pre­vents in­fec­tious dis­ease broad­ly in the fu­ture. For the first time, HIV vac­cines based on Mas­co­la's re­search are en­ter­ing hu­mans. And while prospects for suc­cess re­main cloudy, he and his col­lab­o­ra­tors' work may yet prove key to re­spond­ing to a broad suite of pathogens and achiev­ing one of vi­rol­o­gy's new holy grails — a vac­cine and a treat­ment to pre­vent a coro­n­avirus out­break from ever re­cur­ring.
"HIV is the most vari­able virus there is out there, so if you can deal with HIV, you can deal with any­thing," said Den­nis Bur­ton, a Scripps re­searcher com­mon­ly re­gard­ed as the fa­ther of the HIV an­ti­body field. "It has pushed re­searchers to the lim­it."

The or­ga­nized hunt for a broad­ly neu­tral­iz­ing HIV an­ti­body be­gan in earnest 20 years ago, af­ter the In­ter­na­tion­al AIDS Vac­cine Ini­tia­tive, a non-prof­it found­ed in 1996 by the Rock­e­feller Foun­da­tion, hired a lanky and bushy-haired ex-pro­fes­sor named Wayne Koff as head of re­search. Like Mon­cef Slaoui in Op­er­a­tion Warp Speed, Koff was tasked with col­lat­ing and ex­pand­ing the pipeline of HIV vac­cines. Ex­cept Koff had mil­lions in­stead of bil­lions to spend on a prob­lem that — af­fect­ing pri­mar­i­ly gay men, peo­ple in the de­vel­op­ing world and IV drug users — rich na­tions and com­pa­nies ad­dressed with far less ur­gency.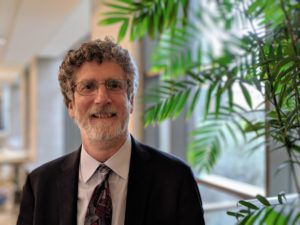 Wayne Koff
By then, the world's hopes for an HIV vac­cine had al­ready been de­flat­ed re­peat­ed­ly. When French re­searchers first iso­lat­ed the virus in 1983, sci­en­tists at Mer­ck and a Uni­ver­si­ty of San Fran­cis­co spin­out called Ch­i­ron were near­ing com­ple­tion of the he­pati­tis B vac­cine. It was a land­mark mo­ment in vac­ci­nol­o­gy. The first vac­cine to use re­com­bi­nant DNA tech­nol­o­gy, its suc­cess in­spired the same en­thu­si­asm that mR­NA has to­day. HIV, it seemed, was just a mat­ter of time.
"We ac­tu­al­ly thought it was go­ing to be easy to make vac­cines for all vi­ral dis­eases," said Nan­cy Haig­wood, who worked for Ch­i­ron at the time. "But then HIV turned out to have quite a few num­ber of tricks up its sleeves."
Vir­tu­al­ly all ear­ly con­structs failed in the lab or in an­i­mals, a phe­nom­e­non with which Koff was well-ac­quaint­ed. In 1990, as head of vac­cine re­search at the NIH, he hailed how new dis­cov­er­ies "cracked open the door" to a shot. By 1993, work­ing to build his own vac­cine at a biotech, he ac­knowl­edged that most of the can­di­dates that had cap­tured the world's at­ten­tion had failed ba­sic lab tests.
Mas­co­la at a brief­ing with An­tho­ny Fau­ci and Pres­i­dent Trump on March 3, as the na­tion's top physi­cians scram­bled to ad­dress the new virus. Mas­co­la at the time was al­ready de­vel­op­ing an an­ti­body treat­ment for the new virus. (Pho­to by Bren­dan Smi­alows­ki / AFP) (Pho­to by BREN­DAN SMI­ALOWS­KI/AFP via Get­ty Im­ages)
Click on the im­age to see the full-sized ver­sion
Koff was os­ten­si­bly hired to get more can­di­dates in­to hu­man tri­als around the world, as the US would do ef­fec­tive­ly for Covid-19. But he soon be­lieved that was the wrong task.
First, he de­cid­ed, re­searchers would have to fig­ure out what pro­tec­tion from HIV even looked like, lit­er­al­ly. He in­vit­ed 11 top sci­en­tists to a pair of meet­ings in Am­s­ter­dam and New York to hash out a plan.
"We re­al­ized very, very quick­ly that HIV vac­cine de­vel­op­ment wasn't a prod­uct de­vel­op­ment prob­lem. It was a dis­cov­ery prob­lem," said Koff, who now runs a non-prof­it ded­i­cat­ed to study­ing vac­cine im­munol­o­gy. "If Covid-19 had the en­ve­lope pro­tein that HIV does, we still wouldn't have a vac­cine to­day."

A spher­i­cal shield around the virus, the en­ve­lope is one of HIV's most pow­er­ful weapons. To un­der­stand just how de­vi­ous it is, a con­trast with Covid-19 is in­struc­tive.
An­ti­bod­ies have been the he­roes of Covid-19 im­mu­ni­ty. Swarm­ing through your blood­stream are 10 bil­lion B cells, each car­ry­ing a slight­ly dif­fer­ent an­ti­body on its sur­face. These amaz­ing­ly eclec­tic Y-shaped mol­e­cules, pro­duced by ran­dom shuf­fling of DNA, act first like an army of sen­tinels. When one latch­es on­to a for­eign pro­tein, it starts mak­ing copies of it­self and spit­ting out thou­sands of an­ti­bod­ies per sec­ond. Ide­al­ly, these an­ti­bod­ies latch on­to a part of the virus and in­ter­fere with its abil­i­ty to in­fect cells, a process called neu­tral­iza­tion.
When SARS-CoV-2 en­ters the body, it makes lit­tle at­tempt to hide its spike pro­tein — that now fa­mous grap­pling hook — and, for all the con­cerns about vari­ants, it can't read­i­ly change the spike's struc­ture. With­in 7 days, most pa­tients are teem­ing with neu­tral­iz­ing an­ti­bod­ies that can glom on­to the spike and pre­vent it from hi­jack­ing cells, one of the rea­sons most peo­ple clear the in­fec­tion so quick­ly.
Give some­one a vac­cine en­cod­ing for the spike pro­tein and with­in two weeks, they'll have swarms of neu­tral­iz­ing an­ti­bod­ies cours­ing through their blood, an army wait­ing to fire.
"The RBD — the no­to­ri­ous RBD — is just sit­ting there like a tar­get that says 'hit me,'" said John Moore, an HIV re­searcher at Cor­nell Uni­ver­si­ty, re­fer­ring to the re­cep­tor-bind­ing do­main that sits atop the spike. "And the equiv­a­lent on the HIV en­ve­lope just does not ex­ist."
The HIV's en­ve­lope makes sure the virus doesn't fall prey to the same fate. First, it's stud­ded with a for­est of gly­cans, vi­brat­ing sug­ars that form a de­fen­sive canopy around the virus. The big­ger prob­lem, though, is that the en­ve­lope can mu­tate so rapid­ly that even if the im­mune sys­tem finds an an­ti­body that neu­tral­izes some strains, oth­er strains with­in the same per­son will evolve their way around it. The an­ti­body will be­come use­less.
The first HIV vac­cine ever de­signed, a con­struct Genen­tech first put in­to hu­mans in 1987, elicit­ed plen­ty of an­ti­bod­ies in vol­un­teers. But not one of them ef­fec­tive­ly neu­tral­ized the virus.
"The virus al­ways wins," said Bur­ton.
Well, al­most al­ways. Ear­ly on, re­searchers learned from study­ing the blood of pa­tients that a tiny sub­set of HIV pa­tients kept the virus in check. And that point­ed to­ward a so­lu­tion. If some­one could fig­ure out what was hap­pen­ing in those pa­tients — if they could iso­late one of those an­ti­bod­ies — then maybe they could re­verse en­gi­neer it: fig­ure out what it looked like, how it bound to and dis­rupt­ed the virus and de­sign vac­cines that could in­duce healthy peo­ple to pro­duce repli­cas.
"The first ob­ser­va­tion was that the nat­ur­al im­mune re­sponse to HIV in some peo­ple – some peo­ple — was much bet­ter than any­thing we could get with the vac­cine," Mas­co­la said. "So then the ques­tion was pret­ty ob­vi­ous: What's in these peo­ple's serum?"

Fish­ing in­di­vid­ual — some­times called mon­o­clon­al — an­ti­bod­ies out of serum, the yel­low soup left over when you dump all the blood cells out of blood, wasn't easy then. The orig­i­nal method, pi­o­neered in 1976, in­volved tak­ing a B cell from a mouse and fus­ing it with a can­cer cell to cre­ate an im­mor­tal, an­ti­body-pump­ing hy­brid cell.
It was No­bel Prize-win­ning stuff, spark­ing hopes for drugs for all sorts of dis­eases. But, like many things in med­i­cine, it worked best with mice. "And it turned out that it's a lot more dif­fi­cult to get hu­man mon­o­clon­al an­ti­bod­ies," Bur­ton said.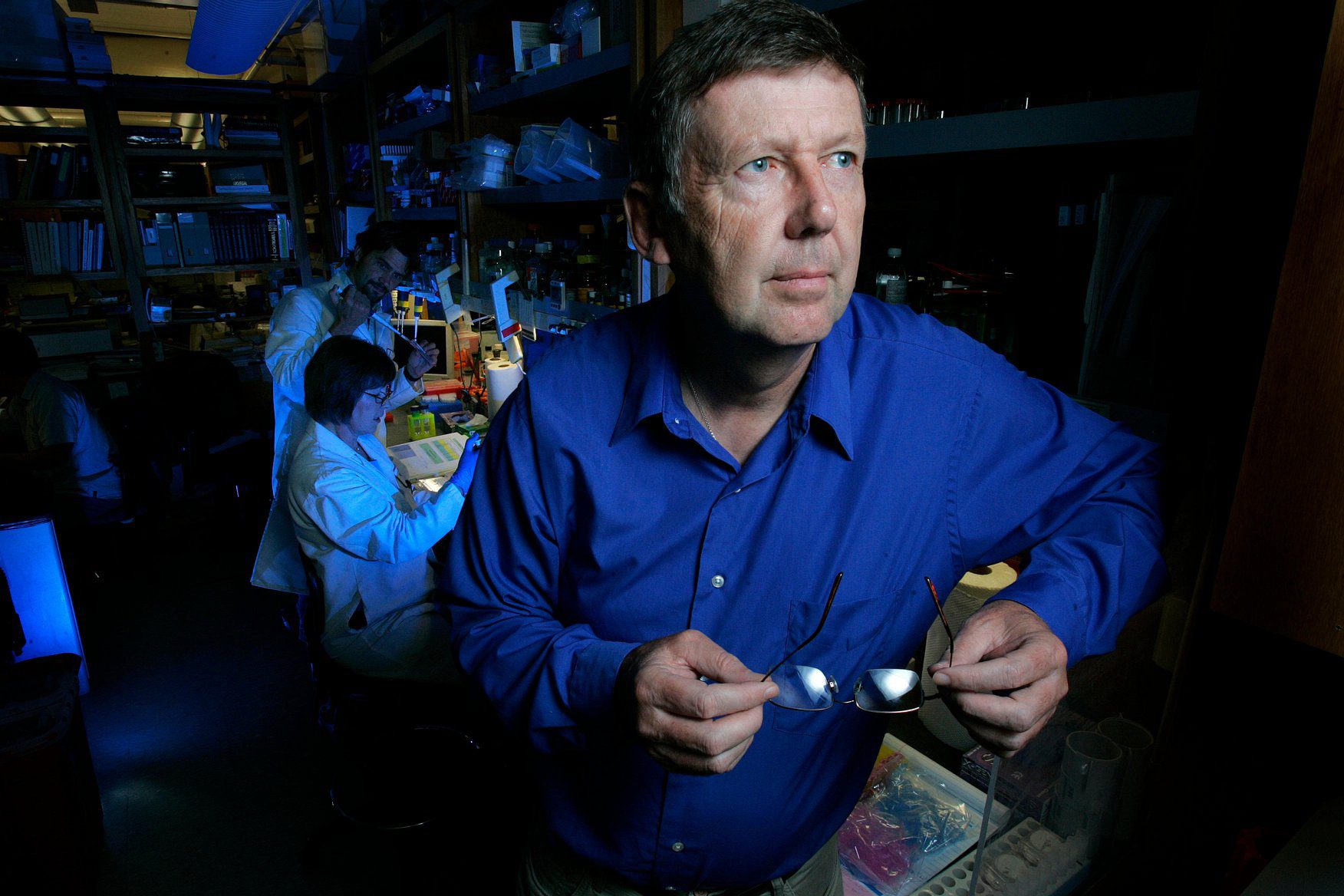 Bur­ton at his lab in San Diego at 2008, as he and and IAVI neared their first break­through
Bur­ton, who at 69 has a full head of gray-white hair, a quick laugh, and still plays foot­ball (the British kind) once per week, made his name by de­vel­op­ing a new ap­proach while on sab­bat­i­cal at Scripps in 1989. At the time, Richard Lern­er's lab there was rac­ing with a Cam­bridge group to iso­late the DNA of an an­ti­body and grow it in bac­te­ria.
When he ar­rived from a Swedish uni­ver­si­ty, they were try­ing to grow just a por­tion of the an­ti­body, but it wouldn't form. Bur­ton sug­gest­ed to the grad­u­ate stu­dent lead­ing the project that they grow the whole thing.
"And un­be­liev­ably, when I looked back on it, he lis­tened to me straight off and said 'right,'" Bur­ton said. A few Fri­days lat­er, Bur­ton went down­stairs to find his pho­to­plates glow­ing black, sig­ni­fy­ing the lab-grown an­ti­bod­ies were bind­ing to their tar­get. They cracked a bot­tle of cham­pagne that Bur­ton still keeps on his shelf to­day: "It just opened up the whole an­ti­body field."
Bur­ton stayed at Scripps, en­ticed by the sci­ence and the San Diego sun. Im­me­di­ate­ly, he start­ed us­ing his new tech­nol­o­gy on HIV, be­liev­ing it held a path to a vac­cine.
It was an un­pop­u­lar opin­ion. At the time, most lead­ers — 90%, he es­ti­mates — in the nascent HIV vac­cine field fo­cused on T cells. Many doubt­ed that a broad­ly neu­tral­iz­ing an­ti­body could ever be found, and Bur­ton had trou­ble just se­cur­ing mon­keys for his stud­ies.
But in 1994, he iso­lat­ed an an­ti­body called B12 that neu­tral­ized two vast­ly dif­fer­ent strains and pro­tect­ed mon­keys from ex­po­sure to those spe­cif­ic virus­es. It proved his idea was pos­si­ble, but ul­ti­mate­ly the an­ti­body "wasn't all that broad and wasn't all that po­tent," Koff said. Most virus­es es­caped. The tech­nol­o­gy was still too prim­i­tive.
"I mean it was re­al­ly, re­al­ly dif­fi­cult," said James Crowe, who runs a lab at Van­der­bilt and in­vent­ed the Covid-19 an­ti­bod­ies As­traZeneca is now de­vel­op­ing. "It was a mir­a­cle if you could make one an­ti­body in a year."

Af­ter the meet­ings in Am­s­ter­dam and New York, IAVI and the NIH es­tab­lished the Neu­tral­iz­ing An­ti­body Con­sor­tium in 2002 to try to ac­cel­er­ate the hunt. They brought to­geth­er re­searchers from four dif­fer­ent labs, a num­ber that even­tu­al­ly grew to 18, com­bin­ing im­mu­nol­o­gists, vi­rol­o­gists and struc­tur­al bi­ol­o­gists. They tried to es­tab­lish new stan­dard pro­ce­dures for iso­lat­ing an­ti­bod­ies, test­ing their neu­tral­iz­ing abil­i­ty, com­par­ing them to oth­er an­ti­bod­ies and turn­ing the best ones in­to vac­cines.
A rare ex­am­ple of sci­ence with­out ego, the con­sor­tium ef­fec­tive­ly cen­tered around sep­a­rate ef­forts at Scripps and the Vac­cine Re­search Cen­ter. Mas­co­la, a Bethes­da na­tive, was deputy chief of the cen­ter at the time. He ar­rived in 1999 af­ter a post-med school stint at the Wal­ter Reed Army In­sti­tute of Re­search an­a­lyz­ing the virus and why some of the first vac­cines had failed, where he came to some of the same con­clu­sions about the im­por­tance of an­ti­bod­ies as Bur­ton.
"He's very col­lab­o­ra­tive," Bur­ton said. "Not the type to be in­volved in a dirty race."
The big break start­ed in 2006, when Koff and Bur­ton launched "Pro­to­col G." So few pa­tients made an­ti­bod­ies that neu­tral­ized HIV that to find them, sci­en­tists would have to look around the world. Over the next 3 years, Koff teamed with lo­cal med­ical cen­ters to col­lect an­ti­body sam­ples from 1,800 HIV pa­tients across the globe, large­ly in Africa.
They se­lect­ed for those who had been in­fect­ed for at least three years, yet hadn't be­come sick. The body tends to make the best an­ti­bod­ies af­ter pro­longed ex­po­sure to the virus be­cause the im­mune sys­tem evolves with the in­vad­er, se­lect­ing over time for the best de­fend­ers — a fact that would even­tu­al­ly throw a wrench in Bur­ton and Mas­co­la's vac­cine ef­forts.
All those donors posed a prob­lem: How do you screen them? On­ly pa­tients whose sera could neu­tral­ize nu­mer­ous dis­parate HIV strains would be use­ful, so you would need to match dozens of virus­es with thou­sands of sam­ples. "And that's when we start­ed us­ing ro­bot­ics," Bur­ton said.
They en­list­ed a di­ag­nos­tics com­pa­ny called Mono­gram to throw hun­dreds of sera sam­ples against tens of virus­es at once. It worked. In an ini­tial study, about 1% of the 1,234 donors screened were iden­ti­fied as "elite neu­tral­iz­ers." Some­thing in their blood had out­wit­ted HIV.
Koff and Bur­ton didn't have a plan for how they could turn those elite neu­tral­iz­er sam­ples in­to an­ti­bod­ies, but the gold rush for an­ti­bod­ies in can­cer — pow­er­ful new drugs like Her­ceptin and rit­ux­imab — had brought star­tups with new tech­nolo­gies in­to the fray. Bur­ton called a biotech in Seat­tle called Spal­tudaq, told them they should be work­ing on HIV in­stead of can­cer and of­fered them half a mil­lion dol­lars for each sam­ple they screened.
Spal­tudaq took 30,000 B cells iso­lat­ed from one of the neu­tral­iz­ers and turned them in­to so-called su­per­natants, putting each in­to an in­di­vid­ual well and stim­u­lat­ing them to pump out pools of an­ti­bod­ies. Test­ing each pool against a pan­el of virus­es, they found two could neu­tral­ize most.
Back at Scripps, a pro­lif­ic new grad­u­ate stu­dent named Lau­ra Walk­er dropped every­thing and be­gan study­ing how the two an­ti­bod­ies bound to the virus, hop­ing it could di­rect the path to a vac­cine. The pa­per ap­peared in Sci­ence in 2009, point­ing to the first two pow­er­ful an­ti­bod­ies against HIV.
"Lau­ra just ran with it," Koff said.
The break­through be­gan to rekin­dle in­ter­est in HIV an­ti­bod­ies, a shift that ac­cel­er­at­ed that De­cem­ber with a find­ing out of Thai­land. A vac­cine tri­al there had once again failed. But un­like pre­vi­ous tri­als, a small sub­set, 30%, ap­peared to have been pro­tect­ed for a year and their serum seemed to con­tain an­ti­bod­ies.
"Every­one was caught by sur­prise," said Mo­ham­mad Sa­ja­di, an HIV re­searcher at Uni­ver­si­ty of Mary­land. "And that re­al­ly opened [things] up, put the fo­cus back on an­ti­body."
Every­thing was click­ing. In Bethes­da, the Vac­cine Re­search Cen­ter was al­so near­ing a dis­cov­ery us­ing a slight­ly dif­fer­ent ap­proach. Rather than sep­a­rat­ing and an­a­lyz­ing all the B cells from a pa­tient, re­searchers took those B cells and pooled them to­geth­er. Then they took one part of the HIV en­ve­lope they knew was vul­ner­a­ble — in many cas­es, a pro­tein that the NIH's struc­tur­al bi­ol­o­gists had iden­ti­fied— and used it as a fish­ing hook for the best an­ti­bod­ies.
In 2010, they found one that could neu­tral­ize 90% of the virus­es thrown at it. Mas­co­la pre­sent­ed the re­sults to his col­leagues in a con­fer­ence room on the fourth floor, show­ing a col­or-cod­ed ta­ble rep­re­sent­ing how well each of sev­er­al an­ti­bod­ies could neu­tral­ize 190 strains of HIV. Green meant it bare­ly bound, red meant a po­ten­tial drug.
Near­ly all of the rows for the an­ti­body, called VRC01, were bright red.
"It was re­al­ly un­prece­dent­ed," said Gary Nabel, the di­rec­tor of the Vac­cine Re­search Cen­ter at the time. It forced him to think about his life's work dif­fer­ent­ly. "The first thought that popped in my mind was, wait a minute, do we have it back­ward?"

VRC01 re-en­er­gized and re­shaped the course of HIV vac­cines. Long­time skep­tics of Bur­ton's ap­proach dove in­to an­ti­body work. Bur­ton, Mas­co­la and oth­ers iden­ti­fied hun­dreds more neu­tral­iz­ing an­ti­bod­ies and set about de­sign­ing vac­cines based on the parts of the virus­es to which those an­ti­bod­ies.
"There was tremen­dous ex­cite­ment," said Shelly Karuna, an HIV re­searcher at Fred Hutch.
Nabel and Mas­co­la, though, won­dered if in­stead of re­verse-en­gi­neer­ing a vac­cine, they could just man­u­fac­ture large dos­es of the an­ti­body and in­fuse them in­to pa­tients. The an­ti­bod­ies wouldn't last for­ev­er and they wouldn't be cheap (an­ti­bod­ies cost or­ders of mag­ni­tude more per dose to pro­duce than vac­cines) but they might pro­tect peo­ple for a while and of­fer a stop­gap un­til a vac­cine be­came avail­able.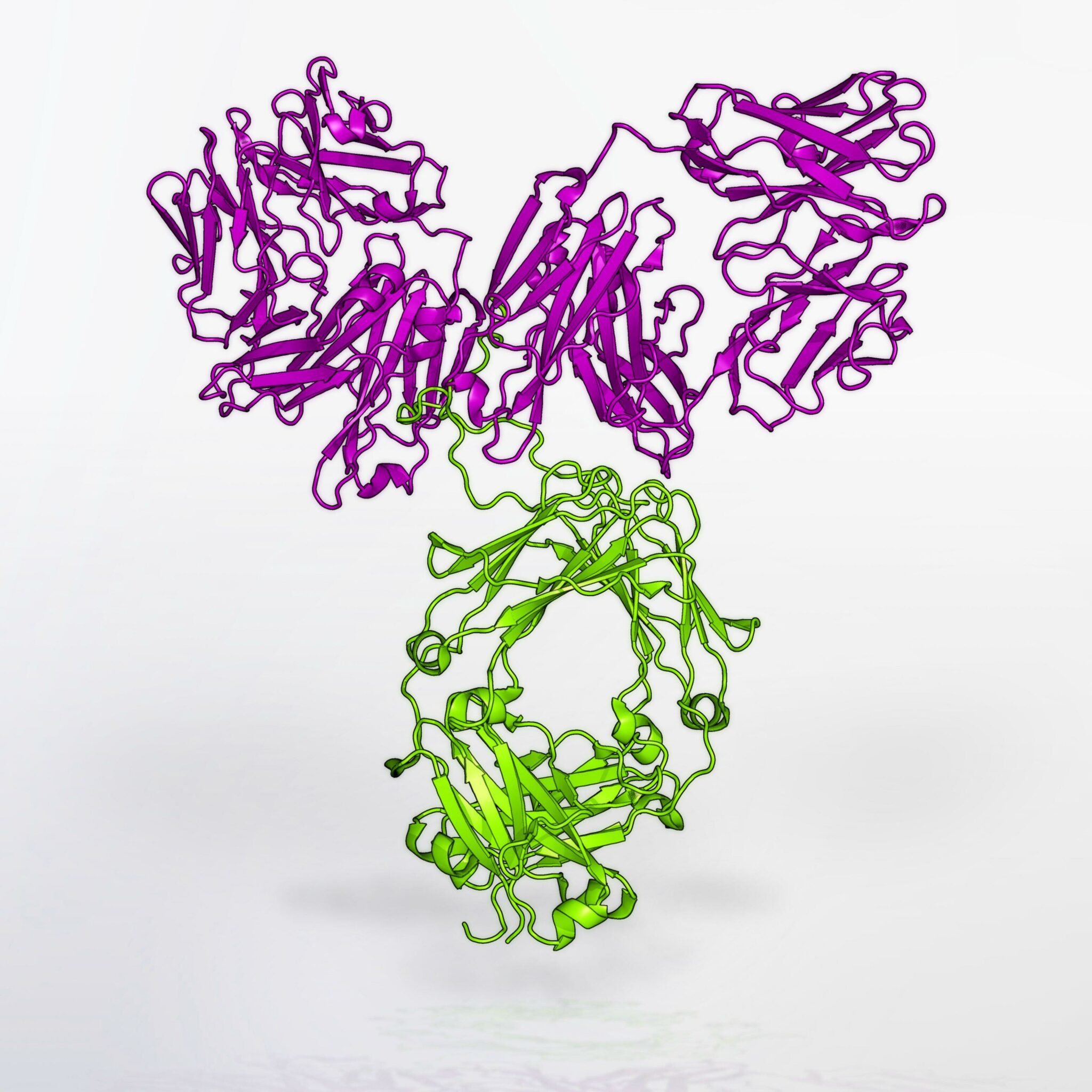 A mod­el of the VRC01 an­ti­body. The pur­ple re­gions latch on to the part of the en­ve­lope HIV us­es to en­ter im­mune cells.
The strat­e­gy had been tried be­fore, most no­tably with an ap­proved drug to pro­tect at-risk kids from res­pi­ra­to­ry syn­cy­tial virus. In HIV, it had the po­ten­tial to not on­ly pre­vent but al­so treat — on the back of each an­ti­body is a bea­con that might sig­nal the im­mune sys­tem to clear HIV-in­fect­ed cells, some­thing that could be es­sen­tial for an even­tu­al cure.
There were risks, though, to de­vel­op­ing VRC01. In­dus­try wasn't much in­ter­est­ed be­cause the sci­ence re­mained too spec­u­la­tive and most com­pa­nies weren't in­ter­est­ed in in­fec­tious dis­ease, mean­ing the cen­ter would have to some­how make the an­ti­body it­self. And they knew some strains would still be im­per­vi­ous to VRC01 — should they wait for one bet­ter to come along?
But they de­cid­ed — af­ter meet­ings with No­bel win­ner David Bal­ti­more, renowned vac­ci­nol­o­gist Stan­ley Plotkin, and oth­er ad­vi­sors — that they need­ed to at least test the con­cept.
"We knew that a vac­cine that could in­duce these an­ti­bod­ies was a long way off," Mas­co­la said.
And as the months went by, they gained new rea­sons for putting the an­ti­body in­to peo­ple. The an­ti­body hunt was sup­posed to point them to a vac­cine, but it quick­ly point­ed to just how hard a vac­cine would be. The first con­structs Bur­ton, Mas­co­la and oth­ers built based off their prized an­ti­bod­ies failed to pro­duce those same an­ti­bod­ies in an­i­mals.
Broad­ly neu­tral­iz­ing an­ti­bod­ies for HIV, it turned out, were strange mol­e­cules. Many of them bound to both the virus and that vi­brat­ing gly­can for­est, some­thing few an­ti­bod­ies do. They had long loops rarely found in oth­er an­ti­bod­ies. Their ge­net­ic code con­tained weird in­ser­tions and dele­tions.
In hind­sight, the strange­ness may not have been sur­pris­ing. Af­ter all, these an­ti­bod­ies are dis­tant out­liers, a tiny frac­tal of the tens of thou­sands of B cells iso­lat­ed from just 1% of HIV pa­tients. They were the prod­ucts of an im­mune sys­tem evolv­ing over years liv­ing with the virus, se­lect­ing for the best an­ti­bod­ies over and over again as the virus tried to evade each in­no­va­tion.
But it meant that HIV re­searchers would have to in­vent a new strat­e­gy. They would have to some­how fig­ure out a way of coax­ing a healthy im­mune sys­tem down that same path these rare pa­tients had fol­lowed, some­thing that no one re­al­ly knew had to do.
"Log­i­cal­ly, it should work," Bur­ton said. "What we didn't an­tic­i­pate at the time was how long that path would be."
VRC01 would be the best way for­ward for a while.

VRC01 would soon of­fer its own dis­ap­point­ments. Mas­co­la set up the Vac­cine Re­searcher Cen­ter's 2,000-liter biore­ac­tor to churn out kilo­gram af­ter kilo­gram of an­ti­body — far more ma­te­r­i­al than the cen­ter had ever pro­duced — and NIH and US Army labs set up a se­ries of tri­als in healthy vol­un­teers and then HIV in­fect­ed pa­tients.
Trevor Crow­ell, hired as a new physi­cian at the US Mil­i­tary HIV Re­search Pro­gram in 2014, re­mem­bered fly­ing out to Thai­land for in­tense five-day trips to set up a tri­al there on HIV pa­tients. The study would take vol­un­teers off their med­ica­tion to test whether VRC01 could keep the virus sup­pressed on its own.
In the­o­ry, the tri­al was blind­ed and place­bo-con­trolled, but back in Vir­ginia, the re­sults be­came clear rather quick­ly. Crow­ell got an email every time a vol­un­teer had their virus re­bound and had to go back on meds. The up­dates came in swift­ly.
"It was dis­ap­point­ing," Crow­ell said, though he not­ed one pa­tient on VRC01 did keep the virus sup­pressed for 40 weeks, which he called "a glim­mer of hope."
A pair of stud­ies from the NIH and the AIDS Clin­i­cal Tri­al Group reached the same con­clu­sion. By the time the nov­el coro­n­avirus rolled around, on­ly one ma­jor tri­al was left: a 4,500-per­son study to con­clu­sive­ly test whether the an­ti­body could pre­vent re­mis­sion.
VRC01 may have neu­tral­ized 90% of virus­es, but prac­ti­cal­ly, with the lev­els of an­ti­body you could in­fuse in peo­ple, it pro­tect­ed against a far low­er per­cent­age of strains world­wide.
It "was an awak­en­ing," said Katharine Bar, a Uni­ver­si­ty of Penn­syl­va­nia re­searcher who led two of the stud­ies.

Yet even as a vac­cine or treat­ment for HIV re­ced­ed fur­ther in­to the dis­tance, the Neu­tral­iz­ing An­ti­body Con­sor­tium's work be­gan pop­ping up against oth­er virus­es.
In 2013, Ja­son McLel­lan, a struc­tur­al bi­ol­o­gist who worked with the Vac­cine Re­search Cen­ter on iden­ti­fy­ing how Mas­co­la's an­ti­bod­ies bound to HIV, left the NIH to start his own lab at the Uni­ver­si­ty of Texas at Austin. He reached out to Pe­ter Kwong, the chief struc­ture bi­ol­o­gist on the HIV project, and Bar­ney Gra­ham, Mas­co­la's deputy, to try an­oth­er spin on the con­cepts the con­sor­tium was strug­gling to ap­ply.
"To me, it was un­clear clear whether these con­cepts … weren't work­ing be­cause they were bad ideas, or be­cause HIV was just a re­al­ly hard virus to make a vac­cine for," McLel­lan said. "So my idea was: Why don't we ap­ply these prin­ci­ples to a more tractable virus?"
The most ob­vi­ous case was RSV, the sec­ond-lead­ing killer of small chil­dren in the world af­ter malar­ia. Vac­cines for RSV were an in­fa­mous fail­ure; one can­di­date in the 1960s ac­tu­al­ly turned out to en­hance the dis­ease. But sci­en­tists had found an an­ti­body, mar­ket­ed as Synagis, that could pro­tect the high­est risk chil­dren from in­fec­tion. Pro­tec­tion had to be pos­si­ble some­how.
A vac­cine made by re­verse en­gi­neer­ing VRC01, now in de­vel­op­ment with Mod­er­na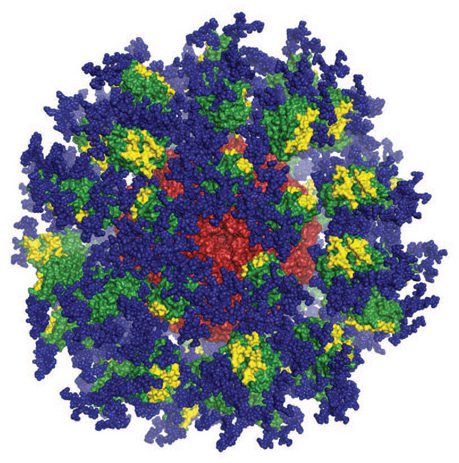 Click on the im­age to see the full-sized ver­sion
McLel­lan took Synagis and a cou­ple oth­er neu­tral­iz­ing an­ti­bod­ies and stud­ied how they bound to the fu­sion pro­tein, RSV's equiv­a­lent of a spike pro­tein. When RSV reach­es a cell, it changes the pro­tein's shape for en­try. McLel­lan dis­cov­ered that the an­ti­bod­ies bound on­ly to the pre-fu­sion form of the virus, not the post-fu­sion struc­ture that every­one had been mak­ing.
With some tricky struc­tur­al bi­ol­o­gy tech­niques al­so bor­rowed from HIV, they swapped some amino acids to cre­ate a sta­ble ver­sion of the post-fu­sion pro­tein. Overnight, it be­came one of the world's lead­ing can­di­dates for RSV.
McLel­lan then used the pro­tein to en­gi­neer new an­ti­bod­ies for the virus, in­clud­ing nir­se­vimab, which As­traZeneca li­censed and is now prepar­ing to launch as the new stan­dard-of-care for RSV.
"I don't think we have to be em­bar­rassed about the progress be­cause it's amaz­ing," Crowe said, pre­dict­ing McLel­lan's RSV vac­cine can­di­date will be ap­proved. "And all these oth­er fields are ben­e­fit­ing."
Nabel and An­tho­ny Fau­ci pro­posed ap­ply­ing the same ap­proach to de­vel­op a uni­ver­sal vac­cine for the flu, an­oth­er high­ly vari­able virus. A vac­cine rough­ly based on their blue­print re­cent­ly showed promis­ing ef­fects in Phase I.
For Bur­ton, the iso­la­tion of HIV neu­tral­iz­ing an­ti­bod­ies "lays down a mark­er" for what's pos­si­ble: If you can find an an­ti­body to HIV, you can find one to any­thing.
And in 2016, Mas­co­la did. Team­ing with a Swiss start­up called Hum­abs that had de­vel­oped a more ad­vanced form of the NIH's B cell sort­ing tech­nol­o­gy, the agency iden­ti­fied a sin­gle neu­tral­iz­ing an­ti­body against Ebo­la. Af­ter the virus re­turned to the Con­go in 2018, it proved to be one of the first two ef­fec­tive treat­ments for the dead­ly virus, bring­ing sur­vival rates to near­ly 90% when giv­en ear­ly in in­fec­tion.
Mean­while, McLel­lan start­ed ap­ply­ing what he learned from RSV to a nov­el coro­n­avirus out­break in the Mid­dle East called MERS. He fig­ured out that, with a sim­i­lar amino acid swap, he could make a sta­ble ver­sion of the virus' spike pro­tein for the first time. It would be cru­cial for a vac­cine, which Gra­ham want­ed to de­sign just in case an­oth­er coro­n­avirus broke out again.

When Mas­co­la learned of a new virus cir­cu­lat­ing in Wuhan, Chi­na, he walked up­stairs to a col­lab­o­ra­tor's of­fice and start­ed plan­ning. This "could be the cul­mi­na­tion of a life's work," he lat­er told Wired.
Since 2009, oth­er com­pa­nies and re­searchers had ex­pand­ed on the tech­niques they used to de­vel­op VRC01. One, a lit­tle-known but well-con­nect­ed Van­cou­ver biotech called Ab­Cellera, de­vel­oped a mi­croflu­idic chip that could sort mil­lions of B cells with­in days. In 2018, DARPA, the de­fense agency be­hind weath­er satel­lites and the in­ter­net, gave the com­pa­ny a $30 mil­lion con­tract for a pi­lot project to test whether it could de­vel­op an an­ti­body against a virus in 60 days.
In mid-Jan­u­ary, af­ter the first case struck the US, Mas­co­la and Gra­ham called CEO Carl Hansen and sug­gest­ed they ditch the pi­lot and start on Covid-19. Ab­Cellera had the ad­vanced plat­form, but it would need Mas­co­la's in­fec­tious dis­ease ex­per­tise. "He im­me­di­ate­ly agreed," Mas­co­la said of Hansen.
Call­ing hos­pi­tals and clin­i­cians to ob­tain the prop­er eth­i­cal re­views, Mas­co­la man­aged to get a blood sam­ple from the first US pa­tient, a man in Seat­tle, and shipped it off to Van­cou­ver. Over three days, Ab­Cellera screened 5 mil­lion cells, found 500 an­ti­bod­ies against the spike pro­tein, whit­tled those to 175, and sent the se­quences over to the NIH.
Every­one knew iso­lat­ing a neu­tral­iz­ing an­ti­body for Covid-19 would be eas­i­er than iso­lat­ing one for HIV, but do­ing it so quick­ly posed its own prob­lems. In HIV, re­searchers had sought out thou­sands of blood sam­ples from the tiny sliv­er of pa­tients who were best at at­tack­ing the virus. For the first Covid-19 an­ti­body, Mas­co­la had one sam­ple, from a man cho­sen by fate to be first.
"We must have looked at over 100 an­ti­bod­ies," Mas­co­la said. "And on­ly one of them was good."
Fu­ture sam­ples from oth­er donors would prove more po­tent. But they didn't have those then, and with Eli Lil­ly agree­ing to come on as a part­ner, they be­gan de­vel­op what would lat­er be known as bam­lanivimab. Al­though it would even­tu­al­ly be pulled out of cir­cu­la­tion be­cause it wasn't ef­fec­tive against virus vari­ants, ear­ly da­ta showed it re­duced the risk of hos­pi­tal­iza­tion in pa­tients ex­posed to the orig­i­nal virus. Near­ly 800,000 dos­es were shipped across the coun­try.
Mod­er­na, Pfiz­er and J&J all used McLel­lan's mod­i­fi­ca­tions in their vac­cines. Oth­er an­ti­bod­ies, from Re­gen­eron and Vir, which bought Hum­abs in 2017, al­so re­lied on sim­i­lar tech­nol­o­gy to what was used to find VRC01. The NIH used the knowl­edge and in­fra­struc­ture it gained from the then-on­go­ing VRC01 pre­ven­tion study to get those quick­ly through clin­i­cal tri­als. Even the an­i­mal mod­els used to ver­i­fy the an­ti­bod­ies re­lied on HIV work, Shelly Karuna said.
It was an "un­ex­pect­ed ben­e­fit," she said. "All of these years of ef­fort and HIV mon­o­clon­al an­ti­bod­ies have come to fruition."
A nurse in Cal­i­for­nia re­ceives an in­fu­sion of bam­lanivimab, a Covid-19 an­ti­body Mas­co­la co-de­vel­oped based off his HIV work (Ir­fan Khan / Los An­ge­les Times via Get­ty Im­ages)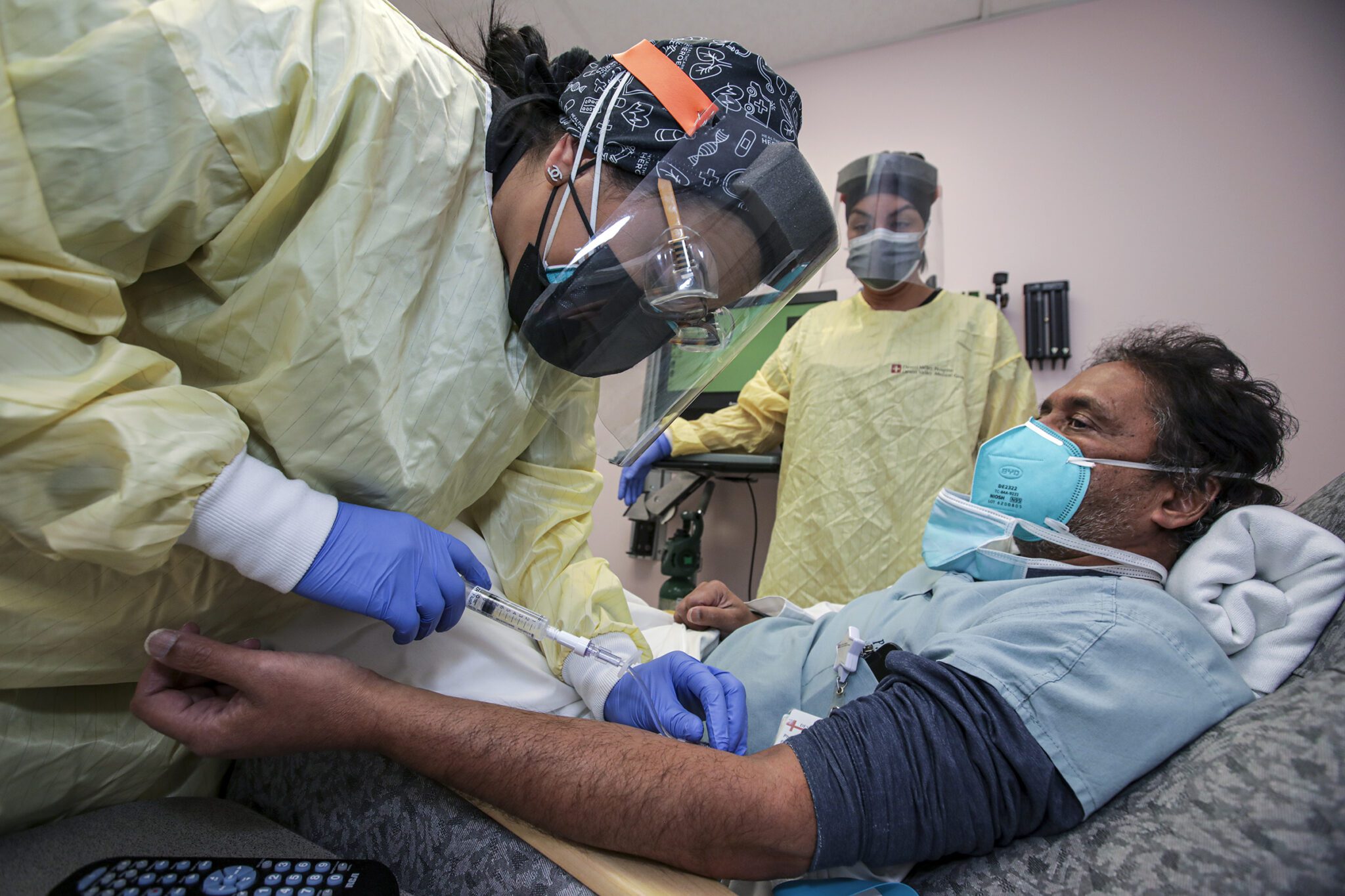 Click on the im­age to see the full-sized ver­sion
The most di­rect ben­e­fit from the HIV field, though, could come in pre­vent­ing fu­ture pan­demics. Lau­ra Walk­er, who went to the an­ti­body spe­cial­ist com­pa­ny Adimab af­ter co-dis­cov­er­ing the first HIV broad­ly neu­tral­iz­ing an­ti­bod­ies, last year co-found­ed a new com­pa­ny called Ada­gio.
With a $300 mil­lion IPO this month, the com­pa­ny has now raised near­ly $800 mil­lion for an ap­proach that looks marked­ly sim­i­lar to what Walk­er and Bur­ton did in HIV: col­lect serum from nu­mer­ous donors and screen for a hand­ful of an­ti­bod­ies that can not on­ly neu­tral­ize one strain of coro­n­avirus, but vir­tu­al­ly all strains.
The goal is to de­vel­op a vari­ant-proof an­ti­body that could pro­tect against all SARS-like virus­es, giv­ing the world a po­tent treat­ment against this virus and any sim­i­lar virus that may one day spill over in­to hu­mans. A first can­di­date is now in clin­i­cal tri­als.
Bur­ton, mean­while, has been col­lect­ing sim­i­lar an­ti­bod­ies in his lab, but with a dif­fer­ent goal. As with HIV, he wants to re­verse en­gi­neer these uni­ver­sal coro­n­avirus an­ti­bod­ies in­to a uni­ver­sal coro­n­avirus vac­cine. He, along with top of­fi­cials at the NIH, have called for fund­ing for a mul­ti-bil­lion dol­lar ef­fort to do the same for all virus­es that have pan­dem­ic po­ten­tial.
Virus-fam­i­ly vac­cines have nev­er been made be­fore. In­oc­u­la­tions tend to be made for a spe­cif­ic virus — a Covid-19 shot won't work well against SARS and it'll be even worse against MERS. But it could prove the best weapon to pre­vent the pan­dem­ic. And Bur­ton's HIV ap­proach — of find­ing the best an­ti­bod­ies and slow­ly coax­ing the im­mune sys­tem to make them — could be the best path.
"It's all about get­ting a lev­el of con­trol you don't usu­al­ly have. You're not look­ing for any old an­ti­body, you're look­ing for a pre­cise an­ti­body and for that you need a pre­cise vac­cine," Bur­ton said. "That's a lev­el of so­phis­ti­ca­tion we haven't reached, but we have the tools to do that now. And we need to do that, be­cause the pathogens are ob­vi­ous­ly get­ting more so­phis­ti­cat­ed too."

Last Jan­u­ary, as Covid-19 raged through the US, the re­sults from the last VRC01 tri­al came back. It was a fail­ure. Vol­un­teers on place­bo con­tract­ed HIV at the same rate as vol­un­teers who re­ceived an­ti­body.
"It was sober­ing," said Mas­co­la. "A sin­gle an­ti­body wasn't go­ing to be enough."
Se­quenc­ing da­ta from in­fect­ed par­tic­i­pants showed VRC01 pro­tect­ed against a sub­set of strains, but it was go­ing to take broad­er and more po­tent an­ti­bod­ies to ac­tu­al­ly pre­vent in­fec­tion. Re­searchers are now test­ing those, bring­ing a com­bi­na­tion of an­ti­bod­ies in­to the clin­ic in hopes that hit­ting two spots on the virus will it make it hard­er for HIV to evade. Nabel, who left the NIH to be CSO of Sanofi from 2012 to 2018, even de­vel­oped a trispe­cif­ic an­ti­body to hit three spots. He is now de­vel­op­ing it as part of his new com­pa­ny Mod­eX.
Many of these an­ti­bod­ies have been en­gi­neered to stick around in the blood for six months or a year, po­ten­tial­ly pro­vid­ing long-term pro­tec­tion and an at­trac­tive al­ter­na­tive to the dai­ly pills that have long dom­i­nat­ed HIV pre­ven­tion. They might al­so be safer.
But those pills are al­ready known to be high­ly ef­fec­tive and com­pa­nies, in­clud­ing Mer­ck, Gilead and Glax­o­SmithK­line, are now mak­ing long-act­ing ver­sions, rais­ing ques­tions about where ex­act­ly an­ti­bod­ies can fit.
"They're go­ing to have to com­pete in an en­vi­ron­ment right now where there's very ef­fec­tive small mol­e­cule pre­ven­tion ap­proach­es," Bar said.
A vac­cine seems an even longer way off, as ear­ly at­tempts to coax the im­mune sys­tem strug­gled. But Mas­co­la not­ed that VRC01 has al­ready changed the field.
The lead­ing can­di­date, de­signed by Bill Schief, Bur­ton's col­league at Scripps, is de­signed to cre­ate what have be­come known as "VRC01-like an­ti­bod­ies." There were promis­ing re­sults in a Phase I tri­al and now Mod­er­na, with some fan­fare, is mak­ing an mR­NA ver­sion.
Still, nei­ther Bur­ton nor Mas­co­la will tell you an HIV vac­cine is a few years away; there have been enough of those pre­dic­tions over the years. And yet, pleased as they are by the re­sults in coro­n­avirus and RSV, they're not con­tent ei­ther.
"The lega­cy, the ear­ly suc­cess is go­ing to come with oth­er virus­es: Ebo­la, RSV, in­fluen­za coro­n­avirus," Mas­co­la said. "But I think as sci­en­tists and pub­lic health of­fi­cials, you look at HIV as a pan­dem­ic. Yeah, you say, 'Well, it's hard­er and we haven't fig­ured it out yet.' But we've made some huge strides, and all the things we learned from coro­n­avirus and RSV and in­fluen­za ac­tu­al­ly teach you in the re­verse di­rec­tion."