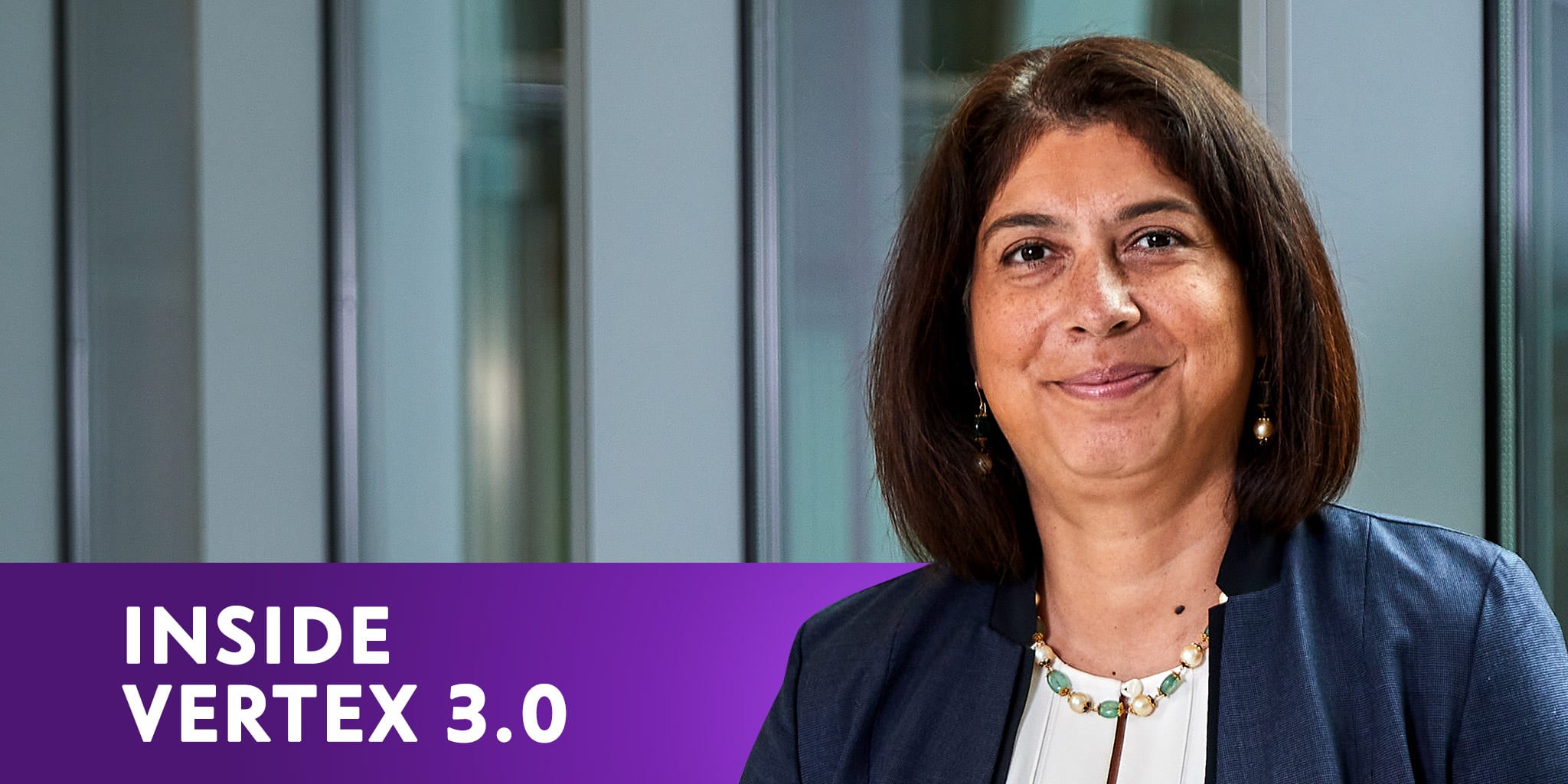 In­side Ver­tex 3.0: Can Resh­ma Ke­wal­ra­mani re­peat one of biotech's biggest suc­cess sto­ries 'a­gain and again and again'?
This was not how Reshma Kewalramani imagined spending her first day as Vertex CEO. The 47-year-old nephrologist should've been in a spacious window office on the 14th floor of the biotech's glassy Boston Seaport headquarters, three rooms down from where she had spent the last three years. There should have been family photos on the desk, scientists buzzing in the labs beneath, and, feet away, executives she knew and trusted, briefing her on potential cures for sickle cell disease and diabetes.
Instead, on that bone-chillingly cold day last spring, she was at a makeshift desk in the dimly lit basement of her home outside Boston, a bivouac chosen because it was closest to the Wifi router. Her closest companion was Ferris Bueller's smug face on the wall and she spent the day jumping from Zoom call to Zoom call, worried less about making new drugs than making sure her employees were safe and that the global supply chain didn't leave a cystic fibrosis patient without access to the Vertex pills that had changed their life. It was April 1, 2020.
"These are not what I thought would be the two of the highest priorities," she tells me. "The safety of our people? You take it for granted."
The pandemic hit Vertex at the worst possible time. Over the last decade, CEO Jeffrey Leiden, a jovial but shrewd and commanding figure, had pushed the development of those CF drugs, turning the most common fatal genetic disease in US and Europe into, for 90% of patients, a treatable condition. In the process, they had gone from a $6 billion to a $60 billion company and won the rare collective awe of the business, medical and patient communities. "I scream it from the rooftops," says Bob Coughlin, former CEO of industry group MassBio, whose 19-year-old son has CF. "He's a whole new person, I'm filled with more gratitude than I've ever had in my whole damn life."
Now, just as Leiden passed the torch, the entire world was collapsing. It was a trial by wildfire for Kewalramani, who had already been an unlikely choice as CEO. The heads of large biotechs are almost exclusively businesspeople, executives whose chief job is to sell the drugs the company has already developed and find other companies to acquire. If they have MDs, they also have an MBA or 20 years of experience in sales. All, historically, have been men.
Kewalramani was a clear-eyed, affable physician who had trained at Boston's most prestigious hospitals and spent 12 years running trials at Amgen, but she had little experience on the business side of biotech. For the prior three years, leading Vertex's medical team, she stood opposite the executive committee at key moments, explaining results from trials she designed and ran in sickle cell and cystic fibrosis.
"She came from the medical side, which was unique," says Terry McGuire, founder and general partner of the Boston-based biotech VC Polaris Partners. "It speaks to their desire to really focus on what's going on in the clinic and for patients." Indeed, Vertex had only considered physician-scientists for the role. They had big plans for the role — for what they called Vertex 3.0. Although they had become known as the CF company, for years, Leiden told anyone who would listen that he didn't just want to transform one disease: He planned to use the lavish proceeds from those pills to cure CF completely and either cure or defang an Infernal Council of famous ailments: Sickle cell disease, diabetes, muscular dystrophy and pain, among others.
It was as ambitious a plan as a biotech had ever put forward, spanning medical disciplines from hematology to nephrology and technologies from old-fashioned pills to new forms of CRISPR gene editing, and they needed someone with unimpeachable scientific chops to carry it out. If Kewalramani and her team can, they will change the face of medicine: Not just for one rare disease but several, and a few not so rare ones as well. They could also set off the same string of rancorous global debates that have followed Vertex's CF drugs, as the company charged more than what many countries said they could pay. Kewalramani, while striking a less abrasive tone than her predecessor, has pledged to keep the same pricing strategy moving forward.
"We're going to do what we did in CF," Kewalramani tells me, echoing a promise she makes repeatedly. "Again and again and again." But first they would have to deal with Covid-19.
Premium subscription required
Unlock this article along with other benefits by subscribing to one of our paid plans.