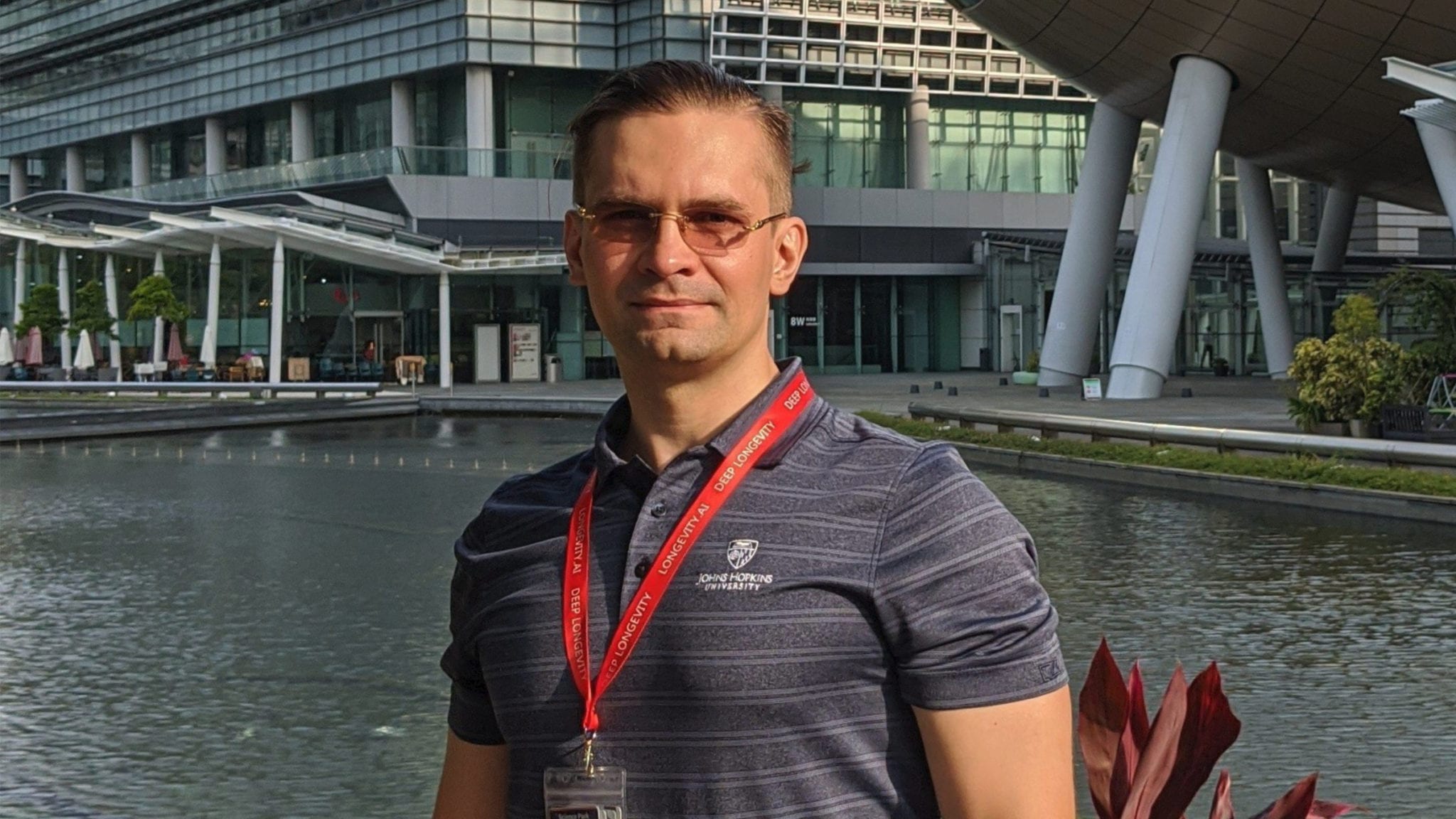 Alex Zhavoronkov (Insilico)
In­sil­i­co preps first can­di­date for IND stud­ies, hop­ing to launch tri­al in IPF by end of 2021
Over the last sev­er­al years, Alex Zha­voronkov has turned In­sil­i­co in­to one of the most well-con­nect­ed AI biotechs out there. Now, the Hong Kong-based com­pa­ny is one step clos­er to reach­ing the clin­ic.
In­sil­i­co is bring­ing its first can­di­date in­to IND-en­abling stud­ies, Zha­voronkov an­nounced Wednes­day, with the goal of launch­ing an in-hu­man tri­al at some point lat­er this year. The move marks what he says is a first in AI drug dis­cov­ery, as both the tar­get and small-mol­e­cule in­hibitor in­volved in the pro­gram are com­plete­ly new and AI-gen­er­at­ed.
Zha­voronkov, who told End­points News he builds self-dri­ving ro­bots in his spare time, isn't ready just yet to say what the tar­get or ex­per­i­men­tal drug are, but he not­ed that the fo­cus will be id­io­path­ic pul­monary fi­bro­sis. The tar­get it­self plays a key role in fi­brot­ic and in­flam­ma­to­ry path­ways, sit­ting on the in­ter­sec­tion of profi­brot­ic path­ways, he said.
More im­por­tant to In­sil­i­co is the process by which they dis­cov­ered the com­pound — de­spite us­ing more than 60 dif­fer­ent ap­proach­es, the main method was through its pro­pri­etary AI plat­form's neur­al net­works. In­sil­i­co re­searchers start­ed by look­ing at how dif­fer­ent tis­sues sus­cep­ti­ble to fi­bro­sis can change over the course of pa­tients' lives, but that op­er­a­tion is too dif­fi­cult for hu­mans to do on their own, as the req­ui­site datasets are mas­sive.
"We train on age, af­ter that we re-train on fi­bro­sis, get the first list of pri­or­i­tized like­ly tar­gets, and then we put them in­to bi­o­log­i­cal path­ways," Zha­voronkov told End­points.
Af­ter that, In­sil­i­co ap­plied a sep­a­rate neur­al net­work to comb through data­bas­es over where gov­ern­ments were is­su­ing grant re­search and com­pa­nies were tak­ing clin­i­cal tri­als. That helped Zha­voronkov de­ter­mine whether the tar­get is ac­tu­al­ly new or if oth­er com­pa­nies had al­ready tried to make some­thing work with it.
Last­ly, Zha­voronkov want­ed to be able to trust the an­swers his neur­al net­works were spit­ting out. So he es­sen­tial­ly asked his AI to find po­ten­tial hid­den links be­tween the da­ta to in­crease their con­fi­dence that a drug would work, while al­so look­ing at how cer­tain key opin­ion lead­ers viewed the bi­ol­o­gy they were try­ing to crack.
In­sil­i­co de­vel­oped its plat­form in col­lab­o­ra­tion with Big Phar­mas to in­cor­po­rate how the "best of the best" hu­man re­searchers think about tar­get se­lec­tion, Zha­voronkov said, adding that in lots of cas­es, how­ev­er, tar­gets are cho­sen for busi­ness rea­sons rather than sci­ence. He wants to try to change that with his plat­form and Wednes­day's an­nounce­ment.
"We need to find this ul­ti­mate bal­ance be­cause you re­al­ize that more than one tar­get can be im­pli­cat­ed in this dis­ease," Zha­voronkov said. "So it is pos­si­ble there is not just one mag­ic bul­let, there could be sev­er­al bul­lets."
When this new pro­gram ul­ti­mate­ly reach­es the clin­ic, by the end of this year at the ear­li­est, it will be a typ­i­cal Phase I study. But Zha­voronkov said he has the "lux­u­ry" of ex­per­i­ment­ing with every step of the tri­al giv­en oth­er phar­ma com­pa­nies haven't yet en­tered this space in this fash­ion.
The im­me­di­ate next steps are to con­tin­ue push­ing out the plat­form to oth­er play­ers. In­sil­i­co has made the core of its AI open source in the hopes of bring­ing down drug dis­cov­ery costs across the in­dus­try. Zha­voronkov said val­i­dat­ing this tar­get in IPF cost In­sil­i­co on­ly $1.8 mil­lion.
"If I do not in­vent, I do not live," Zha­voronkov said. "We will nev­er stop and we al­so have a huge pipeline of projects in AI."