In­ter­fer­on be­ta-1a can­di­date for COPD ad­vances to PhI­II to test its po­ten­tial against Covid-19
An­oth­er re­pur­posed drug is en­ter­ing Phase III to see if it pass­es the test against Covid-19.
In a small Phase II tri­al, Synair­gen says hos­pi­tal­ized Covid-19 pa­tients who took its in­hal­able in­ter­fer­on be­ta-1a for­mu­la­tion, SNG001, were twice as like­ly to re­cov­er with­in 14 days than pa­tients on a place­bo. CEO Richard Mars­den said the Southamp­ton, UK-based biotech is launch­ing the can­di­date — which was al­ready in de­vel­op­ment for COPD and asth­ma — in­to a 900-per­son Phase III study in the com­ing weeks.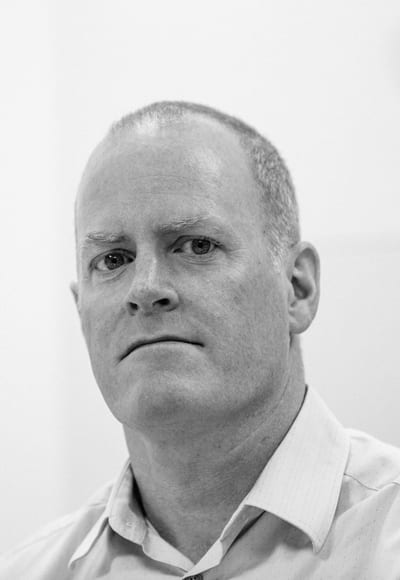 Richard Mars­den
The Phase II tri­al be­gan in March and was car­ried out at 9 UK hos­pi­tals. A to­tal of 48 pa­tients were giv­en SNG001 and 50 a place­bo dai­ly for up to 14 days. Synair­gen fol­lowed up for a max­i­mum of 28 days af­ter start­ing treat­ment, and con­duct­ed sev­er­al analy­ses us­ing the World Health Or­ga­ni­za­tion's Or­di­nal Scale for Clin­i­cal Im­prove­ment. While sta­tis­ti­cal sig­nif­i­cance was on­ly achieved in some of the analy­ses, Mars­den said the re­sults were enough to jus­ti­fy pro­gress­ing the can­di­date in­to Phase III.
"Some of them hap­pen so in­fre­quent­ly," Mars­den said of the analy­ses. "So things like death — there were on­ly three deaths in the tri­al. They were all on place­bo, so we didn't an­a­lyze that be­cause it's too small to an­a­lyze. Go­ing on­to ven­ti­la­tors was quite a rare event, so that one didn't reach sta­tis­ti­cal sig­nif­i­cance, al­though it was nu­mer­i­cal­ly in fa­vor of (the) drug."
SNG001 achieved sta­tis­ti­cal sig­nif­i­cance in pre­vent­ing pa­tients from wors­en­ing to need non-in­va­sive ven­ti­la­tion or high-flow oxy­gen in a first analy­sis, but just missed the mark in a sec­ond more con­ser­v­a­tive analy­sis, Mars­den said. But what the com­pa­ny has be­come most in­ter­est­ed in is time to full re­cov­ery.
For the pur­pos­es of the study, Synair­gen de­fined "full re­cov­ery" as the point where a pa­tient no longer ex­pe­ri­ences lim­i­ta­tions in every­day ac­tiv­i­ties. By that mea­sure, 21 pa­tients (44%) in the treat­ment arm reached full re­cov­ery over the 14-day treat­ment course, ver­sus 11 (22%) in the place­bo group.
"The thing that we're most ex­cit­ed about is get­ting peo­ple back to this lev­el of no lim­i­ta­tion of ac­tiv­i­ties, and you're more than twice as like­ly — ap­proach­ing three times as like­ly in some of the analy­ses — of get­ting back to that lev­el if you're on drug com­pared to place­bo," Mars­den said.
Ac­cord­ing to re­sults pub­lished in the Lancet, 6 pa­tients on the in­ter­fer­on be­ta-1a for­mu­la­tion (13%) de­vel­oped se­vere dis­ease, com­pared to 11 (22%) in the place­bo group.
Nathan Peif­fer-Smad­ja, a lead au­thor who wasn't in­volved in the study, wrote in a com­ment: "The num­ber of pa­tients en­rolled in this pi­lot clin­i­cal tri­al is of course small. In ad­di­tion, this study nei­ther showed any im­pact of the eval­u­at­ed treat­ment on time to dis­charge nor on mor­tal­i­ty, al­though the study was ob­vi­ous­ly not pow­ered to re­spond to the lat­ter ques­tion. Larg­er ran­domised clin­i­cal tri­als are there­fore need­ed to con­firm these re­sults."
So why the small tri­al size? It's what the WHO rec­om­mend­ed back in Jan­u­ary, Mars­den said. Plus, "we didn't have enough drug to do more pa­tients," he added.
"So, that was us putting … our chips on the ta­ble and see­ing if the drug could do some­thing help­ful. And I think what was very in­ter­est­ing (was) that dur­ing Q2 and Q3 this year, there's been a mount­ing in lit­er­a­ture which sug­gests that this virus is sup­press­ing the pro­duc­tion of in­ter­fer­on be­ta as part of its strat­e­gy to evade the im­mune sys­tem," he said.
For a look at all End­points News coro­n­avirus sto­ries, check out our spe­cial news chan­nel.