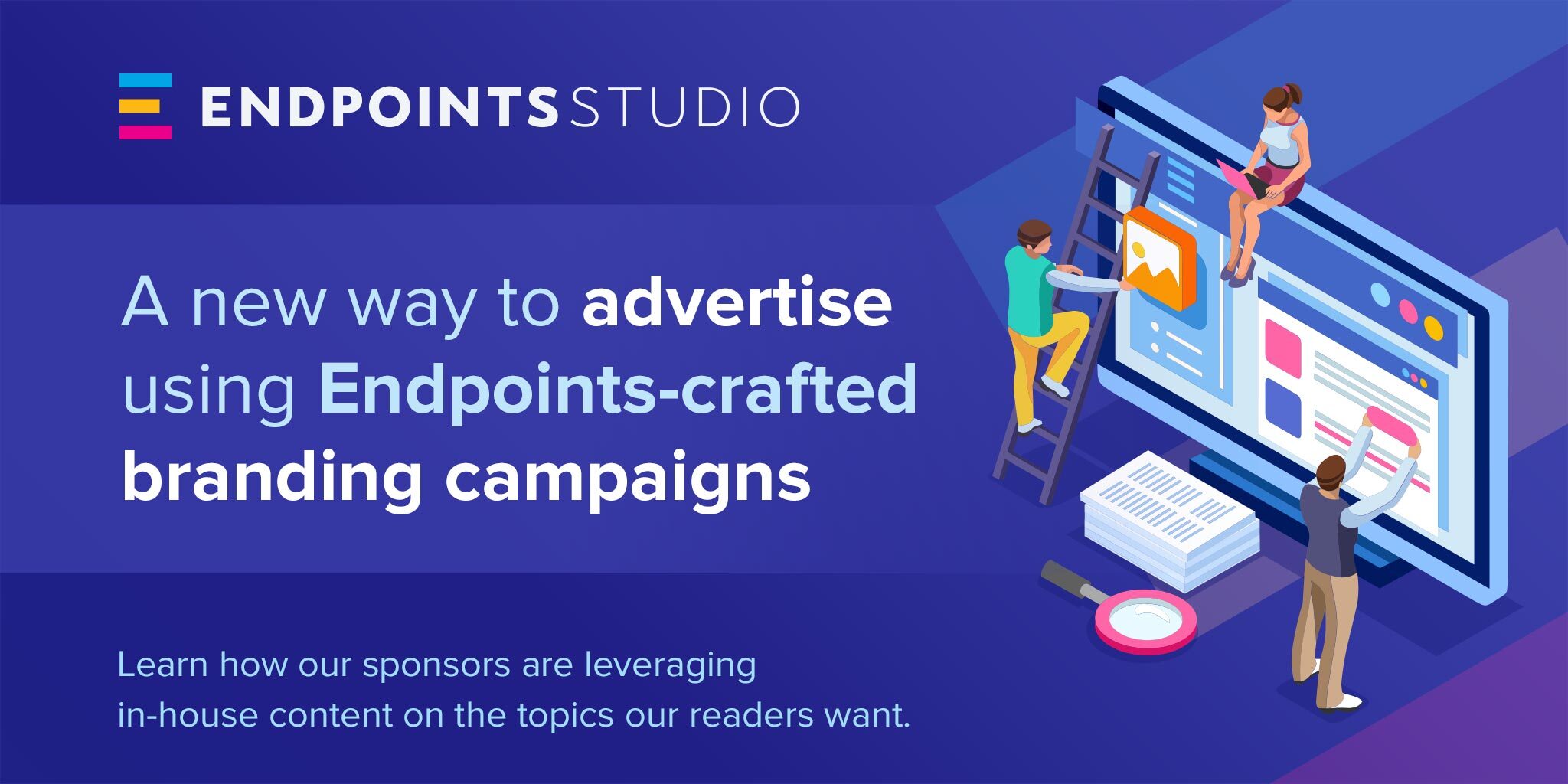 In­tro­duc­ing End­points Stu­dio, a new way to ad­ver­tise with End­points-craft­ed brand­ing cam­paigns
Since our start in 2016, End­points News has grown fast while ex­e­cut­ing our mis­sion to cov­er bio­phar­ma's most crit­i­cal de­vel­op­ments for in­dus­try pros world­wide. As read­er­ship has grown, our ad­ver­tis­ing busi­ness has too. End­points ad­ver­tis­ing part­ners sup­port the mis­sion and en­gage their de­sired au­di­ences through an­nounce­ments on our email and web plat­forms, brand recog­ni­tion in our event cov­er­age and spon­sor­ships of End­points dai­ly and week­ly re­ports.
And to­day, we're launch­ing our newest evo­lu­tion of the busi­ness: End­points Stu­dio.
Now, life sci­ences mar­keters can pro­duce brand­ed con­tent in the cal­iber read­ers ex­pect from End­points. Led by Kari Abit­bol, our new head of ad­ver­tis­ing and mar­ket­ing pro­grams, the End­points Stu­dio team de­vel­ops mea­sur­able cam­paigns in­formed with our first-par­ty da­ta.
Our line­up fea­tures the Stu­dio FSP and Stu­dio FSP+, an en­hance­ment of our long-es­tab­lished spon­sored posts with ar­ti­cles au­thored by our Stu­dio team — with an op­por­tu­ni­ty to do lead-cap­ture. Stu­dio FSP and FSP+ ben­e­fit from the same, ex­clu­sive pro­mo­tion across our email re­ports, home­page and news streams. We're al­so in­tro­duc­ing Stu­dio we­bi­na­rs, which run like cus­tom and ed­i­to­r­i­al we­bi­na­rs but are pro­grammed ex­clu­sive­ly by our Stu­dio team, and E-blast+, which in­cludes an End­points-cre­at­ed and host­ed land­ing page de­signed for high con­ver­sion.
So what makes End­points Stu­dio dif­fer­ent, ex­act­ly? Check out the new stu­dio web­site to learn more about our prod­ucts, top­ics (which span cell and gene ther­a­py to phar­ma mar­ket­ing) and how we use our own da­ta to de­liv­er bet­ter con­tent for our read­ers and stronger re­sults for our ad­ver­tis­ers. And soon, you'll see case stud­ies about how we're learn­ing from our own Stu­dio pro­grams to gen­er­ate even greater im­pact.
In 2021, our com­mit­ment was to go broad­er and deep­er. We launched four week­ly re­ports — End­points Man­u­fac­tur­ing, End­points Week­ly, End­points FDA+ and the new­ly re­leased End­points Mar­ket­ingRx — and de­liv­ered break­ing news that fu­eled a wave of new sub­scribers. Our ac­tive email dai­ly read­er­ship is near­ing 125,000 sub­scribers as we close out the year. We've grown our team from 22 full-time staff in Jan­u­ary to 35 full-time em­ploy­ees (and count­ing) to ma­ture and sup­port these ini­tia­tives at scale.
As we look to the year ahead, we're great­ly thank­ful for the con­tin­ued sup­port from read­ers, sub­scribers and spon­sors that has cat­a­pult­ed us from a small me­dia com­pa­ny in­to a thriv­ing force whose work is seen dai­ly by lead­er­ship at the top 25 phar­ma com­pa­nies and thou­sands of biotech star­tups across the globe. And we're just get­ting start­ed.
Stay tuned for more End­points Stu­dio up­dates from Kari next year. For Stu­dio sched­ul­ing and pric­ing re­quests, con­tact our Stu­dio sales team here.